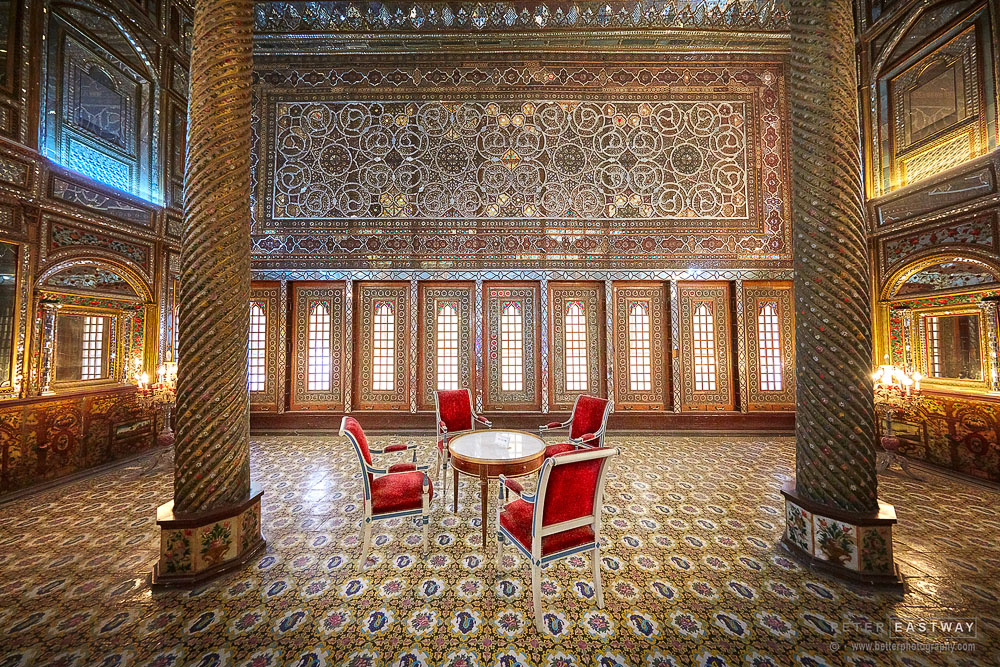 One of the side residences at the Golestan Palace, Tehran.
Canon EOS 5DSR, 11-24mm @ 11mm, 1/40 second @ f5, ISO 3200
At a smart new vegetarian restaurant next to an art gallery in Tehran, we were seated opposite three well-dressed women. A beautiful strawberry flan, large enough to feed a dozen people, was delivered to their table - rich, red strawberries with what appeared to be a suitably thin, crispy base, just the way I like it.
One of the women observed me looking at their flan. She laughed and made a couple of comments to her friends. Had I been a little obvious?
I asked our waitress if we could order a strawberry flan for our table, only to discover that the flan was not on the menu. My language skills didn't allow her to elaborate, but I guessed the women had brought it with them for a special occasion.
After we finished our main meal some time later, the strawberry flan appeared at our table. Three small slices had been consumed, leaving a generous gift from the women.
This gesture was to epitomise the friendly disposition of the Iranian people we met throughout our trip. Persia of antiquity was known for its luxury and entertainment and perhaps it is this generosity of spirit that has been handed down over the generations. Wherever we travelled, we'd meet people who would say, "Welcome to my country".
We had a little conversation with the three women. It was a birthday for one of them and when I asked her if she was 21, she looked offended and said she was only 18! I wondered if we'd be this hospitable in Australia if the roles were reversed. I'd like to think I would be, at least now.
Nuran Zorlu and I are just back from a remarkable journey through Iran. From a photographic perspective, it was simply exceptional. We were joined by nine photographers who also appeared to enjoy what we found. There will be more about Iran in future newsletters as I work through my files. Nuran is looking to take a group back to Iran in March/April next year, and I'd be keen to join him again in 2019.
Yes, there are political tensions involved, but on the ground with the 'average' Iranians, when you're walking through a market or across a field, I haven't visited a more friendly country.
The photo above gives you a glimpse of the opulence presented by some of the historical architecture. Iran - or Persia - goes back three or four thousand years and while some buildings have been restored in recent years, you're continually picking your jaw up off the ground as you gape in amazement at the building interiors. The walls and ceiling of this ballroom (I'm assuming) were covered in finely shaped and decorated mirrors. A remarkable space.
A portfolio of my Iranian photos will be up on my personal website shortly - view www.petereastway.com.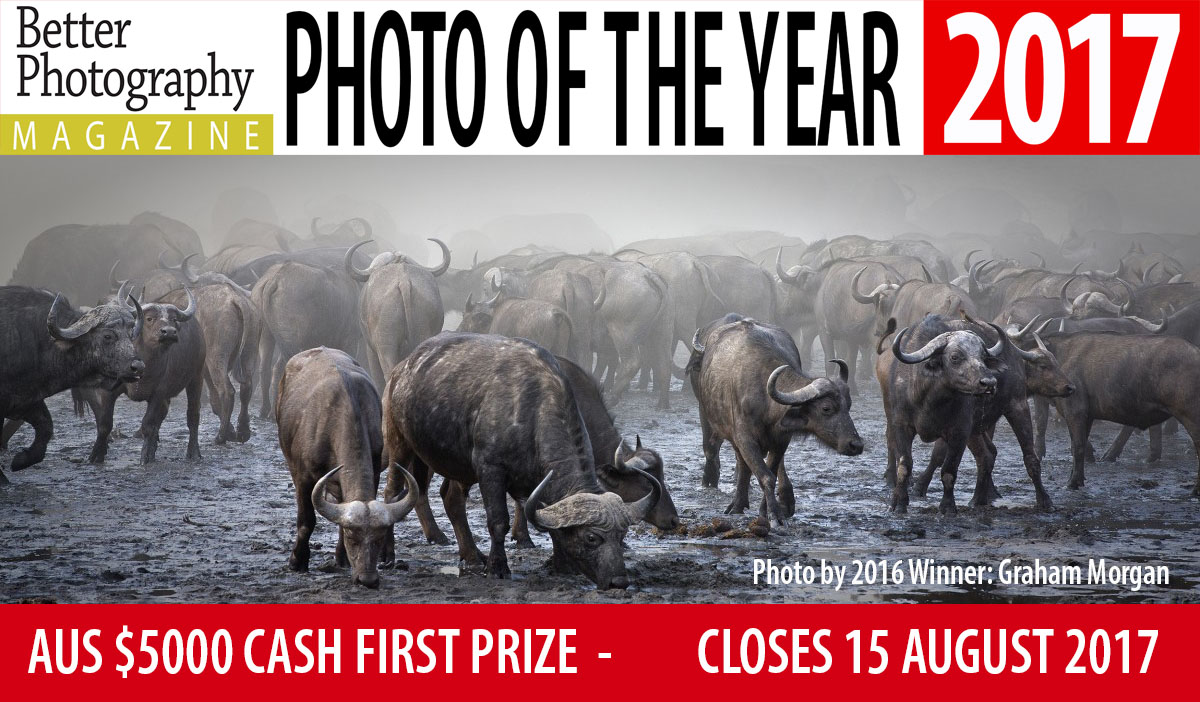 AUS $5000 Cash First Prize

Great Prize Pool of Category Prizes

Competition Professionally Judged

Every entry receives a helpful comment
The Better Photography Magazine Photo of the Year 2017 is now open to photographers from around the world.
Have your photographs professionally judged by three AIPP Grand Masters of Photography! Every entry gets a score and a brief judge's comment.
Show us your most compelling photographs and you could win a Bronze, Silver or Gold Award.
There are six fantastic Category Awards with a special product hamper from Datacolor, Canson, Momento and Wacom.
And then there's the prestigious Better Photography Magazine Photo of the Year 2017 Award with a $5000 cash prize!
Six Great Categories To Choose From – Or Enter Them All
Emotive Portraits

Classic Landscapes

Creative Flair

Exotic Travel

Incredible Sport

Revealing Nature
Once again, we have a very special judging panel. Peter Eastway, Tony Hewitt and David Oliver have all won major photography awards and judged dozens of photography competitions internationally, each with over thirty years' experience. All are AIPP Grand Masters of Photography and they bring to the judging a wide range of experiences, understanding both the traditional aspects of photography and the new avanstyles.
To enter, visit www.betterphotographyphotocomp.com.
For more information, contact Kim Valenti at This email address is being protected from spambots. You need JavaScript enabled to view it.