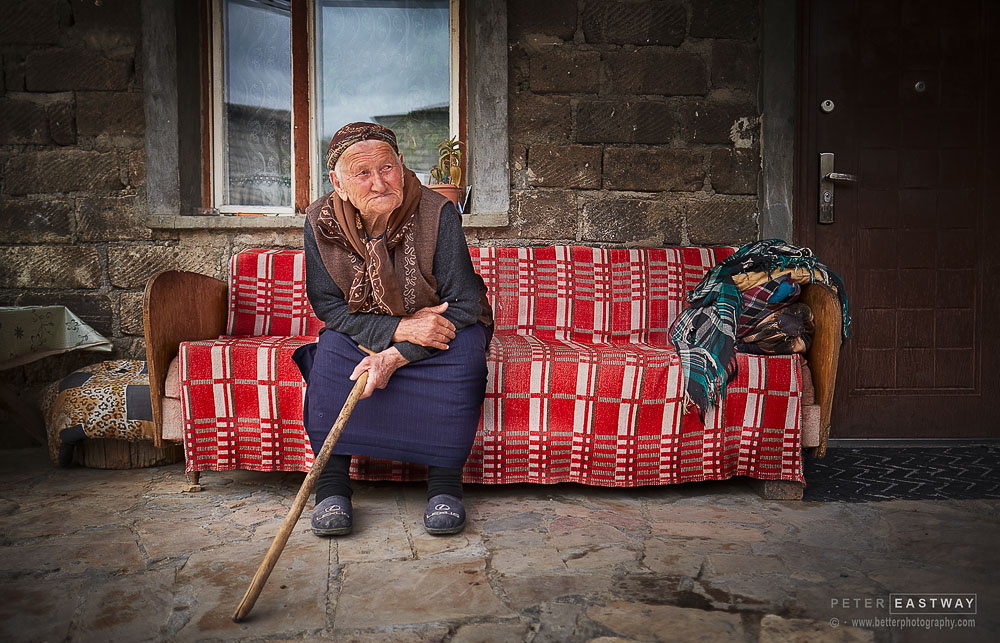 Matriarch. Areni Village, Armenia
Fujifilm X-Pro1, 16mm lens, 1/4400 second @ f1.4, ISO 200
I'm known as a landscape photography, but I'm also a closet people photographer. This doesn't mean I photograph them from a closet, which boggles the mind when I think what could mean. Rather I like to engage with people and, if I am brave enough, take their portrait.
And sometimes not speaking the language is a huge benefit. It's not like photography is a secret science anymore. And taking a photograph no longer means stealing someone's spirit or soul! So, walking up to someone, smiling, saying one or two words in their language and then pointing at your camera usually gets the question across.
In Georgia and Armenia last month, we stopped off in a few little villages just to take a walk around. In this village we also stopped to have lunch, so I figured the locals were used to tourists, if not photo tour tourists! Sometimes I walked around with the women on my tour because they seemed to be much better at striking up a conversation than me. On other occasions, I struck out on my own with mixed success.
But I enjoy the process. Very much!
This photograph of an ageing matriarch came about as a result of an introduction. A few of the other photographers had discovered her before lunch, so we made up an excuse to return to her home to see if the rest of us could take a photograph. I think it made her day. During the 60 seconds or so I crouched in front of her, she moved her stick here and there, but I like it best outstretched as you see it here. And I love the look she is giving her daughter behind me - "What the hell are these people doing here!"
We placed her on her verandah in shade and then sat back and conversed with sign language. Mehmet our guide and the matriarch's daughter managed to converse a little and she also seemed to enjoy the visit. I'm not sure they'd want a horde of photographers there every week, but I am certain it brightened up their day and will give them something to talk about with their neighbours.
Chances are they experienced something similar!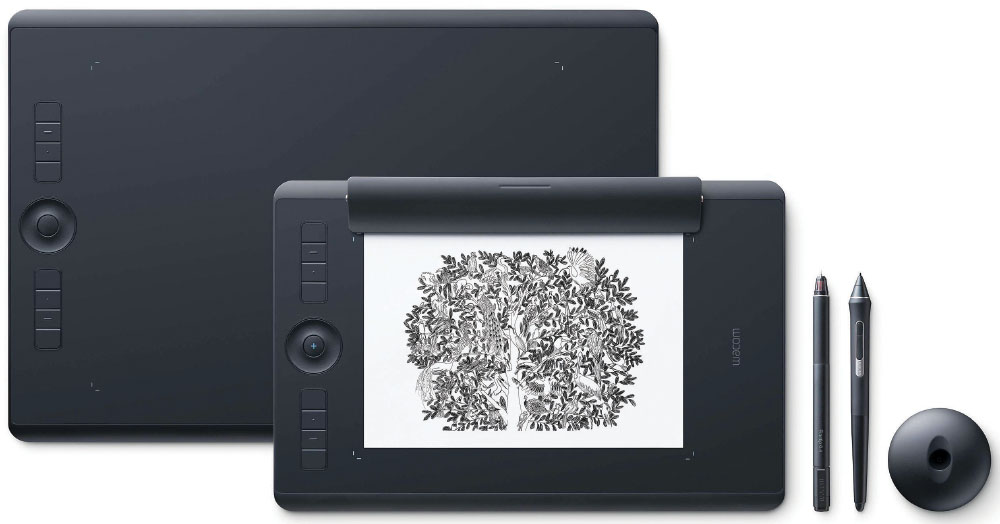 Wacom Intuos Pro Paper Editions

As photography and art merge, the advantages of a pen instead of a mouse become increasingly compelling. For photographers, the main reason we use a pen is so we can draw masks and retouch our images. In comparison to a clunky mouse, a pen and tablet system makes sense, although it does take a little getting used to.
Wacom's latest Intuos Pro comes as standard for photographers, or in a Paper Edition for photographers who also like to draw. The paper edition comes with a clip so you can put some paper on top of the Intuos Pro and draw both physically and digitally. You can draw in ink on your preferred paper with Wacom's 0.4 mm Finetip Pen and the Intuos Pro will capture every stroke in real time – ready to edit in your favorite software. You don't even need to be connected to a computer or the Internet as it will store up to 200 sketches, ready for you to sync using the Wacom Inkspace app.
Of course, most photographers won't need this feature, so what's to like about the new Intuos Pro, standard edition? Importantly, there's a new Wacom Pro Pen 2 with 8192 pen pressure levels, meaning you don't always have to change your brush size in Photoshop or Lightroom, you can just draw a little more lightly - it's very cool. The two larger Intuos Pro M and L units have eight ExpressKeys, just like the MobileStudio Pro, plus built-in Bluetooth connectivity. The smaller Intuos Pro S has six ExpressKeys (it is smaller after all, but there isn't a paper version either) and wireless connectivity via an adapter. You can also plug in the Intuos Pro USB connector if you prefer.
The Wacom Intuos Pro costs from $349 for the Intuos Pro Small up to $769 for the Intuos Pro Large Paper Edition.
Visit buywacom.com.au for more information.