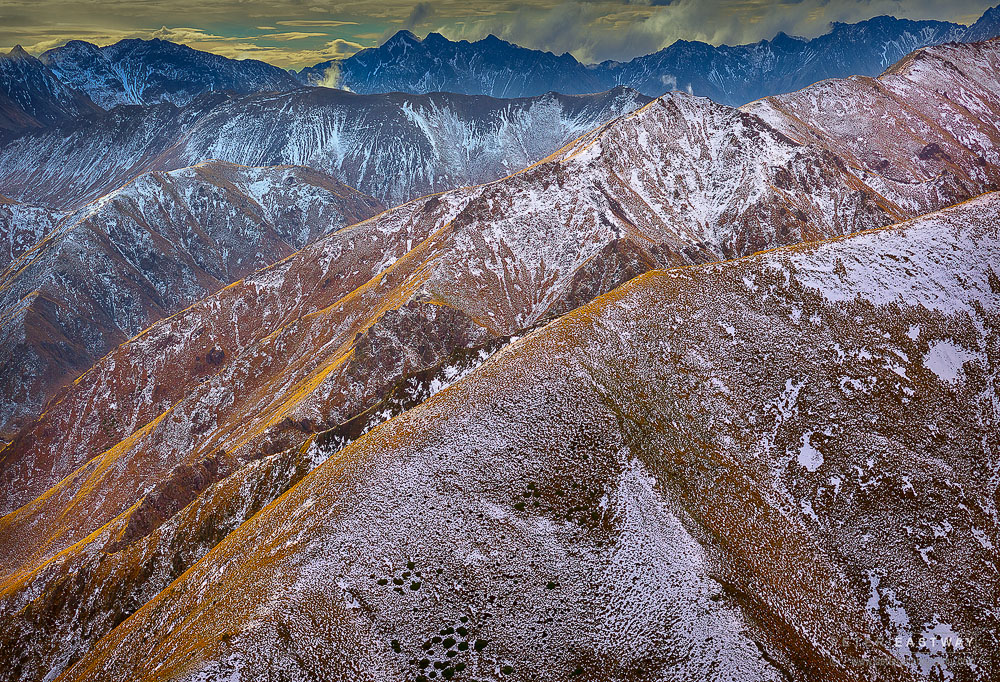 Aerial, Middlehurst, New Zealand. June 2017 - Preliminary Edit
Phase One XF 100MP, 80mm Schneider, f4.5 @ 1/2500 second, ISO 200
"Plane or helicopter, sir?" Our Art Photography Workshop at the end of June was full of surprises. A fresh dusting of snow followed by a little warm weather, and then another dusting created amazing patterns and textures on the mountains that surround Middlehurst Station.
One of the most important aspects of aerial photography is to maintain a fast shutter speed to avoid blur (most of it vibration in the aircraft, but also the speed at which you're travelling). However, this has to be balanced with a reasonable aperture so you have edge-to-edge sharpness (sometimes the edges of the image aren't as sharp as the centre when shooting at the maximum aperture), and not too high an ISO setting (as noise can interfere with the fine detail of the landscape). Some photographers use shutter-priority exposure mode, locking in a fast shutter speed like 1/2000 second, and letting the aperture and ISO fall where they may. This is a good starting point, but personally I like to keep an eye on all my settings, adjusting them to suit the situation and maximise my image quality.
Tony Hewitt and I entertained just three photographers this year (we take up to six) in one of New Zealand's most remote and picturesque landscapes. Most of the stations in this part of the world are privately owned (access requires permission) and while Middlehurst itself is huge, our plane and helicopter flights took in an even wider flight path, including the coastal fringe and the interior ranges.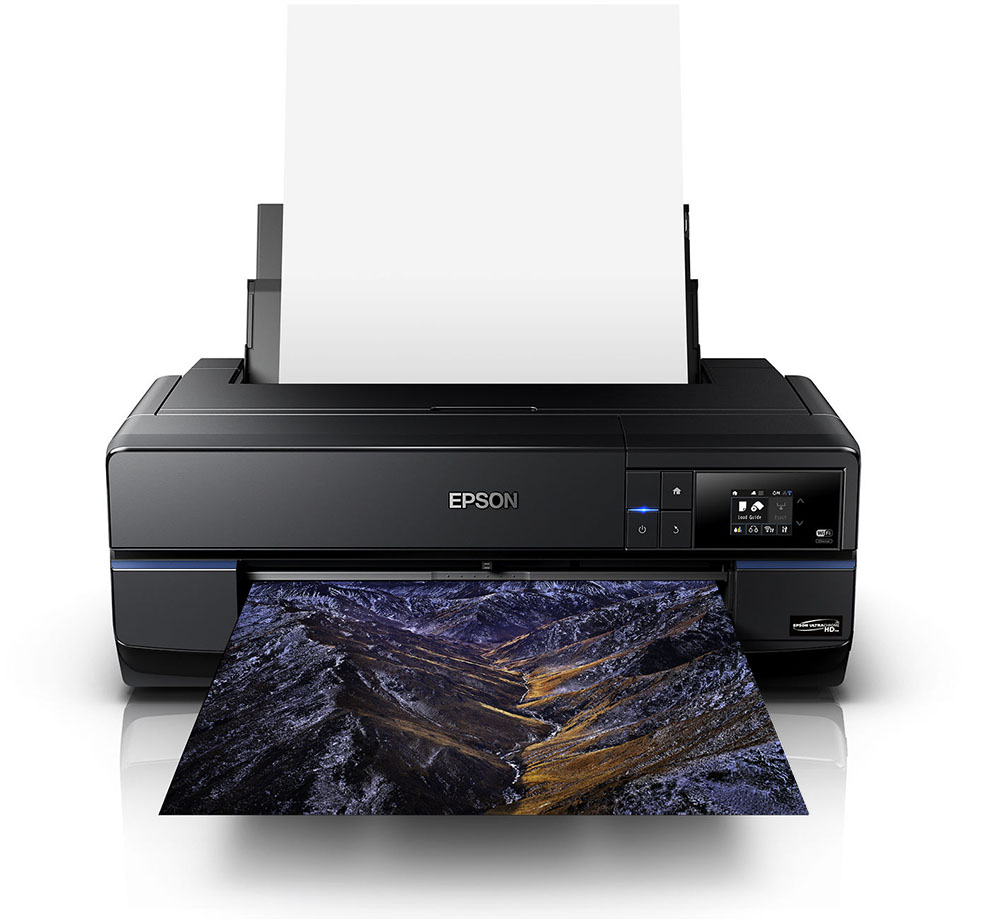 Epson SureColor P800 - on duty in Middlehurst
However, this is an art photography workshop and we allocate a lot of time to post-production and printing. Back on terra firma, our focus is on tranforming the raw captures into works of art, ably assisted by a high quality photo printer. Epson kindly lent us its A2-size SureColor P800, along with some Epson Hot Press Bright and Velvet Fine Art. We also had some Canson Platine, Rag Photographique and Aquarelle. And lots of ink!
Shooting from the air into mountainous terrain is always a little challenging because of the deep shadows and bright highlights. It's also a great opportunity to play with light and, using Lightroom, Capture One or Photoshop, remap the tones to create a stronger composition.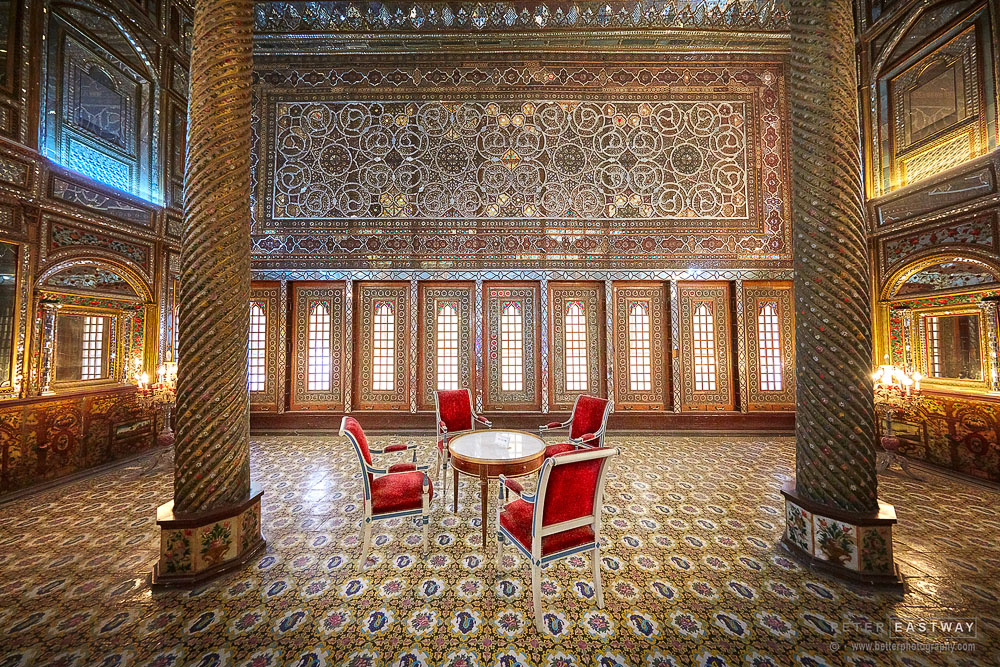 One of the side residences at the Golestan Palace, Tehran.
Canon EOS 5DSR, 11-24mm @ 11mm, 1/40 second @ f5, ISO 3200
At a smart new vegetarian restaurant next to an art gallery in Tehran, we were seated opposite three well-dressed women. A beautiful strawberry flan, large enough to feed a dozen people, was delivered to their table - rich, red strawberries with what appeared to be a suitably thin, crispy base, just the way I like it.
One of the women observed me looking at their flan. She laughed and made a couple of comments to her friends. Had I been a little obvious?
I asked our waitress if we could order a strawberry flan for our table, only to discover that the flan was not on the menu. My language skills didn't allow her to elaborate, but I guessed the women had brought it with them for a special occasion.
After we finished our main meal some time later, the strawberry flan appeared at our table. Three small slices had been consumed, leaving a generous gift from the women.
This gesture was to epitomise the friendly disposition of the Iranian people we met throughout our trip. Persia of antiquity was known for its luxury and entertainment and perhaps it is this generosity of spirit that has been handed down over the generations. Wherever we travelled, we'd meet people who would say, "Welcome to my country".
We had a little conversation with the three women. It was a birthday for one of them and when I asked her if she was 21, she looked offended and said she was only 18! I wondered if we'd be this hospitable in Australia if the roles were reversed. I'd like to think I would be, at least now.
Nuran Zorlu and I are just back from a remarkable journey through Iran. From a photographic perspective, it was simply exceptional. We were joined by nine photographers who also appeared to enjoy what we found. There will be more about Iran in future newsletters as I work through my files. Nuran is looking to take a group back to Iran in March/April next year, and I'd be keen to join him again in 2019.
Yes, there are political tensions involved, but on the ground with the 'average' Iranians, when you're walking through a market or across a field, I haven't visited a more friendly country.
The photo above gives you a glimpse of the opulence presented by some of the historical architecture. Iran - or Persia - goes back three or four thousand years and while some buildings have been restored in recent years, you're continually picking your jaw up off the ground as you gape in amazement at the building interiors. The walls and ceiling of this ballroom (I'm assuming) were covered in finely shaped and decorated mirrors. A remarkable space.
A portfolio of my Iranian photos will be up on my personal website shortly - view www.petereastway.com.