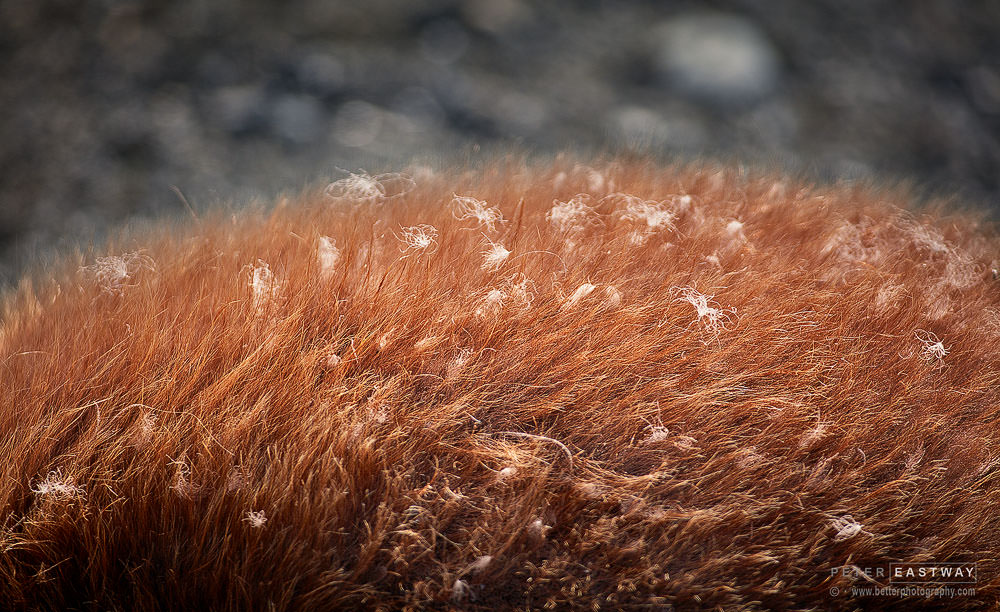 Young King Penguin, Gold Harbour, South Georgia.
Canon EOS 5DSR, EF200-400mm f/4L IS USM EXT, 1/400 second @ f5.6, ISO 100
When you travel to Antarctica and South Georgia, one guarantee can be made: you will see penguins and lots of them!
In terms of photography, a rookery of penguins makes a great composition because of the incredible repetition of shapes. Standing, on nests, young near old - there are lots of variations and all you really need is a standard lens to capture it.
However, whether penguins or giraffes, there's a part of me that likes to photograph parts of animals. Sometimes they make interesting geometric shapes, sometimes it's just a tail or some wing feathers that make the photograph.
The lead image is the back of a young King Penguin. The tiny white feathers are possibly not from this penguin, but picked up from others. There have been occasions in Antarctica when it looked like it was snowing there were so many feathers in the air.
To take these photos, you need a long telephoto lens. A lot of these were taken with a 560mm or 600mm lens and both Sigma and Tamron make super zooms that reach out to 600mm for not too much money. Canon, Nikon and Fujifilm all have 100-400mm zooms which are reasonably priced when you compare them with the f2.8 and f4 super telephoto lenses. So, there are ways to get super telephoto performance without super high prices.
If I were going to Antarctica, I'd take the longest zoom I could, just for photos like these!
And funny I should mention that because I have a photo tour going to Antarctica in December 2018 (back for Christmas) with Aurora Expeditions. And there's a 15% discount offer on some berths if you book before 31 August this year, so if this is sounding like you, visit the website and have a look here.

And here are a few more penguin parts…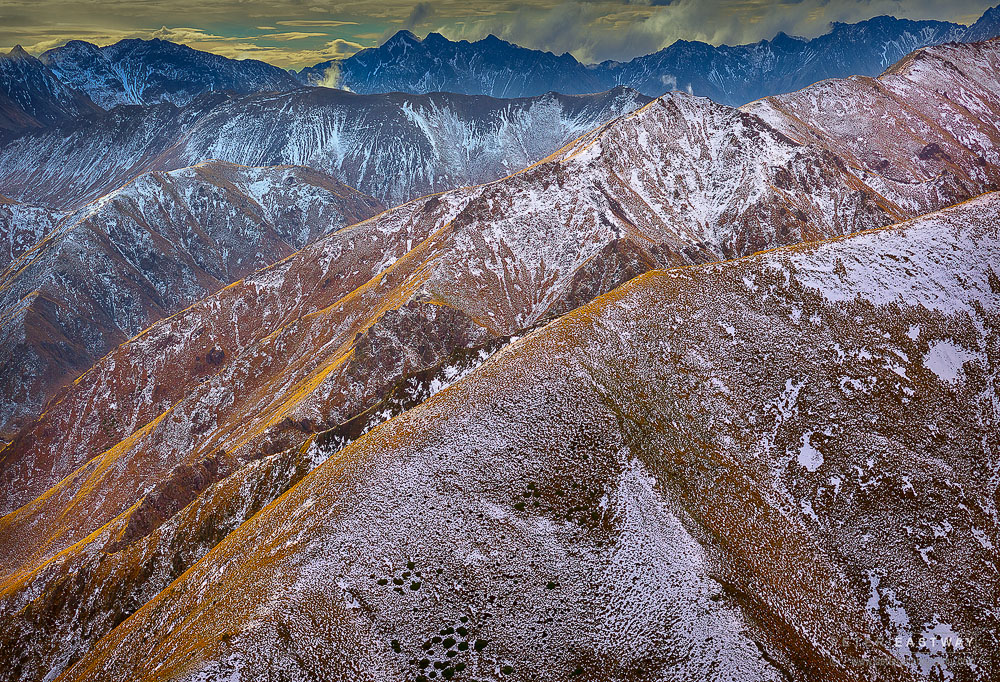 Aerial, Middlehurst, New Zealand. June 2017 - Preliminary Edit
Phase One XF 100MP, 80mm Schneider, f4.5 @ 1/2500 second, ISO 200
"Plane or helicopter, sir?" Our Art Photography Workshop at the end of June was full of surprises. A fresh dusting of snow followed by a little warm weather, and then another dusting created amazing patterns and textures on the mountains that surround Middlehurst Station.
One of the most important aspects of aerial photography is to maintain a fast shutter speed to avoid blur (most of it vibration in the aircraft, but also the speed at which you're travelling). However, this has to be balanced with a reasonable aperture so you have edge-to-edge sharpness (sometimes the edges of the image aren't as sharp as the centre when shooting at the maximum aperture), and not too high an ISO setting (as noise can interfere with the fine detail of the landscape). Some photographers use shutter-priority exposure mode, locking in a fast shutter speed like 1/2000 second, and letting the aperture and ISO fall where they may. This is a good starting point, but personally I like to keep an eye on all my settings, adjusting them to suit the situation and maximise my image quality.
Tony Hewitt and I entertained just three photographers this year (we take up to six) in one of New Zealand's most remote and picturesque landscapes. Most of the stations in this part of the world are privately owned (access requires permission) and while Middlehurst itself is huge, our plane and helicopter flights took in an even wider flight path, including the coastal fringe and the interior ranges.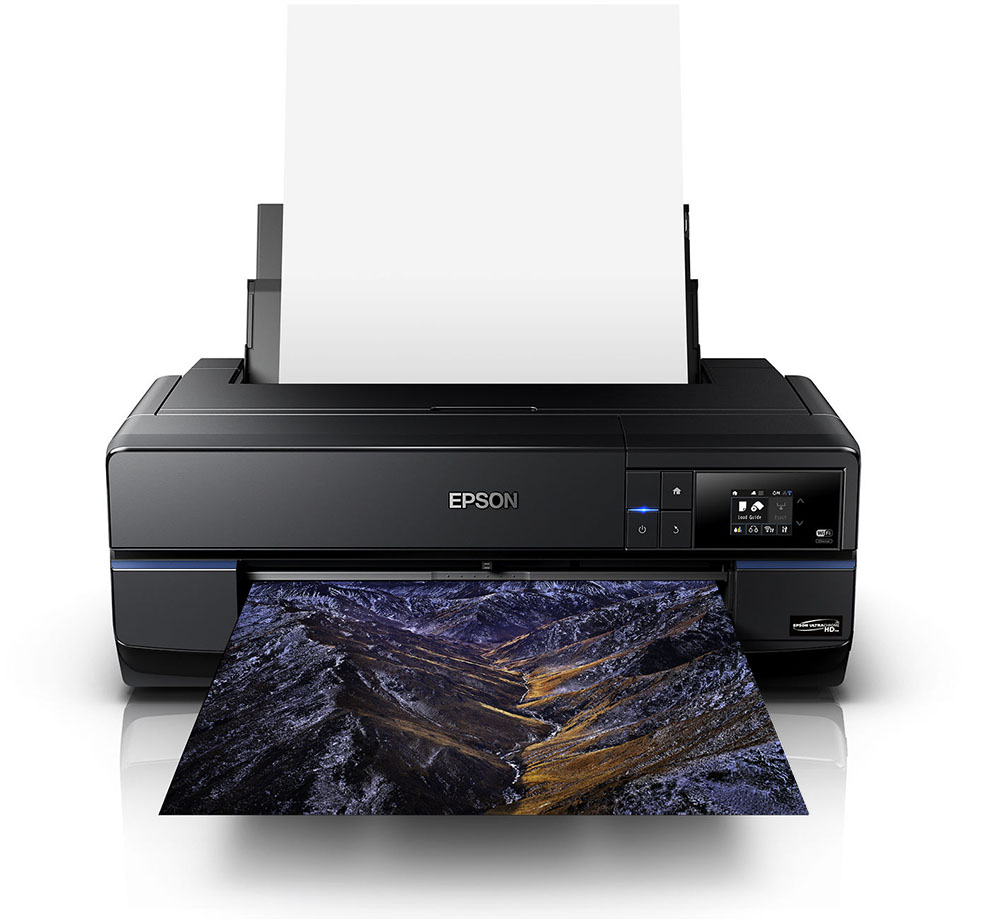 Epson SureColor P800 - on duty in Middlehurst
However, this is an art photography workshop and we allocate a lot of time to post-production and printing. Back on terra firma, our focus is on tranforming the raw captures into works of art, ably assisted by a high quality photo printer. Epson kindly lent us its A2-size SureColor P800, along with some Epson Hot Press Bright and Velvet Fine Art. We also had some Canson Platine, Rag Photographique and Aquarelle. And lots of ink!
Shooting from the air into mountainous terrain is always a little challenging because of the deep shadows and bright highlights. It's also a great opportunity to play with light and, using Lightroom, Capture One or Photoshop, remap the tones to create a stronger composition.