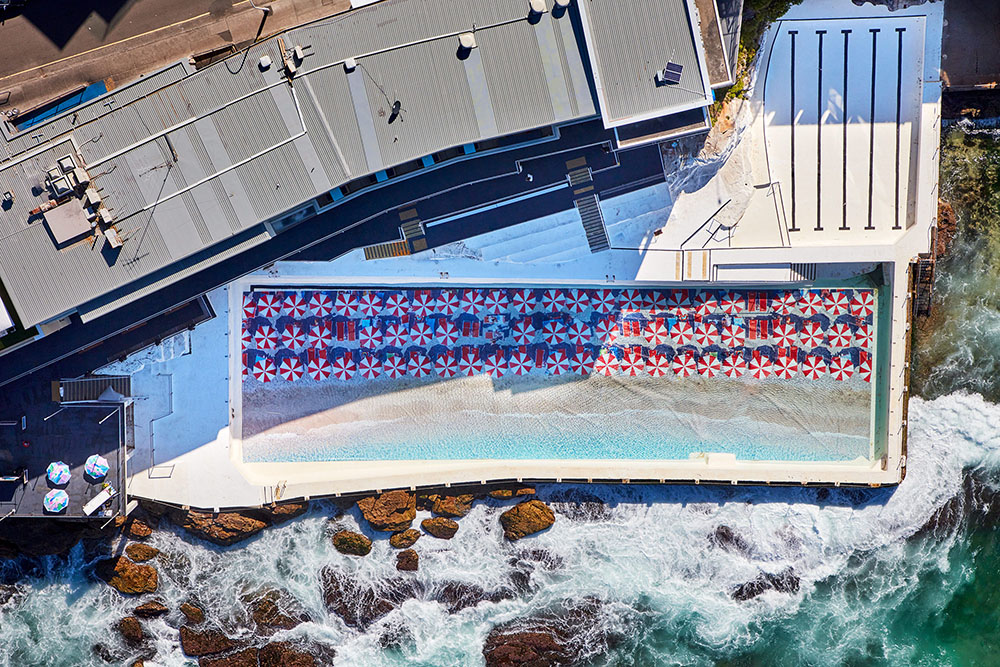 Eugene Tan's big print of the Amalfi Coast installed in Bondi.
Photo by Eugene Tan.

Canon has launched a new initiative that challenges us to do, well, anything at all. Called Show Us What's Possible, the idea is to push the boundaries and pitch some remarkable projects to Canon.
To kick it off, Aquabumps' Eugene Tan brought an Italian influence to Sydney. The Bondi-based publisher and aerial photography pioneer unveiled his most audacious project to date. The result of a 12-month journey, and with the support of Canon, Eugene achieved his long-held dream of producing a 'huge' print of one of his aerial photographs for everyone to enjoy.
Over a 24-hour period, Eugene installed a 49-metre long, 13-metre wide, 700 square metre print of 'Peppermint Fresh', one of his most popular shots taken above the Italian Amalfi Coast. However, it was where Eugene placed it that was most interesting: on the bottom of the famous Bondi Icebergs swimming pool!
"The Icebergs exhibition is a melting pot of my passions: aerial photography, Italy, the beach, Bondi, and large-scale prints," says Eugene. "I pioneered aerial beach photography in Australia over 10 years ago and have always wanted to produce one of my aerial images publically in a huge format. Icebergs was a logical location choice and the closest replication of the famous Italian beach clubs on the Amalfi Coast, which has become one of my favourite locations to shoot.
"For this to be at the iconic Icebergs pool in Bondi Beach, where Aquabumps started 18 years ago, is really a dream come true. I started Aquabumps because of my passion and love of the beach and to share my images with more than 300,000 people daily all over the world – to be able to show them this will be pretty cool." Eugene Tan's documentary film of the making of his art installation will be launched on Canon's Stories website (https://www.canon.com.au/explore/stories) and Aquabumps' channels.
The latest printed issue of Better Photography magazine is not far away and will be posted soon. It will also be on sale in the newsagents. However, for online digital subscribers, you can login and download the magazine right now!
Just click here to visit the website - you will need your username and password of course!
Issue 87 content includes: