General Blog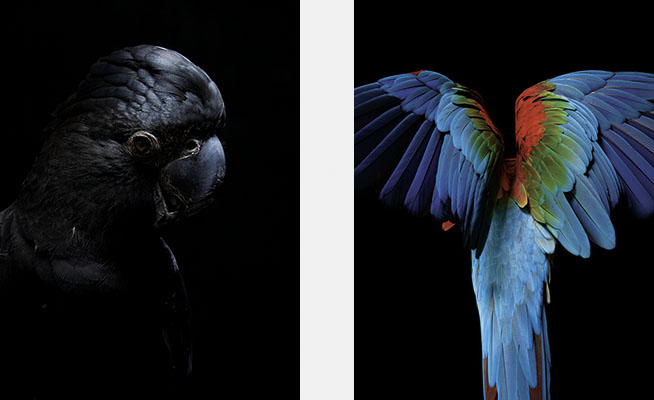 Two photos by Gary Heery that appear in the Autumn issue of Better Photography.
Both are from Gary's book, Bird.
I have three ulterior motives for sharing Gary Heery's book, Bird, but the main one is to encourage all readers to take their photography to the next level by creating a portfolio or collection of their work developed around a theme. It's a great process and one that the world's best photographers follow all the time. And while it doesn't have to end up as a book, that's not a bad idea either!
Bird by Gary Heery is a collection of studio photographs of birds, from the highly exotic to the problematic and common. Some are in flight, some are tight portraits, some are rear views that, were they photographs of humans, we might consider failures. However, in the context of a bird, its shape, texture and colours, each of Gary's portraits is a beautifully executed document.
What I appreciate most is the variety of poses. As you flip through the pages, the interaction with the subjects continually changes and I think this is the mark of a highly creative mind - allowing the bird as much as the camera to dictate the outcome.
Gary Heery features in the Autumn 2017 issue of Better Photography magazine twice, once as an ambassador for the new Fujifilm GFX medium format camera, the second in a general interview about his life's work. Gary took Madonna's portrait for her first album many years ago when working in the USA and today he has a foot in several worlds, from fashion, advertising and portraiture to contemporary art.
The third motive is...
... to let you know you can purchase Gary's book Bird directly from him for $125 plus postage. You'll find details on his website at https://gary-heery-hxoa.squarespace.com/shop/bird-book. So, what prompted this little plug in my newsletter? My copy of the book arrived last week and I love it!
Gary Heery's book, Bird.
And if you're interested in a photography workshop in the next 12 months, I have places left on trips going to Arnhemland, Iran, Canada and Mexico. Full details on the Better Photography website!