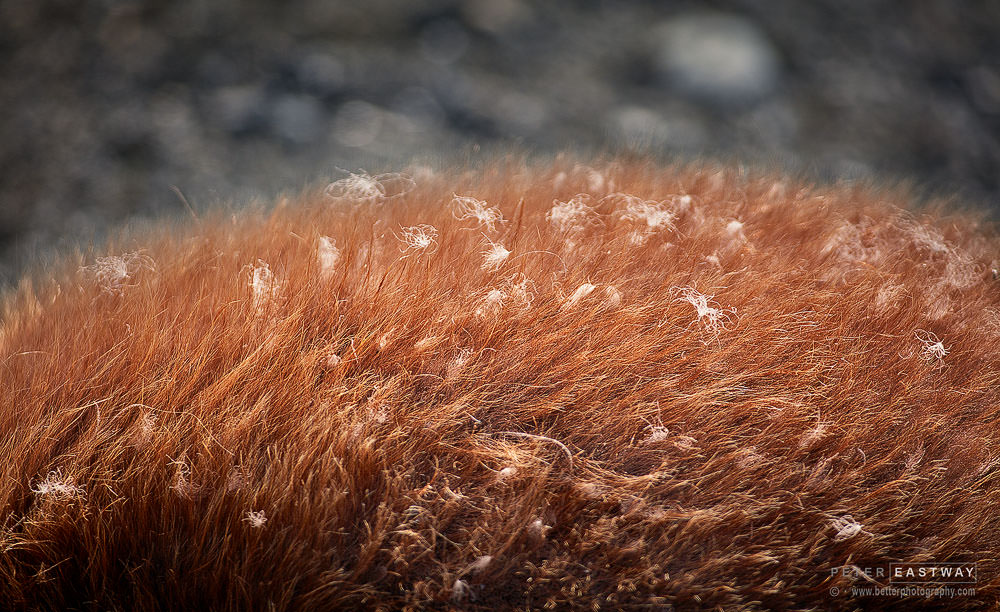 Young King Penguin, Gold Harbour, South Georgia.
Canon EOS 5DSR, EF200-400mm f/4L IS USM EXT, 1/400 second @ f5.6, ISO 100
When you travel to Antarctica and South Georgia, one guarantee can be made: you will see penguins and lots of them!
In terms of photography, a rookery of penguins makes a great composition because of the incredible repetition of shapes. Standing, on nests, young near old - there are lots of variations and all you really need is a standard lens to capture it.
However, whether penguins or giraffes, there's a part of me that likes to photograph parts of animals. Sometimes they make interesting geometric shapes, sometimes it's just a tail or some wing feathers that make the photograph.
The lead image is the back of a young King Penguin. The tiny white feathers are possibly not from this penguin, but picked up from others. There have been occasions in Antarctica when it looked like it was snowing there were so many feathers in the air.
To take these photos, you need a long telephoto lens. A lot of these were taken with a 560mm or 600mm lens and both Sigma and Tamron make super zooms that reach out to 600mm for not too much money. Canon, Nikon and Fujifilm all have 100-400mm zooms which are reasonably priced when you compare them with the f2.8 and f4 super telephoto lenses. So, there are ways to get super telephoto performance without super high prices.
If I were going to Antarctica, I'd take the longest zoom I could, just for photos like these!
And funny I should mention that because I have a photo tour going to Antarctica in December 2018 (back for Christmas) with Aurora Expeditions. And there's a 15% discount offer on some berths if you book before 30 December this year, so if this is sounding like you, visit the website and have a look here.

And here are a few more penguin parts…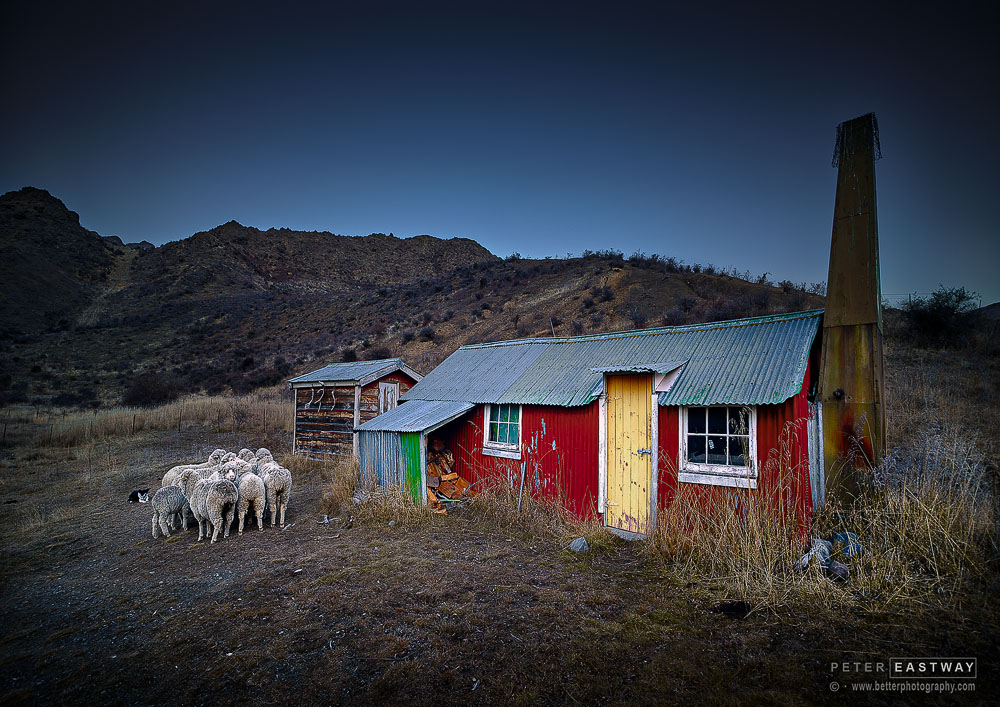 The Cabin, Middlehurst Station, New Zealand
Phase One A-Series 100MP, 23mm Alpagon, 1/10 second @ f5.6, ISO 50
After our Middlehurst Photo Art workshop last year, we shot (err, photographed) sheep again this year, but I haven't processed the blurred shots as yet. However, what we did discover was this wonderful old shack.
We arrived just on dusk while doing a quick reccy of the east part of the station (it took three hours). Willy and Sue, the station owners, take turns to drive us around as neither Tony nor I are up to the task of navigating the changing river beds and narrow tracks. In fact, we stand up the back of the ute (our photography guests are warm inside) and marvel at how deftly the locals drive their vehicles. Lots of experience.
While the photographers were busy exploring the area around the shack, Willie grabbed his dog and practiced his own art. Now, I'm not quite sure what you call sheep herding with sheep dogs, but the way the dogs control the sheep and respond to Willy's instructions is amazing.
I noticed Willy herding a half a dozen sheep around and asked if he could place them in front of the shack. At the time, I couldn't get quite the wide-angle composition I wanted because of an overhanging tree (just out of frame), but looking at my frames now, I'm quite happy with the composition. Just maybe I should pick up the lone dog and move him a little further to the left?
Here's my Photoshop tip: