Details

Category: Almost Weekly Photo
It is with great pride that I announce that my book The New Tradition is available for purchase - and I need your help! The garage is overflowing and I can't fit my car in, the wife is going ballistic and we need to pay the overdraft!
Actually, that's not quite true! We have the books safely stored down at the office and under our stairs at home (the wife suggested it). The car is fine. And we've already sold enough books to pay the printer, so all is well!
However, I'd still really love you to buy a copy of the book. The feedback I have been receiving has been really, really positive and photographers are telling me that they love this book. There are only 700 left, so they will not last long (he says, hopefully, fingers crossed behind his back)!
Said Tony Hewitt (and I know he's a good friend, but it's a nice quote), "This is seriously one of the most definitive photographic books I have seen in the last 25 years. It belongs on every photographer's bookshelf and will change the way you view your own photographic journey!" My mother-in-law agrees! Even my sister bought a copy (long story, don't ask, plus that's one Christmas present I can't give her this year!)
The book retails for $120 plus postage and packaging, but to encourage you to purchase now, I'm offering free postage and packaging within Australia, which is worth around $20! So, don't dilly-dally! Check out The New Tradition now - you can see sample pages and a short video on the website here: https://www.betterphotography.com/online-shop/new-trad-book
Details

Category: Almost Weekly Photo
Sand Dunes, Stovepipe Wells, Death Valley
Phase One A-Series 100MP, 23mm Alpagon, 1/30 second at f11, ISO 50.
When I think of the sand dunes at Death Valley, I think of Edward Weston's black and white print. It's only one of many, but I can remember thinking he had cropped it a little tightly, but I always wondered if it was cropped that way on his print, or just in the book where I first saw it.
I think I must have visited the dunes a dozen times, maybe more, and each time I get there, I think to myself that I really have photographed it a lot and surely I'm done. But it's never the case. You're always in a different location within the dunes (even though they don't move much from year to year), the light is from a slightly different angle - and then there's the weather.
The afternoon we arrived there was a fierce wind. We watched people getting sandblasted as they walked across the dunes and if you went out there, changing lenses would not have been a good idea! Fortunately, it had been raining earlier in the day, so there wasn't as much sand being picked up as there could have been. We all mentally prayed the wind dropped over night. And it did.
The following morning was different, not just because most of the footprints had been blown away, but because the dunes were still wet underneath, adding an interesting marbling effect. They were a lot easier to walk on too! Every time I visit the dunes at Stovepipe Wells, there's always something a little different.
This is a focus stack, using three images processed in Capture One, then output as 16-bit TIFFs and stacked together using Helicon Focus (Method C). I'm feeling rather proud of myself as I've processed over 50 shots from our USA photo tour which are currently being displayed daily on Instagram (check them out - follow petereastway). I hope you like them!
Details

Category: Almost Weekly Photo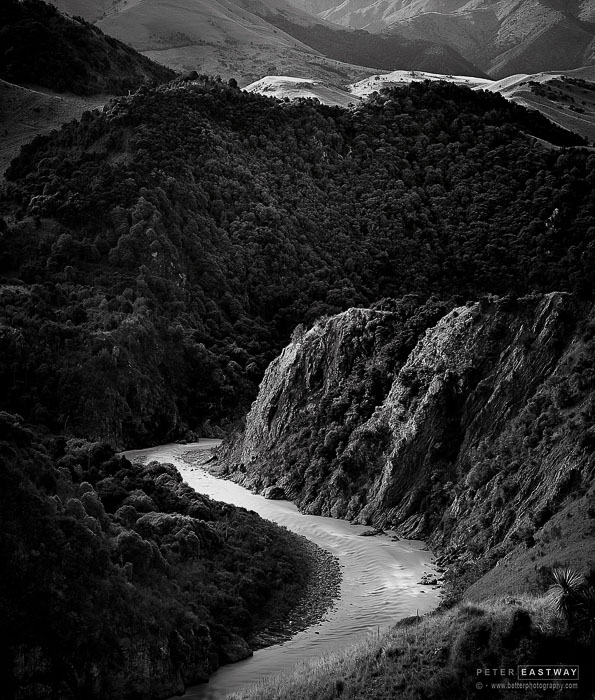 This is not Hanging Cow Creek, but the creek over the hill from Hanging Cow Creek!
Phase One 645DF, IQ180 back, 110mm Schneider, f5.6 @ 30seconds, ISO 50.
The Search is a marketing program conducted by RipCurl for surfers and the surf industry. It's an aspirational lifestyle where the best surfers travel the world in search of new waves to ride and the journey is every bit as important as the destination. Friend and legendary photographer Ted Grambeau has been instrumental in setting the standard for the imagery that tells such compelling stories.
I think photography can be approached in much the same way. Each time I venture out with my camera, it's a new search for a great photograph: the ultimate social documentary portrait, an epic landscape or an emotionally charged interpretation of a new location or destination.
There really is nothing better than travelling on the road, searching for new photographs. On photo tours, we generally have a good idea of what we're going to find, although nuances of weather, season and the local population can strongly influence the outcomes. Yet while the hero destinations are great, I find that my favourite photos are taken of lesser known subjects that 'just happened' to be found as we searched along the road.
This image was photographed in New Zealand and is one of my favourites of the Awatere Valley. It was taken on a photo tour with Tony Hewitt, a bit like the one we're planning this June/July. We were travelling up the valley to a sheep station near Middlehurst, not knowing exactly what we'd find.
We pulled over to the side of the road and bundled out of the minivan to look over the side of the chasm. To the right, the river snaked and curved around a bluff and this is what I saw. It's not Milford Sound, it's not taken in unusual climatic conditions, but I think it's a strong image and, for me, represents the search.
Does thinking about our photography this way help? I think it does because not every time we venture out with a camera do we find amazing things to photograph. Just like the surf isn't great every day, nor can we expect to capture perfect images all the time. And that's what makes the 'good' photos so special, what keeps the search interesting, what keeps us going.
Tony Hewitt and I are investigating two new places in New Zealand as part of our ongoing search: D'Urville Island and Cape Campbell (Adventures in NZ). We have a week planned in early July, so if you're interested, check out the details on our website. Places are still available for our next 'search'! Click here.