Preliminary Edit: Summer thunderstorm, Sydney's northern beaches
Phase One XT 150MP, Rodenstock 32mm f4.0 HR Digaron-W, f11 @ 1/125 second, ISO 50
As most of Australia's state borders open up again, I agree that state governments need to get together and work out a standardised system for locking down the borders (if indeed they need to be locked down). As much as I'd love to visit Queensland, and as much as Queensland is inviting tourists from NSW to come, everyone I'm speaking to is worried that once they make their plans, things will change and they won't be able to go, or worse, they'll change during their visit and they'll be unable to get back!
Having said that, isn't it great that's all we have to complain about. Both Australia and New Zealand are geographically very fortunate and our travails are but a fraction of what's being experienced elsewhere in the world. Our glasses are half full.
Like many readers, I've been taking a few photos near home. Living on Sydney's Northern Beaches means I have plenty to shoot, but on this occasion, I could have been anywhere in the world as the hero of the photograph is that sky! After feeling stuck in my office for an hour or two during a summer deluge, when the sun came out I wandered home. As I looked north, the storm seemed to be intensifying, so I grabbed my camera and jumped in the car. A couple of kilometres up the coast, I pulled over and this sky was waiting to be photographed. I spent a good half hour watching this amazing cloud build and morph - it was like going to the movies.
I've marked the photo as a preliminary edit because I'm not quite happy with the tonal mapping just yet. However, the reason I thought I'd share the image is to discuss the use of contrast in post-production. When lightening and darkening clouds, it's very easy to burn out the light cloud, so you tend to darken down the whole file and instead risk having the clouds look too dark and heavy. I find that contrast can build up very easily and the result can be a little too dramatic.
Now, this is possibly just a personal preference, but I'm reducing contrast on a lot of my images these days in order to keep detail throughout both the highlights and shadows. It's as easy as using the brightness/contrast slider in Photoshop - or the contrast slider in Lightroom or Capture One. And if you don't like what it does to the file, press Un Do!
The photo at the top of this blog is the image with less contrast and I'll include the more contrasty version underneath for those who are reading this on my website.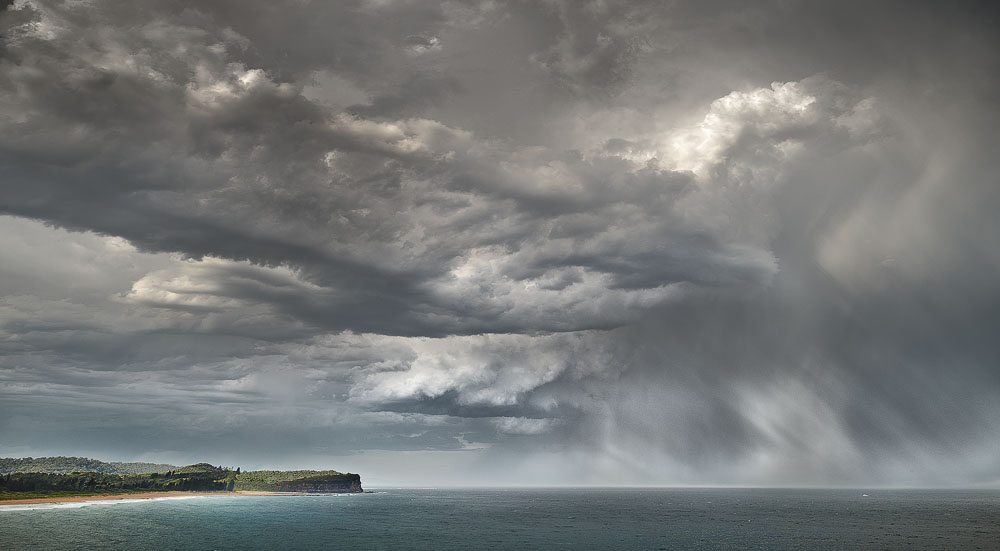 The slightly more contrasty version - I find the clouds look too heavy.