A sense of place is the iconic view from the caldera's edge on the island of Santorini
Guest Blog by Better Photography contributor, Nick Melidonis. 
"The camera is an instrument that teaches people to see without a camera."  - Dorothea Lange
 
After some decades of travelling as a photographer, I learned many things of what NOT to do and refined those things that produced the outcomes I wanted. 
 
As a camera enthusiast, you may enjoy the opportunity of travelling to new and different destinations in the hope of capturing images you would not normally see at home. Excitedly, you may stumble upon a crowded bazaar, a waterway, a colourful festival or gaze in wonder upon the grandeur of nature from a scenic overlook. You take several shots and you have a perception of the masterpieces you have just magically captured clearly in your mind. You arrive home, download your cards and start to view your images up large in your viewing software and find most of the images are dull, flat and boring. Sounds familiar?
 
All our senses are heightened and caressed when experiencing a new destination, however, trying to capture the moment as well as a 'sense of place' to share with family and friends back home on a finite, two-dimensional image is difficult.
 
Our brains simply can't process all of the data our senses are receiving when we view a scene. We tend to focus only on the most important or attractive detail to us at the time and point our camera in its general direction. As a consequence, what excited us in the first place is often mixed in with lots of unwanted and irrelevant clutter that may confuse the purpose of the image for our viewer. Worse still, in our eagerness to capture the moment, we may miss the visual clues that may assist our viewer to interpret what we just experienced, along with what we saw at the time. We may also miss the opportunity to capture the very things that made the destination unique, it's 'sense of place'.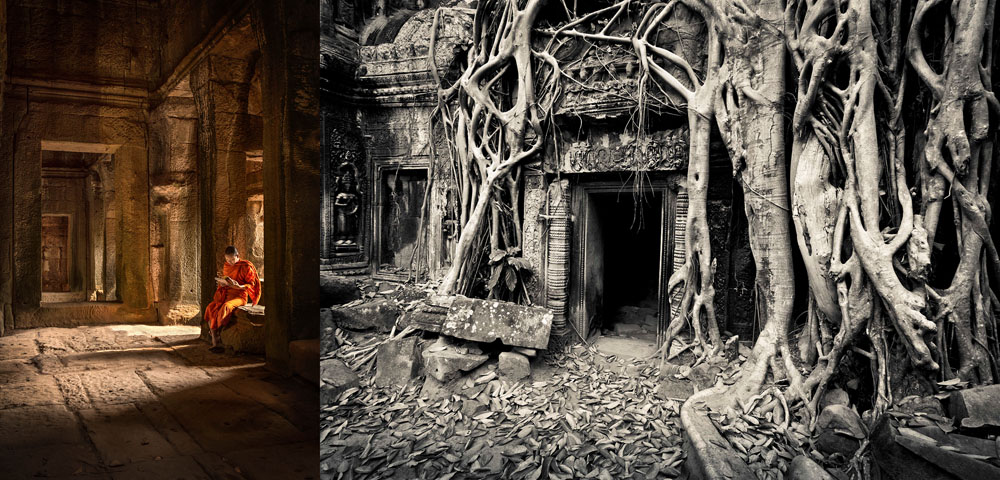 Monk reading holy texts and strangler figs engulfing temple ruins in Cambodia.
WHAT MADE YOU STOP?
So, what made you stop to take an image in the first place? Was it the different and colourful costumes, the shaft of light breaking from the storm clouds or the tactile textures of sand dunes in the early morning light? What is it about the destination or scene that excited you?  Which visual elements make it different from other places and what may give it a 'sense of place' that is recognizable in travel books and postcards?
 
Once you can identify what made you stop to take an image, then you can start to eliminate all the unwanted elements that compete with and detract from the main theme. Have a look at successful travel images from good photographers and you will find that the viewer's eyes are immediately drawn to the centre of interest and the image 'speaks' to the viewer.
 
Having decided what it is you want to say, consciously look around for other features or elements that would help to lead the viewer's eye to the centre of interest of the image. These may include a walkway, a winding road or river, a row of fence posts or a shaft of light that may rest on your main subject.  You may decide to burn and dodge your picture after you bring it into your imaging software. The highlights you create can then lead the eye easily to the main subject. This pre-visualisation of the potential of an image at the point of capture is a powerful creative tool to develop and can often make the difference between an average image and a show-stopper.
Sometimes the reason you travel isn't about getting 'the grand landscape', or the killer portrait but simply to enjoy the experience of new places, people and cultures and to be in the moment. I often become a focused observer to what is going on around me and try to capture a sense of place as I wander about. I found that sometimes, the less 'great expectations' I had, the less disappointed I was at not getting the iconic images I was imagining - and often these were the cliched images everyone wanted to have as 'trophy' photographs anyway. When I walked around with no great expectations, interesting cameos presented themselves and I often captured those moments in time that became strong, personal images of what I saw and felt about that destination.
Nick Melidonis has been writing for Better Photography magazine for as long as the editor can remember! Check out his articles in the magazine - and check out his website as well for workshops, photo tours and more - https://www.nickmelidonis.com/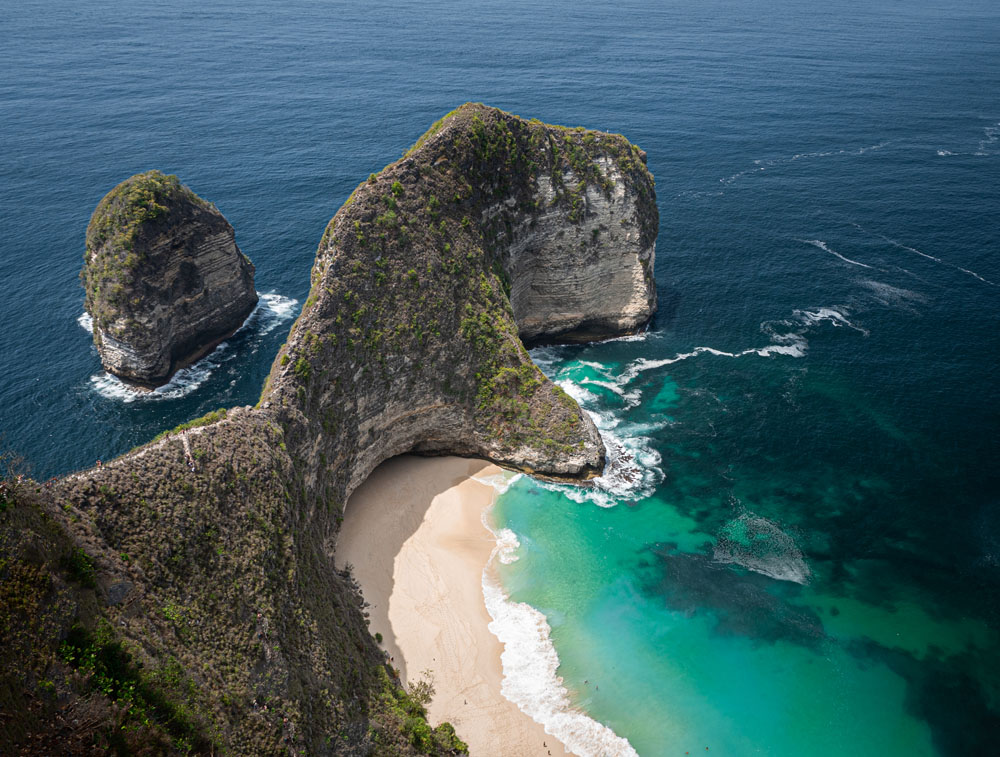 Kelingking Beach – Nusa Penida
I recently flew to Bali for some quiet R&R and decided to visit somewhere I hadn't been to before. Nusa Penida is a magic island 30 minutes by boat from Sanur Harbour and has one of the most famous beaches in Bali, Kelinking Beach. The beach, below a steep cliff and surrounded by stunning turquoise/blue water, reminded me of a similar beach in Greece on the island of Zakynthos, except on that beach, there was the wreck of an old freighter. It takes an hour to scale the cliff and rickety steps down to the beach in Nusa Penida. Unfortunately, the day trippers turn up in their hundreds and I finally decided to find a high, pay platform to get above the crowds on the cliff edge to take these shots, but definitely worth it, the view is iconic.