Work in Progress - Joanne with Australian landscape.
Fujifilm X-T4, 56mm f1.2, f4 @ 1/250 second, ISO 160, studio flash.
I am on my way back from Scone in the NSW Hunter Valley where David Oliver and I gave a two day portrait presentation, organised by the Hunter Valley's own Roger Skinner. It was great to get out and socialise again as, hopefully, we slowly exit the Covid era. We had around 30 enthusiastic people in total, comprising photographers, models and presenters.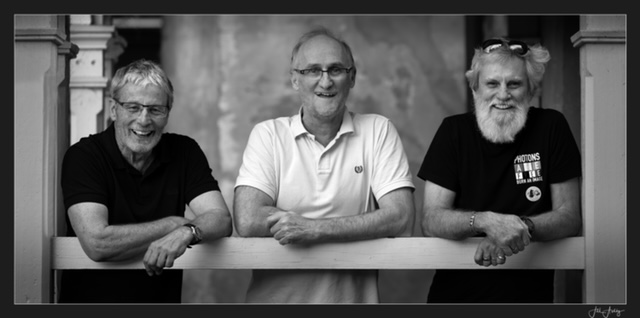 David, Peter and Roger - photo by Jill Ashby.
As a city-slicker, it's a breath of fresh air to get out into the country and NSW is certainly very green and lush just now. We spent a couple of evenings with Roger, discussing photography, art and cuisine; we talked and demonstrated portrait photography for two full days - and it is a buzz! Just great to get out there.
The photo above is just work in progress and needs refinement, but as we photographed Joanne with the Profoto studio flash, we all commented on how she could sit in a Mona Lisa environment with the Rembrandt lighting we used. So, I thought I would give it a landscape slant with an Australian landscape in the background. More refinement is needed, and it will be received when I am back in my studio with my Eizo monitor at the ready!!