A guest blog from regular Better Photography magazine contributor, Nick Melidonis.
On a highly successful tour in Borneo (pre COVID times, of course), we had two separate sightings in Semengoh, Sarawak of the two future Alpha Male orangutans, Edwin and Anwar. So far, these young males have yet to challenge the older current alpha male, Ritchie. Anwar, pictured here, is a massive and powerful animal who still lives in the wild, but wanders into the ranger station for food when there is a shortage of it in the forest. These visits by the alpha males are rare, so we scrambled to take advantage of the situation as normally we photograph them in the trees. Alpha males have distinctive cheeks as they grow older. The image above is one interpretation I did of Anwar.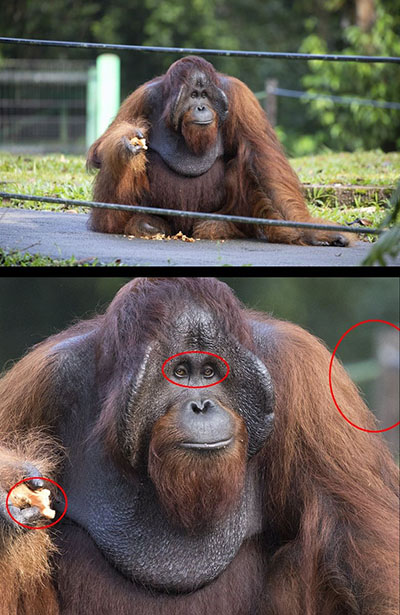 The top image is the original uncropped photo taken with a Canon 5D Mk IV and a 100-400mm Series 2 lens. It was taken during Anwar's brief visit to the ranger station. We were restricted in our movements and had to shoot pretty much where we stood and unfortunately, the background was 'messy'. In the image below the initial capture, you can see how I decided to crop, to give me an uncluttered, tight shot of Anwar's face. There were a few problems I could see in the cropped photo.The piece of fruit he was holding was bright and distracting; some fencing in the background was also distracting. I needed to separate Anwar's face by burning (darkening) the areas surrounding his face. His eyes were also not very prominent and needed to be selected and brightened and the details of his face needed to be enhanced. This was not an entry into a wildlife competition, so I was aiming instead for a strong portrait of Anwar.

I cloned some fur into his right hand to hide the bright distracting piece of fruit and in a similar manner, cloned a bit of green background over the distracting area outlined in red on the right. Using a few curves layers, I burned-in in the body areas surrounding his face and the green background behind him and dodged (lightened) his face a bit. I was now happy that the essence of the photo, his interesting face, was clearly the main content for the viewer to focus on.
I then applied 'A.L.C.E' software (Advanced Local Contrast Enhancement) to his face. This made a huge difference as it picked up the fine details of his face and cheeks with increased contrast and the face now really stood out.
I used a separate curve layer to select the eyes and increase the brightness on them, making them really prominent. I found the colours had become a bit too saturated, so I used a saturation adjustment layer to bring back the bright colours a tad and selectively applied this to different parts of the image.
The last layer, as always in Photoshop, is the sharpening layer. I used 'Photokit Sharpener' and applied it on his face only. I didn't use it on anything else to separate the face out even more. I was now happy overall with the image.
You can see more of Nick's work at https://nickmelidonis.com/ and you can also find out about his workshops, photo tours and one-on-one mentoring.