Monks Dancing, Trashigang, Bhutan. From the book Ritual | Bhutan by Peter Eastway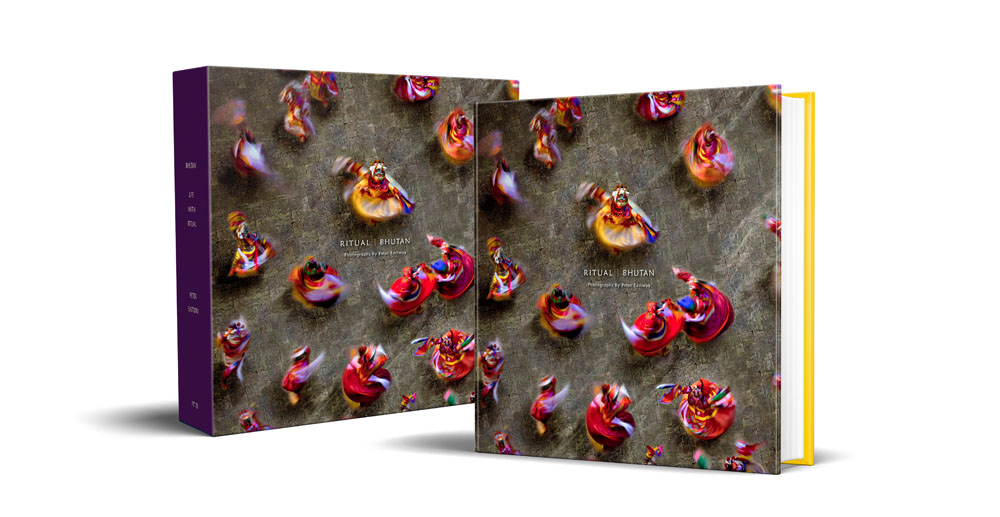 If you've read the blogs from the last fortnight, you'll know there are three books in the Bhutan trilogy - Myth, Life and Ritual. Why three? Why not be a bit stronger on the selection process and make a single book.
Like most things in photography, there isn't a single approach. I have already done a single book on Bhutan after my first visit with Robert van Koesveld over 10 years ago. Since then, I have six more trips under my belt and I felt I had so much material, it wasn't right to leave some of it out. And even with three volumes, there are images I wish I could have included.
If this were a purely commercial exercise, different decisions would be made. But as a personal project, it's all about doing what you want, not what your subconscious suggests others might want to do. I'm always having conversations with myself - is this right, or is that better. I enjoy the discussions because, in the end, I'm always right! So, having invested a great deal of time and energy in developing a body of work, I wanted to consolidate it into what is probably the only format that does the work justice. 
An exhibition would be great, but how do you print, frame and hang over 150 prints and where do you show them? Video is expedient, but even if you've been enjoying the videos I've shot of me turning the pages, you really don't get to experience the image. It's a funny world we live in, when we have the best quality equipment producing images that are downgraded for presentation!
And society places no value on an electronic image (non-fungible tokens aside). Videos and social media posts (like this) are just fodder for everyday consumption. Don't get me wrong - I love it. It means I get to share something which, rationally, is better than nothing.
But my reality, my experience is very different. Sure, you should buy all three of my books, but that's not going to happen! However, you are in a position to print your own photographs, either as prints or in a book - and I can't recommend it strongly enough.
Vive la print! Something like that...
If you'd like to see a third short video of me turning the pages of the Ritual - Bhutan book, click on the Read More link and visit the Better Photography website for a detailed view.
Here's the video below: