Details

Category: Almost Weekly Photo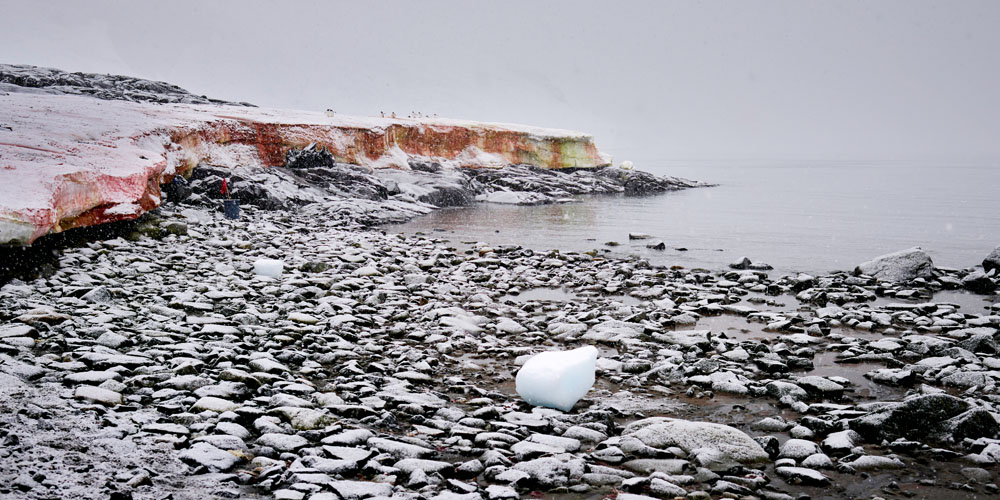 Late Season snow shower, Port Charcot, Antarctica
Phase One IQ4 150MP, 55mm Schneider lens, f5.6 @ 1/25 second, ISO 100 hand held
No matter where you travel in the world (and I realise we are not travelling at all just at the moment, but things will get back to a new normal eventually, one has to believe), the season in which you travel can have a big impact. In Australia, for instance, the Red Centre might look much the same in any particular season, but it's certainly more comfortable in winter. In Bhutan, the seasons produce dramatically different landscapes, especially the cultivated rice paddies which change from grey to green to yellow as the year progresses. There are also 'human' seasons with annual festivals punctuating the calendar and any trip to Bhutan needs to take them into account.
And so it is with Antarctica. Travel to Antarctica is between October and March and there can be definite differences. For instance, there's usually more snow around in October and November, but not always. And there's usually less snow in February and March, but that doesn't mean you can't have a snow storm. In terms of wildlife, the seasons have an impact on the number of penguins you see. Early in the season there are lots, but the rookeries are not full. In the middle of the season - say December to February - you're assured of seeing maximum penguin numbers and lots of penguin chicks. However, by the time March rolls around, most of the penguins have gone out to sea to feed and the rookeries can be relatively empty - but if you've never been to Antarctica before, you'll still be amazed at the number of penguins you see.
So, picking your seasons to visit a location is and isn't important. There will no doubt be differences, but I find that no matter what the season, there's always something great to photograph. Photography is as much about your personal attitude as anything else.
My two voyages to Antarctica this year were my first in March - the late season. From a landscape perspective, I found it to be the most beautiful I have experienced, the most visually stunning. You can see my portfolio at https://www.petereastway.com/p428017922.
And a personal update: Thanks to everyone who has reached out upon my return to Australia. I am now into my second week of isolation in a Melbourne hotel, so not long until I finally go home. I am comfortable, I can order in Woolworths and UberEats, and I've had lots of time to work on photos and update my website. For instance, I am adding new material to the Landscape Photography MasterClass, some simple 'lectures' on basic camera technique which I feel is missing from the original course. And I'm working on a new edition of 'How To Win Photo Competitions'. 
And quite a few readers have responded to my 'at home with nothing to do' offer. If you'd like to upgrade your skills while at home, how about signing up to my Landscape Photography MasterClass or my Lightroom Atelier? I'll put a 50% discount on them if you use the coupon code CORONA - for this week only! Visit our sister website at www.betterphotographyeducation.com for free samples.
Details

Category: Almost Weekly Photo
Are you at home with nothing to do? How about signing up for Peter Eastway's Landscape Photography MasterClass or Lightroom Atelier.
You will get a 50% discount if you use the coupon code CORONA - for this week only!
Visit our sister website at www.betterphotographyeducation.com for free samples and to sign up.
What's Different About Our Lightroom Atelier?
Produced by one of the world's leading professional photographers
Concentrates on the 'art' of photography
All examples fully explained with no secrets held back
Incredibly affordable for a course that will literally transform your photography for life
Money-back guarantee - no risk to purchase!
The Lightroom Atelier will quickly turbo-charge your creativity!. Don't waste your time using Lightroom the wrong way, subscribe to the LIghtroom Atelier now to learn how you can transform your photographs into incredible works of fine art!
We know there are lots of free tutorials around that show you how to use Lightroom, so why would you be interested in the Lightroom Atelier by Peter Eastway? 
If you're really new to Lightroom, you should take advantage of all those free tutorials - even if they are produced by people with limited photography experience. And maybe that's all you'll need if you're happy with the average results that come out of your camera. 
What's In Peter Eastway's Famous Landscape Photography MasterClass?
The Better Photography Landscape Photography MasterClass is a unique way to learn how to capture and create stunning photographs. This is your opportunity to learn first-hand from one of the world's leading landscape photographers, Peter Eastway. The MasterClass is designed to be self-paced, there are no exams, but we guarantee you'll learn to take and make better landscape photographs. 
What's In A MasterClass?
There are 18 MasterClasses in the program. Each MasterClass comprises six components.
FINE ART takes a hero photograph and explains exactly how it was created, from capture through to post-production.
CRITIQUE explains how to improve images that were submitted by earlier class participants, so you can get some real-world feedback.
KNOWLEDGE discusses the techniques and equipment needed to produce top quality landscape photographs.
POST-PRODUCTION takes one or two techniques from a program like Photoshop and describes in detail how to use them.
ACUMEN discusses the business side of landscape photography, whether you want to be a full-time professional or just earn some pocketmoney.
JOURNEY describes a photogenic location for landscape photography, a place you might want to put on your own 'to visit' list.
The six components in each MasterClass are presented as three movies to view (around 5 to 15 minutes each) and three articles to read.
For a complete list of the MasterClass contents, click here.
Details

Category: Almost Weekly Photo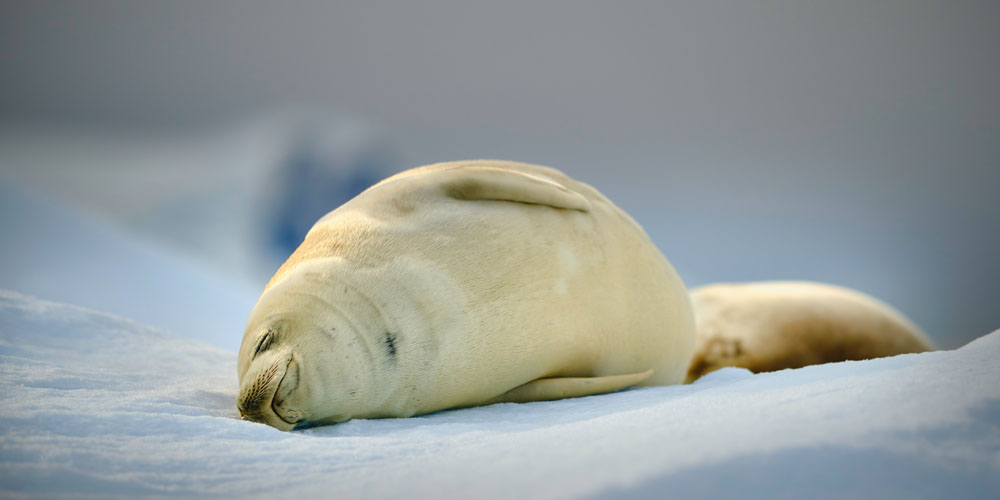 Weddell Seal, Paradise Bay, Antarctica
Fujifilm X-T3, XF200mmF2 R LM OIS WR, f2.5 @ 1/5800 second, ISO 160
I will probably never make it as a real nature photographer. For me, just as important as the animal depicted are the composition, light and gesture of the subject. I don't see my role as documenting an animal that is already very well known and extensively studied. Instead, I look for ways of depicting the animal as a part of its environment, without worrying about anatomical correctness or including the whole body.
What I loved about this opportunity was how the seal's face was tack-sharp, while the background was like an oil painting. So at the risk of repeating myself (as I wrote about shallow depth-of-field recently), this is easily achieved if you have three things working for you.
First, you need a telephoto lens. Telephotos produce inherently shallow depth-of-field. My 200mm on the Fujifilm X-T3 is the equivalent of a 300mm on a full-frame camera.
Second, you should use a wide aperture. In this case I used f2.5 and although I was using an f2.0 lens, my exposure at f2.0 (wide open) kept clipping with a maximum shutter speed of 1/8000 second and an ISO of 160. Thinking about it, I could have switched to the electronic shutter and then I could have had even shallower depth-of-field at f2.0 and 1/16,000 second.
Third, get in close to your subject. We all know how shallow depth-of-field is for macro photography and this is just an extension of the same optical law. The closer you are to your subject, the shallower the depth-of-field. The seal is perhaps five metres away from me and I'm sitting in a zodiac, floating past the iceberg upon which the seal was snoozing.
But I think the trick to remember is getting in close to your subject. You won't get this type of effect if your subject and focus are positioned a long way away at infinity. 
And for those who are interested, I'm off the Greg Mortimer and back in Australia, detained in a Melbourne hotel with a guard outside my door to make sure I don't leave for two weeks! So, I'm settling into the isolation period with lots of work to do and plenty to keep me occupied! And like everyone else in the world, I'm waiting to see what happens next!
Are you at home with nothing to do? How about signing up to my Landscape Photography MasterClass or my Lightroom Atelier. I'll put a 50% discount on them if you use the coupon code CORONA - for this week only! Visit our sister website at www.betterphotographyeducation.com for free samples.