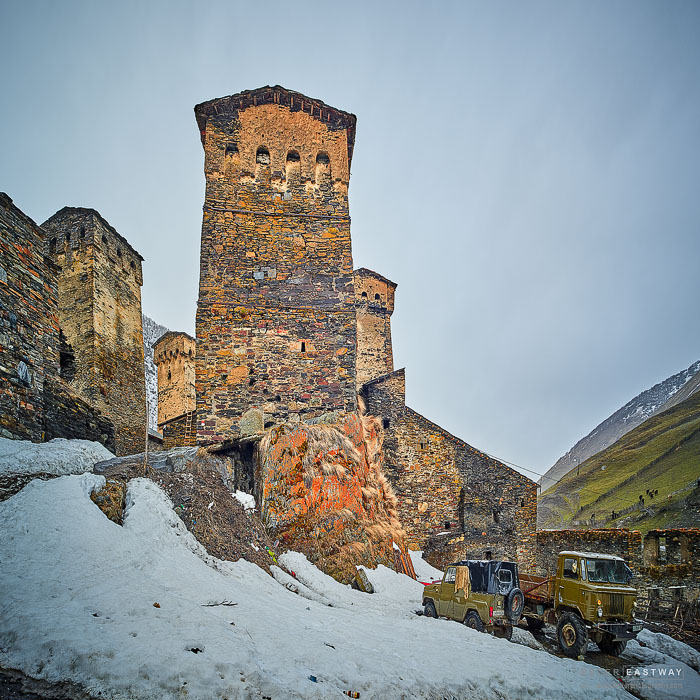 Ushguli towers, Georgia. Love the vehicles below.
Phase One A-Series, 100MP, 23mm Rodenstock lens, f8 @ 1/180 second, ISO 50.
Georgia and Armenia are so full of history, it's practically dripping off your photos. And two of my favourite locations are Ushguli and Mestia in Georgia, for many reasons. 
First, these towns are tucked away in the mountains, so there's a good chance of snow or - on our planned trip for 2020, golden autumn leaves! As you can see from the photographs, last time we had plenty of snow. We were there in early spring and a late snowfall transformed the landscape. Mehmet our guide mentioned how beautiful the area was in autumn with the changing colours - and so that's why this time we're going there in late October 2020, hoping to get that colour.
Second, the towns are home to these wonderful towers. There are lots of great stories about why they were built, how each neighbour would try to out do next door, and even of a few people jumping off the top or dropping things on marauders below! For me, they punctuate the landscape and there are a couple of angles I'm hoping to shoot in Ushguli especially. Last time, it was raining pretty heavily, so I couldn't explore as freely as I wanted to.
And third, I still remember the home made soup we had in an Ushguli farmhouse. Ushguli has only a handful of dwellings and is very remote, so our expectations for a great lunch were not too high. How wrong I was - it was sensational!
If you'd like to join me in Georgia and Armenia in October 2020, please book now! Details can be found on the Better Photography website - or click here.