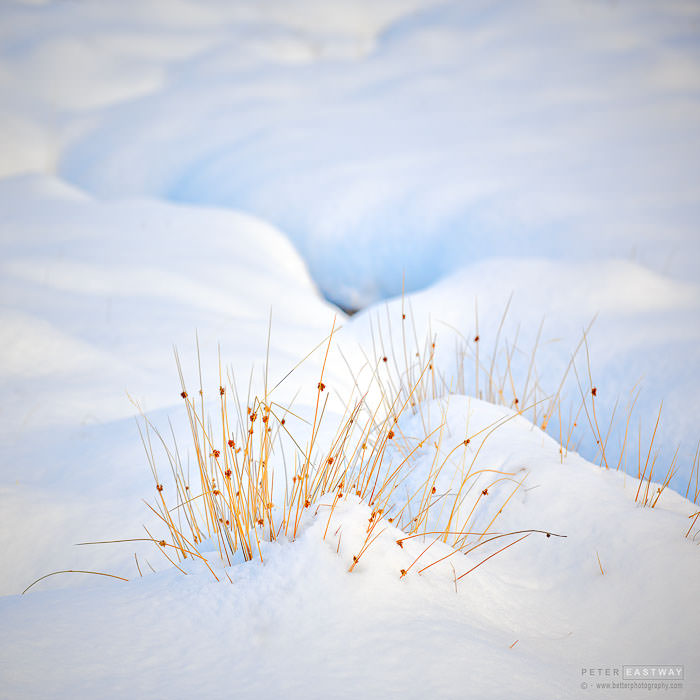 Grass in Snow, Middlehurst, 2019
Phase One XF 150MP, 240mm Schneider lens, f6.3 @ 1/1600 second, ISO 200
One of the challenges I'm currently setting myself is to find the wonder of the landscape in small places. We all love going to locations with majestic views, yet it's the small details on the journey to these places that I enjoy even more. I think it's relatively easy to photograph something that has been recorded thousands of times before - and even then, you might only have a copy of someone else's work. This doesn't mean you don't shoot your own version, of course, rather I think it means you also look for something new.
Tony Hewitt and I were dropped off on a hill above Middlehurst Station while we were recording the Snap Happy TV segments (which are currently running on Network 10 in Australia on Sundays around 12.30pm). We weren't quite sure how deep the snow would be, but were willing to give it a try as Willy (our pilot) took the chopper away for another errand. We just hoped he came back as it would have been a long walk back down the hill!
While there were fantastic views from where we landed, the fresh show had an attraction all of its own. Using a 240mm lens (which is like a 150mm lens on a full-frame DSLR), I isolated the grasses that managed to shed the snowfall, ensuring the background was interesting or neutral. This is much easier to do with a telephoto lens than a wide-angle. Then, in post-production I dialed down the contrast, ensured I had tone and detail throughout the snow, and then emphasised the grasses by increasing the colour saturation.
Now this isn't a photo that will win first prize in a landscape photo competition, but I feel it will make a great page in a photo book or in a slide show. It adds a dimension to a story that can be difficult to complete with a single image - so I don't try. The longer I take photographs, the more I'm tending towards photo essays and photo books as being the ultimate expression for photographers.
And if you're interested in listening to a little piece Tony and I recorded about the Middlehurst experience, check out YouTube here: https://youtu.be/AEzhEKcKMsk