Details

Category: Almost Weekly Photo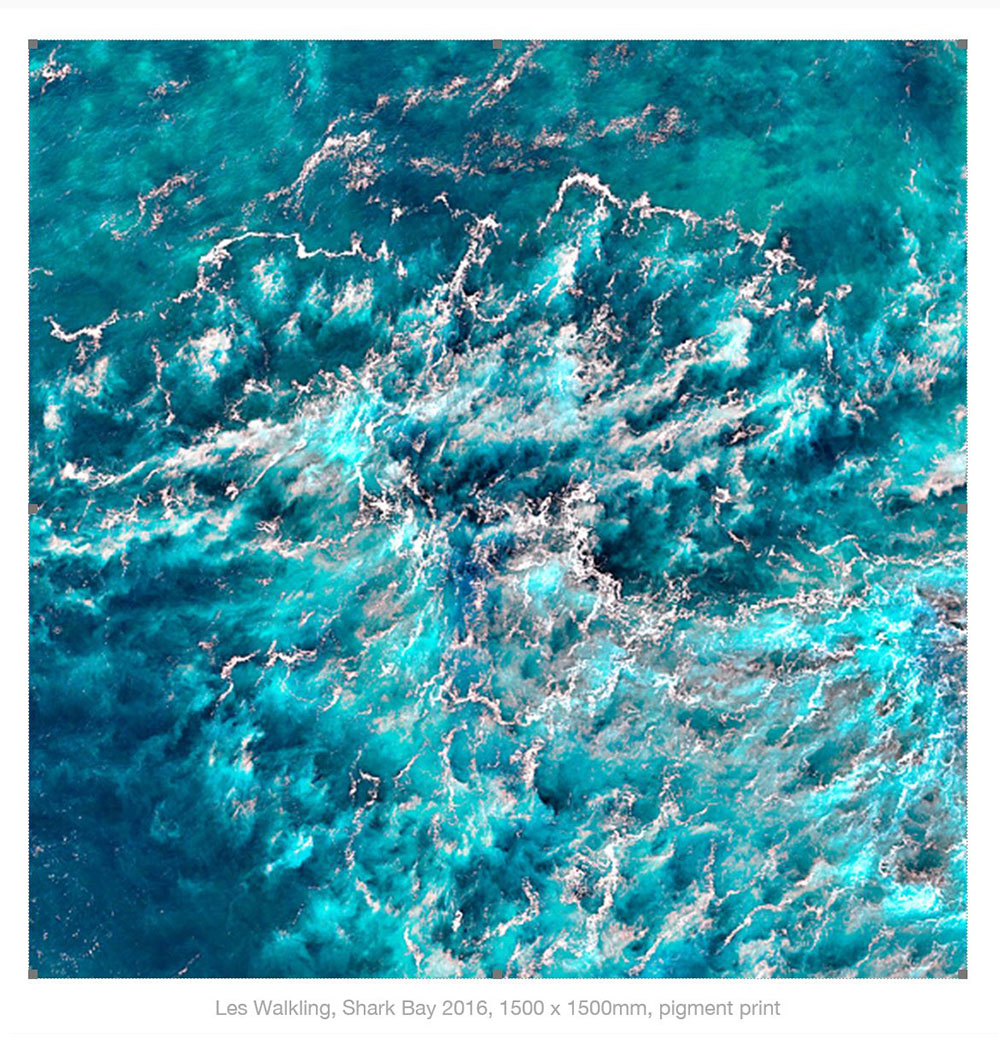 When I was at school, I was struggling with a photo-realistic painting of egg shells. I was trying to reproduce a highlight with a mix of white and black paint to make a super light grey. I could see detail in the highlights with my eyes, so I tried to replicate that texture in my painting, but the result was flat and lackluster. Then my art teacher, Neil Brown, walked by. He put down my paint brush, picked up a spatula and with solid white paint straight out of the tube, pasted in the highlights I was looking for. It looked fantastic!
The painting is still with me some forty years later. It stops the door of my car from being scratched on the garage wall. I can't hang it up anywhere (the painting, not the car), but I can't let it go either because it has been such an important influence and lesson.
Flash forward many decades and I'm exhibiting with the ND5 group up in Brisbane at Irena's Maud Street Photo Gallery (2013). We all have some great work from Shark Bay - even some of Christian Fletcher's were pretty good! And then Les Walkling pulled out his water study (above). Les and I got into trouble with Tony and Christian for taking too long on a flight over Dirk Hartog Island one afternoon, but it was worth it. And I remember the part of the flight when Les took his shot. I was concentrating on something completely different, so to see what Les had found was inspirational.
I love the photo, but even more important for me, was Les's use of pure white. Now, I might get into trouble with Les because maybe those whites have 1% or 2% black in them, but they are bold, strong and hold the image together. We're also told by many photography judges (and I'm one of them) to be very careful of leaving pure white in a photo, but here was Les, breaking all those 'helpful' rules and creating a masterpiece!
We're all locked down to some extent with this Covid thing, but I'm finding the restrictions on one side of my life are creating opportunities on another - opportunities to catch up on ideas and explore new directions. Christian and I spent last Sunday with Les and a small group of photographers learning all about 3DLUT Creator and how it's the best thing for tonal and colour control since sliced bread. It was a great day, done remotely via a Zoom session - and we all learnt heaps!
If you're interested in finding inspiration, may I recommend a Les workshop? Yes, your brain will hurt. No, you won't understand absolutely everything he says. But yes, you will be incredibly inspired and you'll understand why I think Les is a Living Treasure for art and photography. He will be embarrassed to read this - tough!
There's an extensive list of workshops on his website, but he has just announced two new ones: Crafting a Digital Print and Affinity Photo. But don't delay, they book out pretty quickly. For more details on all his remote workshops, visit www.leswalkling.com
Thanks Les! 
Details

Category: Almost Weekly Photo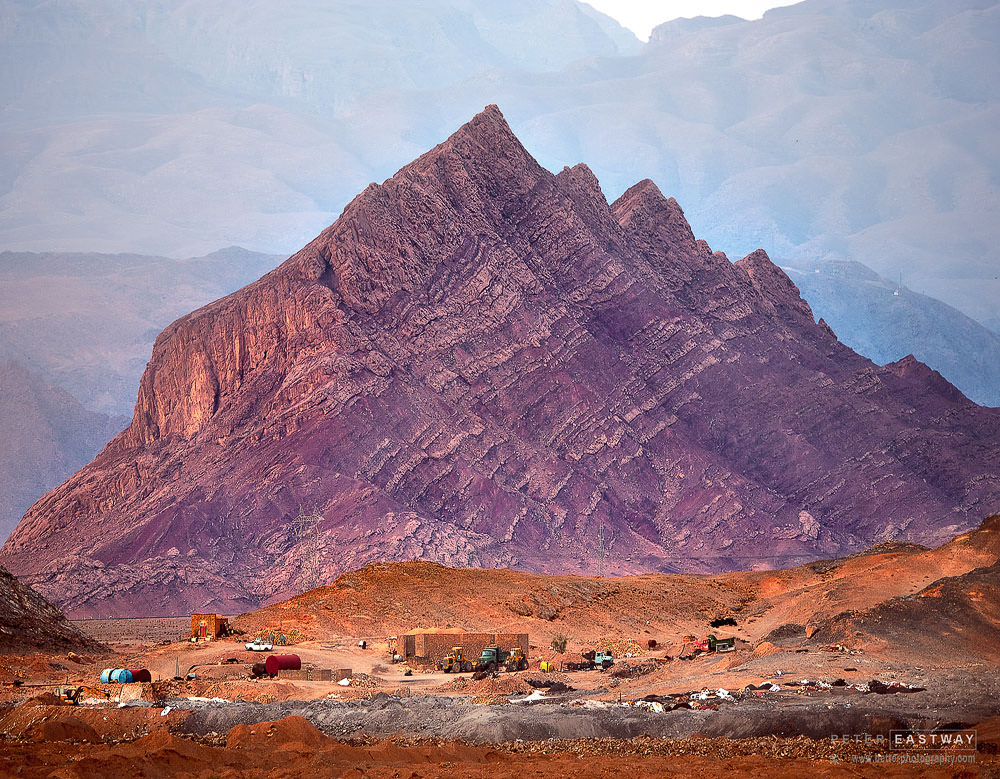 Man in the landscape, Yazd, Iran.
Fujifilm X-H1, XF200mmF2 R LM OIS WR + 1.4x F2, f16 @ 0.7 seconds, ISO 200, tripod mounted.
Thanks to everyone who entered the Better Photography Magazine Photo of the Year 2020. The competition is now closed and judging will begin later this week. We have around 800 entries to enjoy in four categories and we're looking forward to seeing them. There are quite a few photo competitions being held at the moment, but we're the only one this year that's giving a judge's comment for every entry (that we're aware of) - and hopefully in this way everyone is a winner in that they get to improve their art and their craft.
So, what would a judge say about this photo?
Another photo competition I'm involved with, the International Landscape Photographer of the Year, has tended to champion landscapes of the natural world. There are fewer urban locations or landscapes in the top 101 images each year where the hand of man is an integral part of the composition. Is this right? Well, as I'm not one of the judges making the decisions, that's not for me to say, but there's nothing in the rules that says a landscape needs to exclude buildings, roads or structures. Personally, I love these telltale signs as they can add to the story.
This landscape is of the mountains surrounding Yazd in Iran. Iran has some wonderful mountains to explore in all parts of the country, but it's hard to find a landscape where you won't see the hand of man somewhere - realising that this part of the World is often referred to as the Cradle of Civilization! I decided to keep the small quarry or mine at the base of the image because it gives the landscape scale, whereas other photographers may have chosen a slightly different angle or framing to remove these 'eyesores'!
A question to think about if you were a judge: does the inclusion of the small patch of sky at the top of the frame add or detract from the photograph? On the one hand, the eye is drawn to it and perhaps the result is we don't pay enough attention to the middle ground? On the other hand, it adds depth and distance to the image, and its size is insignificant enough not to be distracting. Sometimes, being a judge can be difficult, but fortunately for most of our photographs, we are the only judge that matters.
So the question will always be, are you happy with your result?
Details

Category: Almost Weekly Photo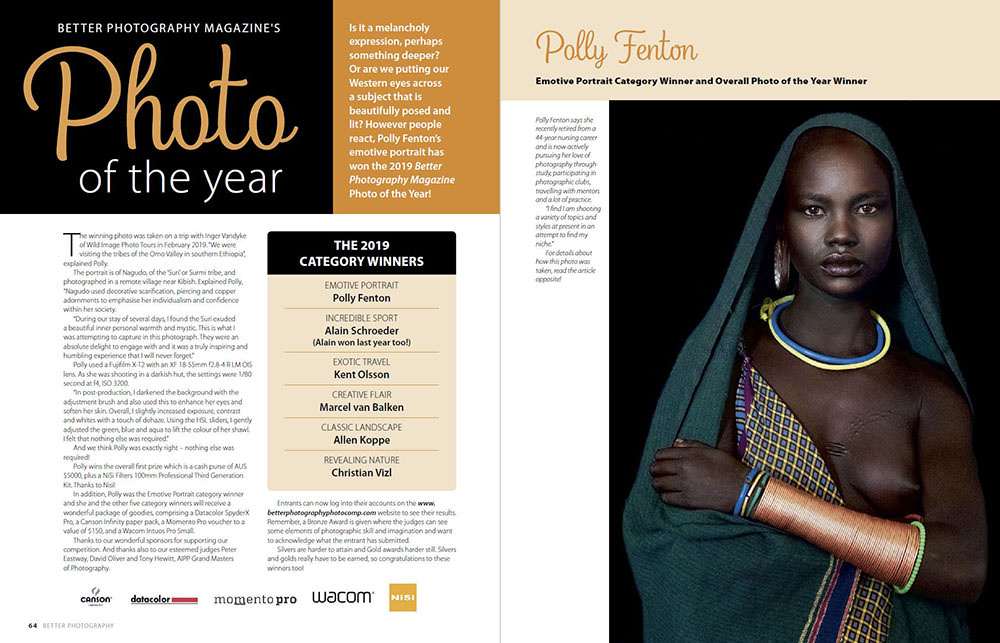 Will one of your photos be published in Better Photography magazine? One of the benefits of winning a category in our 2020 Photo of the Year Award is you're guaranteed to be published in our magazine, alongside the work of our esteemed contributors and other luminaries!
And there's $5000 in cash up for grabs, spread out a little more this year than before so your chances are increased! 
However, I hope the real reason you enter our Photo of the Year award is to challenge yourself and to take some positive steps that will improve your photography. You don't have to be a main prize winner to receive an award. The top places are to some extent a matter of luck (because we have no control over the photos entered by others), but there is no limit to the number of Bronze, Silver and Gold awards the judges can hand out. If your photo deserves it, you will earn an award.
And finally, every entry receives a comment. Okay, so if you get a Gold Award, the comment is just going to be one of congratulations, but for every other entry, we do our best to share our knowledge and experience by giving you some suggestions about what to work on. We want you to improve as a photographer.
Our 2020 competition closes at midnight this Saturday 22 August 2020 (or it maybe very early Sunday morning in some countries before we turn off the entries), so please, don't miss out! Visit our competition website now: www.betterphotographyphotocomp.com
Good luck!