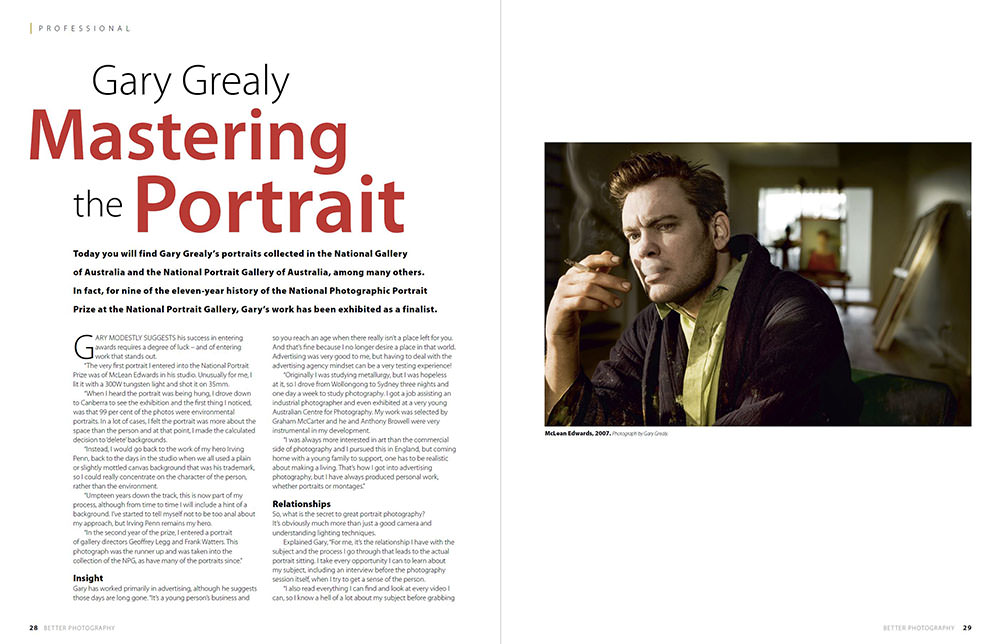 Today you will find Gary Grealy's portraits collected in the National Gallery of Australia and the National Portrait Gallery of Australia, among many others. In fact, for nine of the eleven-year history of the National Photographic Portrait Prize at the National Portrait Gallery, Gary's work has been exhibited as a finalist.
So, what are Gary's secrets to creating his incredible portraits? In Better Photography this issue, we interview Gary and there are three important take-aways.
1. The portrait happens at the time of capture, so setting up the portrait shoot is essential for success. However, Gary isn't just talking about equipment, but the connection he creates with his subject. 
Explained Gary, "For me, it's the relationship I have with the subject and the process I go through that leads to the actual portrait sitting. I take every opportunity I can to learn about my subject, including an interview before the photography session itself, when I try to get a sense of the person." Gary then explains in detail some of the ways he builds that relationship - it makes impressive reading.
2. His post-production process in Photoshop is quite different - yet to me it makes a lot of sense. 
"I guess everyone has his or her own strange way of starting the grading process. Mine is that I will initially process three frames, one light, one dark and a middle 'correct' exposure."
Then with all three images in a stack in Photoshop, rather than using curves to lighten or darken areas, he uses masks to brush in lighter or darker areas. In this way, he says he's not fiddling too much with the initial file - but of course, this is just the beginning of his process - it just sets up the file which is further refined.
3. Gary enters photography awards. When asked why, he asks in reply, what else is there for a portrait photographer?
"If you are a creative person, not only do you want to produce work, you need an outlet as well." And that outlet has led to exhibitions around Australia in a number of regional galleries.
What I love about the interviews in Better Photography magazine are the little gems of wisdom I get to take away that have a big impact on how I think and work as a photographer. It's inspirational. And you can read them too - just subscribe to Better Photography magazine online. You'll find details on the www.betterphotographyeducation.com website here.