A Guest Blog from Better Photography magazine contributor,

 

Nick Melidonis
We know that if we photograph a landscape or a macro photo, we sometimes struggle to get everything we want in focus, even if we close the aperture right down to f11 or f22. Often, small f-stops also mean longer exposure times. An effect that also comes into play at very small f-stops is something called diffraction. It's sometimes thought of as trying to 'push' light through a tiny hole and the sharpness falls off.

Try an experiment with your lenses and put some newsprint up on a wall and then mount your camera on a sturdy tripod with the lens parallel to the newsprint. Focus on the newsprint and shoot a range of images from wide open to the smallest f-stop your lens has. Look at the results at 100% on your computer screen. You'll notice the sharpness increases as you stop down until at around f8, you'll achieve the sharpest focus and then the focus starts to fall off again due to diffraction. It's not a bad idea to do that with all your lenses one day to find the sweet spot of each lens (it's not always f8).

Photographers who experiment with macro will also know that to get lots of depth-of-field on something like a small flower or an insect is pretty hard, no matter how much you stop down, AND if you are also trying to avoid diffraction.

The solution is to Focus Stack. The concept is to take a series of images progressively focusing a little bit at a time from the front of your subject to where you want the focus to finish, so you now have a group of images where the focus differs a bit each time. You need to keep all camera settings the same apart from your focus, so this is best done by locking exposure on Manual. This procedure normally works best when your camera is on a sturdy tripod.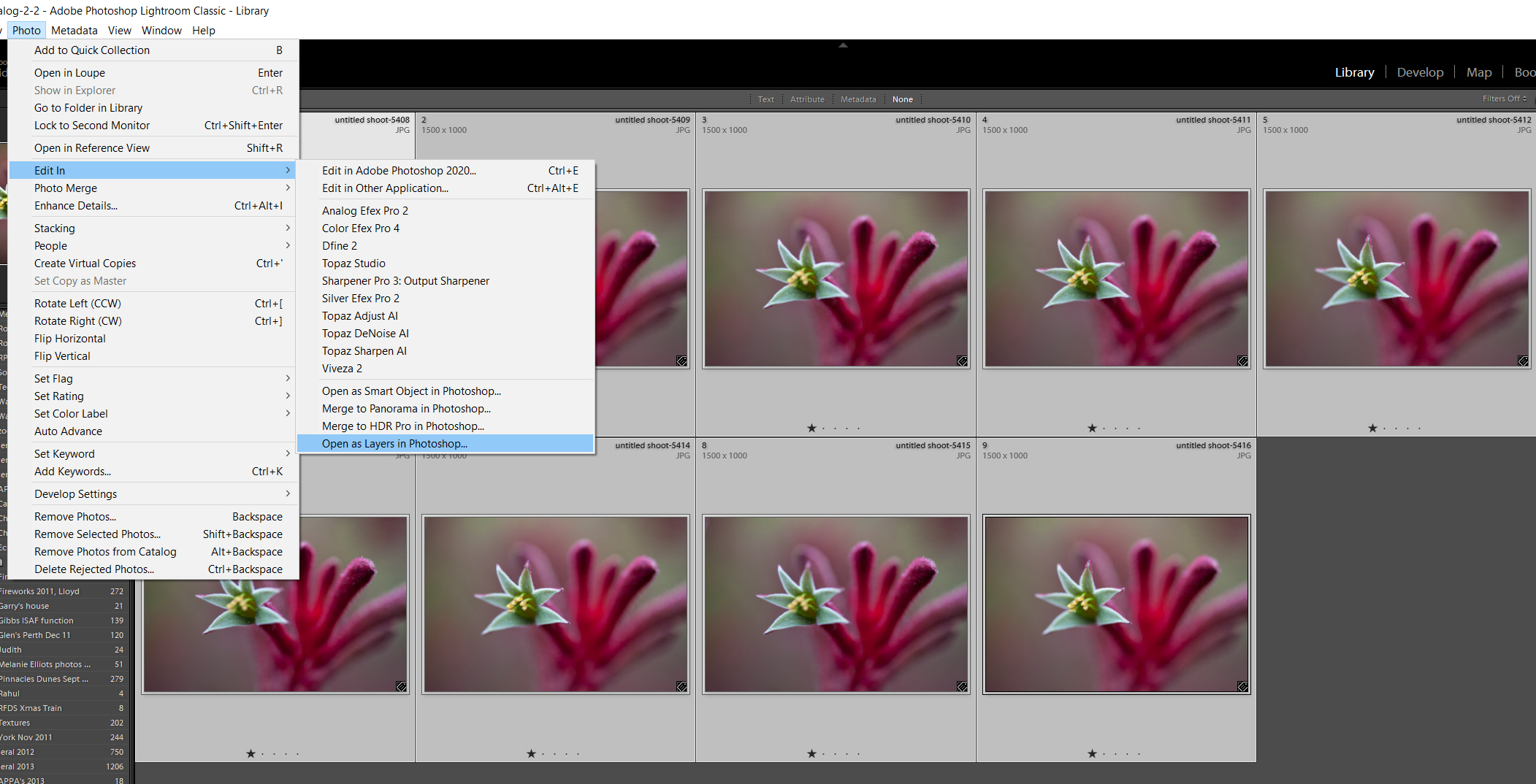 Bring your series of images into Lightroom in the normal way then select them all in the Library module (click on the first image, hold 'Shift' and click on the last image to select the lot.) Now go the 'Photo > Edit in > Open as Layers in Photoshop. This will bring all the images into Photoshop and stack them all up as layers one on top of the other.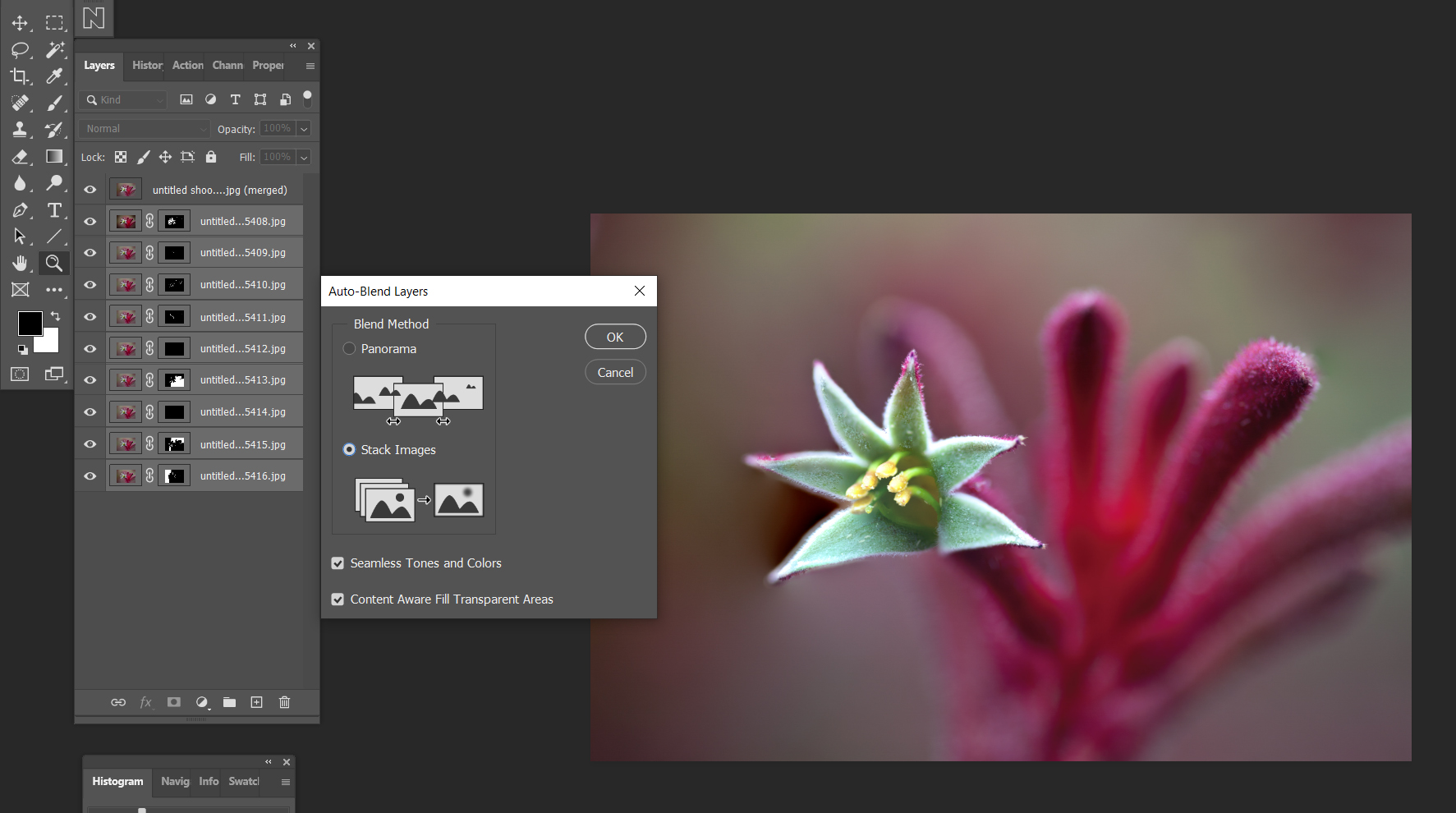 In Photoshop, now select Edit > Auto Blend Layers and when a dialogue box comes up, choose 'Stack Images' and click 'OK'. You need this step because as you slowly changed the focus in each image, the lens slightly changed the zoom (this is sometimes called 'Focus Breathing') so you need to tell Photoshop to blend all the images in perfect alignment.

Photoshop will now auto blend all the images; carry out any masking from one image to the next to blend them all and condense the lot into one layer at the top. This layer is the final merging of all the focus points into one sharp image - presto.

Focus Stacking is not rocket science, but it is a necessary skill that all accomplished photographers should master. Next time you want great focus in an image while maintaining a good file, try it.
Nick Melidonis has been writing for Better Photography magazine for as long as the editor can remember! Check out his articles in the magazine - and check out his website as well for workshops, photo tours and more - https://www.nickmelidonis.com/