The [Almost] Weekly Newsletter
The Future of Photography?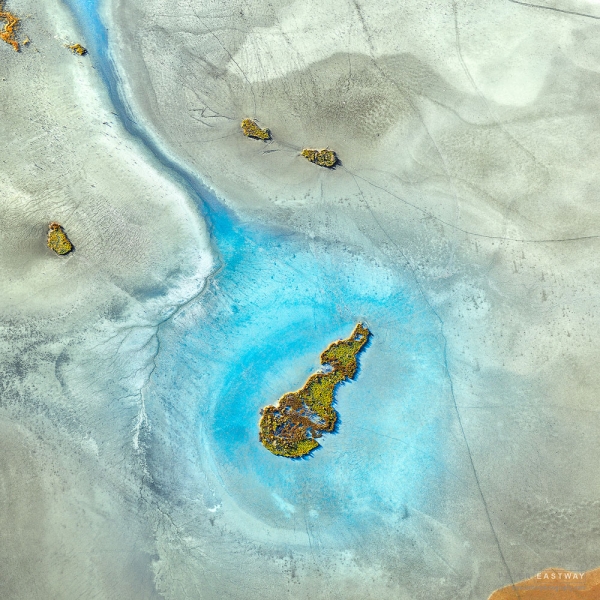 Adelaide River detail, Kakadu, Northern Territory
Phase One XT 150MP, 80mm lens, 1/2000 second @ f3.2, ISO 160
After talking about the history of photography last week, Better Photography magazine contributor Ken Spence challenged me to guess what the future holds. Good luck, I reckon! I can't even work out when we're all going to get out of Covid lockdown here in Sydney. Mind you, as Ken is in Melbourne, what else have we got to do?
There's a part of me that wants the print to remain the epitome of photographic expression. I love my Epson printers and Canson papers (unapologetic plug as I'm an ambassador for both brands) and I still get great joy out of making a print. Currently I'm working on a project with small prints, but I've also received an inquiry for a 60-inch print - big or small, the print is a beautiful object and something more than just the image.
But what if technology changes? What if my beautiful EIZO monitors (another unashamed plug) could be manufactured as ultra-thin, one by two metre screens which I could hang on a wall and stream images to from my computer or smart phone? The technology is there, but the screens are generally multiple monitors tiled together. I'm dreaming of a continuous surface - and maybe I can have different textures on those surfaces.
But would I be happy? 
Read more
Special Offer - A Paper Subscription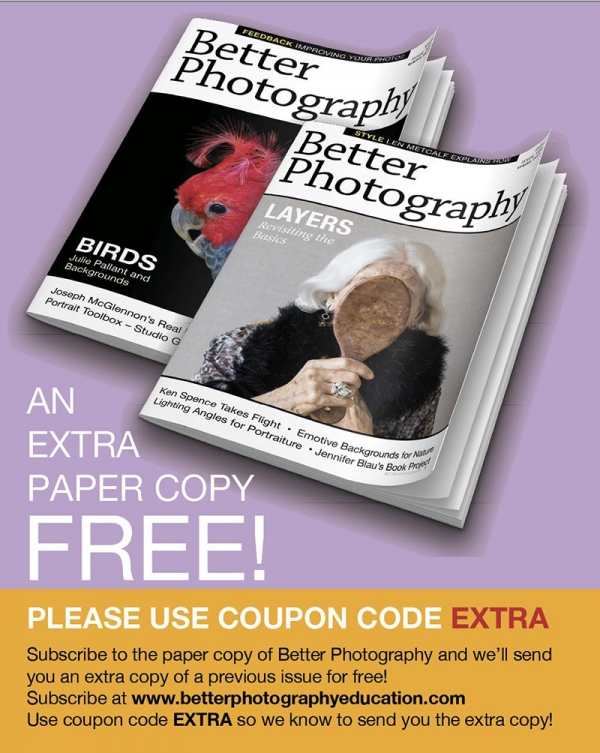 There's nothing better than reading a paper copy of Better Photography magazine, and I wouldn't tell you this if I didn't have some extra printed copies of Better Photography ready and available for sale.
So, if you've been thinking about a paper copy of Better Photography once a quarter, turning those beautifully inked pages, engaging with the high print quality, here's a special offer.
Subscribe now and we'll begin your subscription with the current copy of Better Photography magazine, plus we'll send you an extra magazine, a copy of the previous issue, to give your magazine library a great start! And of course, as a subscriber to the paper edition of Better Photography, you also have access to the online edition and the special archive of over fifty back issues.
To take advantage of this special offer, visit our Better Photography Education website (www.betterphotographyeducation.com) and purchase a paper copy (a subscription is $79.80 per year posted within Australia or AUS $119 if posted outside Australia). Plus, use the coupon code EXTRA so we know to send you the extra copy of the magazine.
However, don't delay as we have only printed a limited number of extra magazines for this special offer.
Already an online subscriber? Email Kim and she can upgrade you to the paper version, no problem. Her email is kim@betterphotography.com and she works Monday, Wednesday and Friday.
Peter Eastway FAIPP HonFAIPP HonFNZIPP APPL GMPhotogII MNZIPP
Editor and Publisher
Why did you receive this email? You are registered on the Better Photography website.
Unsubscribe: If you'd like to unsubscribe, click the link here to visit our unsubscribe page: Unsubscribe me, please!