The [Almost] Weekly Newsletter
Sharpening Selectively With Purpose
From Middlehurst Station, New Zealand
Fujifilm X-T3, Fujinon XF200mmF2 R LM OIS WR, f2.8 @1/1900 second, ISO 160
This photo is out of focus! Well, that's not quite correct. The background mountains are sharply focused with my greatly loved Fujinon XF 200mm f2.0 lens, but the foreground mountains are a little soft. There wasn't sufficient depth-of-field to keep them sharp. I didn't worry about this initially until I produced an A2 size print when the issue became much too obvious. I could hide this error away on the website easily enough, but not on paper!
What happened? At the time, I was shooting Sue McDonald on her horse at Middlehurst (did we work out if her horse was called Tony or not from an earlier newsletter?), so I wanted the background for her to be a little defocused. The solution was to shoot with the lens nearly wide open (I'm a bit disappointed with myself to see that I shot at f2.8, whereas I spent all that money on an f2.0 lens!), but when I saw these lovely shapes in the mountains as I was waiting for Sue and Tony to get into position, I simply pressed the shutter. Who wouldn't?
Well, a better photographer would have closed the aperture down first, say to f8 or f11, and then the foreground mountains might have been a bit sharper - and they wouldn't have wasted a sheet of lovely Canson Rag Photographique paper!
So why am I coming clean about this? Why am I airing my dirty laundry in public? It's because technology has provided me with a solution: Topaz Sharpener AI. I've written about this plugin/standalone before and how it helped correct the softness in some of my aerial shots, so why not in a landscape as well? As you can see from the screen shot below, fixing up the foreground had unintended consequences.
Read more
Special Offer - A Paper Subscription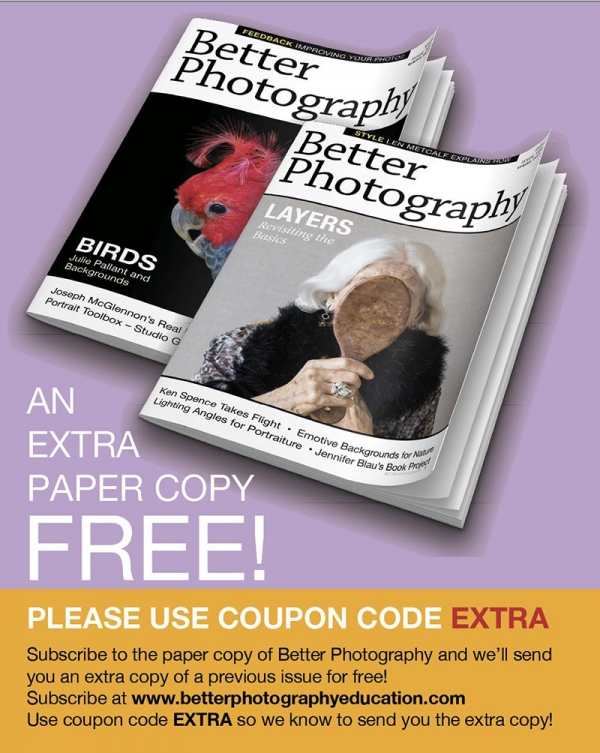 There's nothing better than reading a paper copy of Better Photography magazine, and I wouldn't tell you this if I didn't have some extra printed copies of Better Photography ready and available for sale.
So, if you've been thinking about a paper copy of Better Photography once a quarter, turning those beautifully inked pages, engaging with the high print quality, here's a special offer.
Subscribe now and we'll begin your subscription with the current copy of Better Photography magazine, plus we'll send you an extra magazine, a copy of the previous issue, to give your magazine library a great start! And of course, as a subscriber to the paper edition of Better Photography, you also have access to the online edition and the special archive of over fifty back issues.
To take advantage of this special offer, visit our Better Photography Education website (www.betterphotographyeducation.com) and purchase a paper copy (a subscription is $79.80 per year posted within Australia or AUS $119 if posted outside Australia). Plus, use the coupon code EXTRA so we know to send you the extra copy of the magazine.
However, don't delay as we have only printed a limited number of extra magazines for this special offer.
Already an online subscriber? Email Kim and she can upgrade you to the paper version, no problem. Her email is kim@betterphotography.com and she works Monday, Wednesday and Friday.
Peter Eastway FAIPP HonFAIPP HonFNZIPP APPL GMPhotogII MNZIPP
Editor and Publisher
Why did you receive this email? You are registered on the Better Photography website.
Unsubscribe: If you'd like to unsubscribe, click the link here to visit our unsubscribe page: Unsubscribe me, please!