The [Almost] Weekly Newsletter
Revisiting Narooma Before We Go Again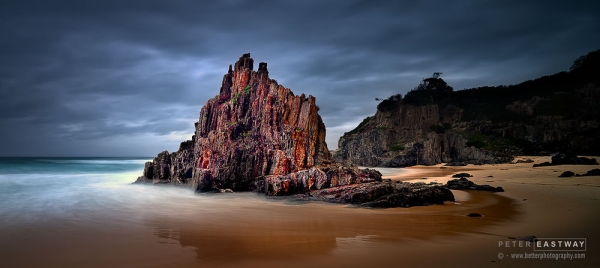 Mullimburra Point, NSW
Phase One XT 150MP, 32mm Rodenstock Digaron, f11 @ 10 second, ISO 50
I've just been editing Len Metcalf's second article on Style, Voice and Look for the next issue (you can read his first article in the current issue of Better Photography), where he challenges us to take our safety shot and then go and do something different. Well, he'd be proud of me for some of the photos I took at Mystery Bay on our Narooma workshop earlier this year, but I don't think he'd give me many brownie points for this photo of a wonderful rock a little further up the coast.
It has become a favourite location of mine, introduced to me by the hard working Focus Photographers committee several years ago. Every time I visit, I can't help but place this rock prominently in the middle of the frame and try to fit the rest of the landscape around it. I've shot it with all sorts of cameras, including a drone, and in all sorts of weathers. I've shot it with hardly any sand and lots of sand (the sand around the rock changes quite dramatically), but I don't think I have yet cracked something different. 
Sorry, Len, but you will have another chance to help me on our new Narooma workshop in May next year (details will be on the website very soon if not already).
I think the trick for shooting these types of seascapes is giving your subject breathing room and ensuring your exposure is
Read more
Peter Eastway FAIPP HonFAIPP HonFNZIPP APPL GMPhotogII MNZIPP
Editor and Publisher
Why did you receive this email? You are registered on the Better Photography website.
Unsubscribe: If you'd like to unsubscribe, click the link here to visit our unsubscribe page: Unsubscribe me, please!