A page from The New Tradition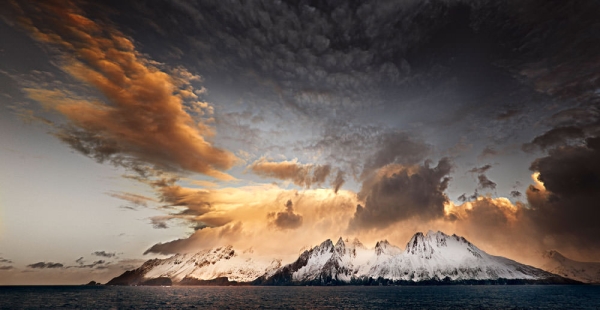 King Haakon Sound in The New Tradition
South Georgia Approach
Canon EOS 1Ds Mark III, 17mm TS-E lens, stitched, 1/200 second @ f8, ISO 200, hand-held, no filter
King Haakon Sound is on the north west side of South Georgia. It's famous because this is where Shackleton landed when he 'escaped' from Elephant Island to get help for his men. It's also where a cruise ship touched bottom a few years previously, so our captain wasn't taking any chances and navigated slowly and carefully into the back of the bay.
South Georgia is nothing short of spectacular. How you can really do justice to it with a camera is beyond me – everyone was left speechless. Towering mountains, covered in the freshest, whitest snow you've ever seen, fall directly into a wild, dark and restless ocean. Clouds come and go, shrouding distant peaks one minute, revealing them and a dozen others the next. And it's cold with a wind that rips through your clothing and chills your bones.
At the end of the sound we could see the deep blues of a glacier meeting the sea, probably one of a dozen we saw as we crept into our anchorage. We left the ship in relatively calm conditions. The sun was shining and the elephant seals were baking. They hardly acknowledged our existence. A small group of King Penguins seemed lost and we were wary of the one or two fur seals, which can be very aggressive early in the season.
In the afternoon the wind was up and landing at a second location was deemed unwise, so we steamed off toward Salisbury Plains. Sailing close to the coast, it was difficult to capture the grandeur in a single exposure, so I took several images and stitched them together. The sky was simply amazing that night.
NEW TRADITION: Although I don't feel as though I use this technique very often, it's interesting how many photos in this book have been stitched. It's certainly a great addition to the digital photographer's toolbox.
The stitch was a little troublesome because, shooting from a moving platform, the scene was never going to line up perfectly. The change of angle mightn't be much, but it was enough to prevent the island matching perfectly from frame to frame. Clouds aren't such a big problem because the joins can be fudged more easily.
After stitching, the image was also 'squeezed' a little so the island looked a little taller. In real life, you're on the ship looking up to the top of the peaks, but when you shoot with an ultra wide-angle lens, the resulting perspective doesn't look anything like what you have just experienced. Squishing the image brings back a little of the dramatic perspective.
This approach was repeated with Drygalski Fjord as you'll read shortly.
Need a good read? Like to learn something more about photography? Interested in new ideas? Why not purchase a copy of my book, The New Tradition, which is full of great tales and ideas. It has 100 photographs and accompanying stories guaranteed to enthrall you - and you can save $30 on the purchase price right now - use coupon code TNT30. Check out more on the www.betterphotography.com website.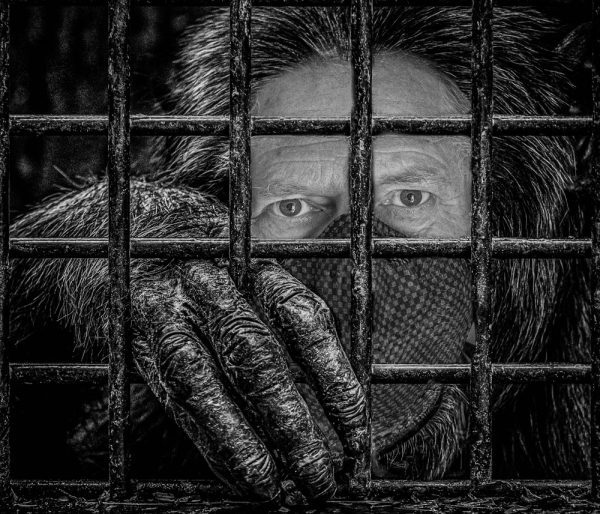 Me, My Camera and Our Pandemic - Reader Project (3)
Pandemic Photograph by Ken Spence
Better Photography contributor Ken Spence had a great idea - why not get our readers involved in a little pandemic project?
Writes Ken, "No matter where you live, this pandemic has been a shared experience of isolation. There are the extremes – Melbourne's lock down total of 250+ days and counting being at one end of the spectrum, with Western Australia's isolation from the rest of the country at the other.
"More broadly, as Australians we have all shared the common experience of isolation through the ban on international travel. This has changed what we can do and what we can photograph. For the many photographers who define their preferred genre of photography as "travel", pity about that." 
However, as Ken suggests, limitations can be a fuel for creativity, so we have cooked up the idea of providing a stage for Better Photography Magazine subscribers to share their creativity in the context of the pandemic with a larger audience. This may well involve aspects of isolation, but not necessarily. 
"See this as an opportunity to document and share your personal experiences of this worldwide catastrophe. Our State and Federal leaders assure us that we will be on the other side in a few months and so we are calling for your contributions before the end of November 2021. Then in our Autumn 2022 edition, we will publish a selection under the heading "Me, My Camera and Our Pandemic" , plus release a web gallery of 100 contributed images."
We are very excited to see what our creative subscribers will share with us - and Ken has started the ball rolling with the photo at the beginning of this post. We know that this will result in a very powerful article that will provide a historic reference to this unique time in all our lives.
So, how do you contribute?
Step 1: Prepare a photo for submission. The subject is up to you. It might be something you edited from a trip taken years ago, or something you photographed around the home - that's up to you. However, the size you send to us should measure no more than 3000 pixels on the longest edge and be saved as a JPG at a moderate setting (e.g. setting 8 or 80%). Name your photo with your own name and a number (so we know whose photo it is): e.g. PeterEastway-01.jpg. If you send more than one, give the next one a higher number (PeterEastway-02.jpg)!
Step 2: Write a caption of no more than 50 words. You can start the caption with the title of the photo if you like. You can write a few words of poetry, you can explain what the subject is, how you photographed it, or relate something of interest you experienced during the pandemic. But no more than 50 words!!!
Step 3: Send the photo and a caption in an email with the heading - Pandemic Project - <Your Name> - Photo 1 (or 2, 3 etc). Use a separate email for each photo you submit. Insert the caption into the body of the email (do not attach a separate file). Insert the photo as an attachment, not in the body of the email (Mac users beware). 
Step 4: Email the photo package to Kim Valenti who will do the initial collation - kim@betterphotography.com
That's it! You have until the end of November to respond, but you can start sending in your photos whenever you like.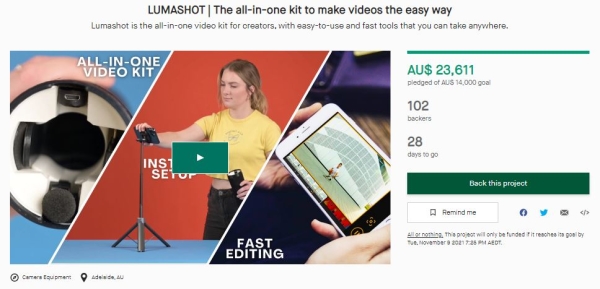 LumaShot - For Movie Makers
At a workshop in Darwin earlier this year, I was told of a new Australian invention that would make using your smart phone that much easier. And being a bit of a 'vlogger' myself, very occasionally, I can see that the new LumaShot could indeed be of great interest. 
Now, I know that the focus of Better Photography is on stills photography, so this won't be for all readers. On the other hand, if you're looking for a solution that allows you to easily position your iPhone to film yourself, along with the convenience of a remote control and a lavalier microphone, the LumaShot is it.
The LumaShot is currently in its KickStarter phase, looking for funding. And based on the website this week, they have reached their goal already. However, if you're interested, here's the link to have a look: https://www.kickstarter.com/projects/lumashot/the-all-in-one-smartphone-video-kit
Peter Eastway FAIPP HonFAIPP HonFNZIPP APPL GMPhotogII MNZIPP
Editor and Publisher
Why did you receive this email? You are registered on the Better Photography website.
Unsubscribe: If you'd like to unsubscribe, click the link here to visit our unsubscribe page: Unsubscribe me, please!