Article Ideas & Take-Aways
Revisiting Layers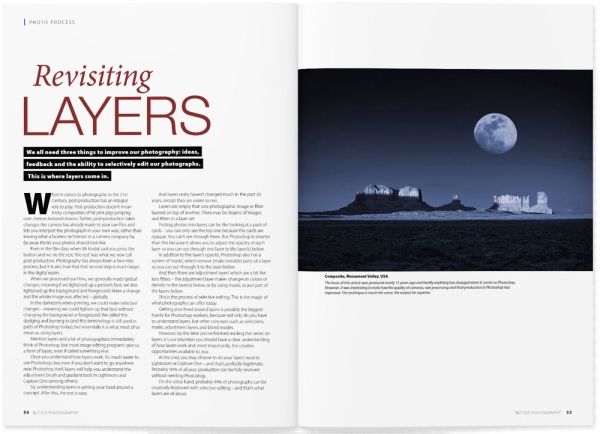 When it comes to photography in the 21st Century, post-production has an integral role to play.
Post-production doesn't mean tricky composites of fat pink pigs jumping over cheese-textured moons. Rather, post-production takes changes the camera has already made to your raw files and lets you interpret the photograph in your own way; rather than leaving what a faceless technician in a camera company far, far away thinks your photos should look like.
Mention layers and a lot of photographers immediately think of Photoshop, but most image editing programs give us a form of layers, even if called something else. Once you understand how layers work, it's much easier to use Photoshop, but even if you don't want to go anywhere near Photoshop itself, layers will help you understand the adjustment brush and gradient tools in Lightroom and Capture One (among others).
So, understanding layers is getting your head around a concept. After this, the rest is easy. And layers really haven't changed much in the past 20 years, except they are easier to use.
This is the process of selective editing. This is the magic of what photography can offer today. Getting your head around layers is possibly the biggest hurdle for Photoshop workers, because not only do you have to understand layers, but other concepts such as selections, masks, adjustment layers and blend modes.
If you haven't quite got your head around layers and selective editing, now's the time to start! Read all about it in the current issue of Better Photography (Issue 105). Click on the link below to subscribe - plus you get immediate access to 50 back issues full of informative material and inspirational ideas! Use coupon code BP40 to get 40% off - just $29.88 for an annual subscription.
25% Off Ignacio's eBooks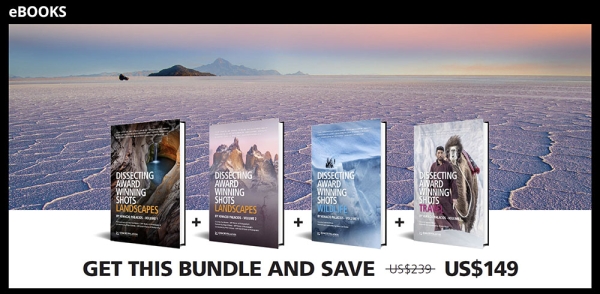 Regular readers of Better Photography magazine will have seen Ignacio Palacios' articles on composition and travel photography. They are excerpts from his collection of eBooks in which he presents many more marvelous examples of his work. Ignacio has graciously agreed to offer all our readers a 25% discount if they are interested in making a purchase!
To see his website, visit https://iptravelphotography.com.au/books/ and if there's something you'd like to buy, use the coupon code BP25OFF in the shop to claim your 25% discount.
Peter Eastway FAIPP HonFAIPP HonFNZIPP APPL GMPhotogII MNZIPP
Editor and Publisher
Why did you receive this email? You are registered on the Better Photography website.
Unsubscribe: If you'd like to unsubscribe, click the link here to visit our unsubscribe page: Unsubscribe me, please!