The [Almost] Weekly Newsletter
Have You Seen The Other Side of the Horse's Head?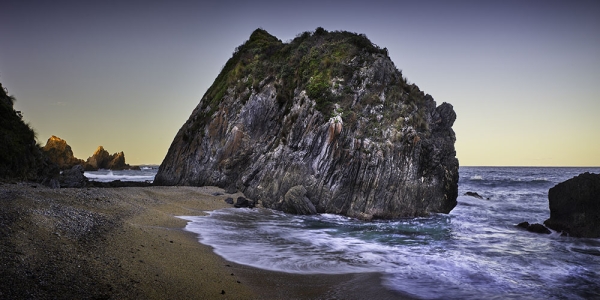 Horse Head Rock, NSW South Coast
Cambo Actus DB2, 150MP IQ4 Phase One, 35mm Rodenstock, 1/2 second @ f11, ISO 50
I owe Phil an apology. He was keen to photograph Horse Head during our Narooma workshop last week, but access can be tricky. There's the walk around from Camel Rock, but that's best done at low tide and with very little swell, otherwise it can become a bit of a swim! The other option is to drop down the cliffs from the north, but it's steep and slippery, especially after rain.
As Phil has a few years on me, I suggested that while there was no doubt he would get down to the bottom one way or another, getting back up might be a little more challenging. But I was quite wrong. If anything, he had less trouble than I did scrambling down the slippery clay access track. And as I write this a few days later, I can still feel my thigh muscles from the walk back up!
But, I digress. The purpose of this blog is to suggest that while it can be exciting to visit 'famous' landmarks and place your tripod in the appropriate spot, there are often lots of other images to find if you spend a little time to find out. Several years ago when I accessed Horse Head via the walk from the south, I found the small beach behind Horse Head and thought it delightful. I took quite a few shots, but never felt I quite captured its potential.
So last week, I left the photographers shooting the front of Horse Head and scrambled around the rocks to the other side of Horse Head and this is what I found.
Read more
‍

PHOTO TOURS AND WORKSHOPS WITH PETER EASTWAY & FRIENDS

ESPERANCE ALBANY - 29 MAY-4 JUNE 2022 WAIT LIST ONLY
SHARK BAY AERIALS - 7-11 JUNE 2022 - 1 SPOT LEFT 
SVALBARD ARCTIC - 19-30 JUNE 2022
SVALBARD ARCTIC - 29 JUNE-10 JULY 2022
MIDDLEHURST - 25-31 JULY 2022 - WAIT LIST ONLY
MIDDLEHURST - 3-9 AUGUST 2022 - 1 SPOT LEFT
ICELAND - 12-20 SEPTEMBER 2022
BHUTAN - 29 SEPT-12 OCTOBER 2022
GEORGIA & ARMENIA - 24 OCT - 7 NOVEMBER 2022
ANTARCTICA 17-28 NOVEMBER 2022
ANTARTICA SOUTH GEORGIA - 27 NOV -17 DEC 2022 - WAIT LIST ONLY

Peter Eastway FAIPP HonFAIPP HonFNZIPP APPL GMPhotogII MNZIPP
Editor and Publisher
Why did you receive this email? You are registered on the Better Photography website.
Unsubscribe: If you'd like to unsubscribe, click the link here to visit our unsubscribe page: Unsubscribe me, please!