A page from The New Tradition

The New Tradition and Contrast - Does It Work?
Pittwater Mist, New South Wales, Australia 2006
Canon EOS 1Ds Mark II, 19mm Leica lens, 1/160 second @ f8, ISO 100, hand-held
The New Tradition has allowed us to capture and interpret scenes that were probably never possible with film, or if possible, we didn't know they existed!
One of the least understood tools in The New Tradition is the use of contrast. Low contrast scenes captured on colour film remained just that, although we could use different contrast papers or settings in the darkroom to control black and white contrast to some degree. In the digital workflow, contrast is much easier to accomplish – and also much easier to set incorrectly.
In attempting to create an image with lots of impact, I find many photographers are ramping up the contrast too far and, in doing so, losing detail and creating a 'digital' look. However, the fine control is there and by using layers and masks, you can selectively enhance the contrast in different parts of the image as well. This photograph of early morning mist on Pittwater is a classic case of using contrast to enhance a scene. 
There are two money-pits in life: horses and boats. I'd rather not talk about the first one, but in terms of boats, the best solution is to have a friend who owns one. My nautical friend was fellow photographer David Oliver and we spent many wonderful days out on Sydney's Pittwater in his Bayliner Sierra.
Early one morning before sunrise, David was struggling to navigate one of the narrow arms in dim light and heavy fog. I was supposed to be up on the bow as lookout, but there was very little to see: the deep green of the channel and the impenetrable grey of the mist. However, gradually we could perceive some light above the eastern shore and, realising the fog was thinning, we grabbed our cameras.
The raw file doesn't show a lot of detail or colour and to be fair, it was a reasonably lacklustre sunrise. However, I can remember being surprised at just how much detail I could extract from the scene by using a curves adjustment. There are many situations where an increase in contrast can bring up detail that is otherwise invisible to the naked eye, such as aerials, underwater and in very flat light. The challenge technically is to reveal this detail without blocking up the blacks or bleaching the whites and this is why selective adjustments work so well.
Working selectively with layers and masks allows the photographer to adjust discrete areas of the image without adversely affecting others. Digital provides unprecedented control over the 'tonal mapping' (the tonality) of our photographs.
Need a good read? Like to learn something more about photography? Interested in new ideas? Why not purchase a copy of my book, The New Tradition, which is full of great tales and ideas. It has 100 photographs and accompanying stories guaranteed to enthrall you - and you can save $30 on the purchase price right now - use coupon code TNT30. Check out more on the www.betterphotography.com website.
The Lothar Huber collection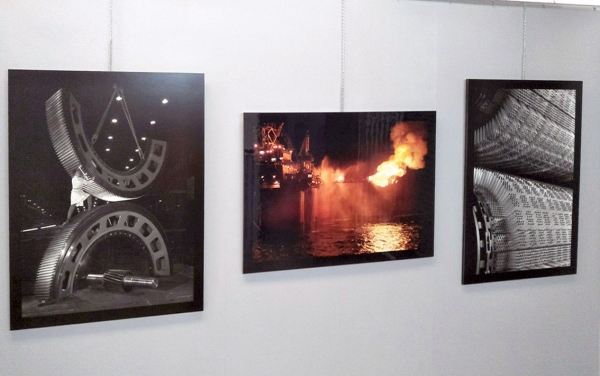 Lothar is best known as the former managing director of Bond Colour Laboratories, later Bond Imaging, in Richmond, Victoria. On his time away from running arguably the largest professional film laboratory in Australia, Lothar travelled the world, photographing some beautiful and exotic locations, from the Arctic to the Antarctic.
Prior to starting Bond Colour, Lothar was an accomplished photographer in his own right. He also collected significant works by other photographers, many of whom became life-long friends.
Now in his retirement years and looking at downsizing, Focal Point is honoured to have been entrusted with exhibiting and selling Lothar's private collection of photographs. Naturally, there is a substantial array of his own work, including many landscapes, an extensive collection of flowers, jazz musicians (which were a particular favourite of his) and other works.
One of the highlights of the collection, though, is a range of works from Australia's most celebrated industrial photographer Wolfgang Sievers. Wolfgang escaped Nazi Germany in 1938, arriving in Australia the following year. He had been a successful photographer in Germany in the 1930s, being particularly influenced by the Bauhaus school. On arrival in Melbourne, he found local commercial photography still steeped in a Victorian pictorial style and he set about his industrial and commercial photography with a keen emphasis toward modernism. In doing so, Wolfgang changed the face of industrial photography in Australia, becoming world-renowned for his work. Today his photographs are highly sought after and collectable, particularly those which he signed.
Although he had extensive experience in the darkroom, in his later years Wolfgang entrusted Lothar Huber and Bond Colour with his processing and printing requirements. Wolfgang formed a close relationship with Lothar, resulting in the gifting of numerous works to him before Wolfgang's passing in 2007.
Wolfgang's collection of negatives and a substantial number of prints, as well as his personal archive and records, family photos and other ephemera, is held by the National Library of Australia. Some of his photos are held in libraries and art galleries across Australia, but the opportunity to purchase any is fairly rare.
That's why having close to 20 of his works available for this exhibition, all of which are for sale, is so exciting for us at Focal Point.
If that isn't enough to get you along to the opening of the exhibition, maybe ten 1m x 1m full-colour high-gloss prints from the Apollo 11 moon landing, photographed by Neil Armstrong will excite you. And if you have a particular interest in historical photos, there are also more than 50 photos taken toward and just after the end of World War 2, from a collection Lothar purchased at auction many years ago. From war-torn Europe to barrage balloons over London, scenes of a U-boat attack to Winston Churchill on the post-war campaign trail and celebrations for VE Day in London's streets, these photos are a provocative and compelling glimpse into the lives of ordinary and extraordinary people of the time.
This is one of the most internationally important exhibitions ever shown in Geelong.
The exhibition will be open to the public from 10am to 5pm, Wednesdays to Sundays, between 4 June and 31 July.
The venue is Focal Point Gallery, 46 Douro Street, North Geelong.
Website www.focalpointdarkroomgallery.com.au or for further details contact Craig Watson - contact@focalpointdarkroomgallery.com.au or 03 4222 8359.
Peter Eastway FAIPP HonFAIPP HonFNZIPP APPL GMPhotogII MNZIPP
Editor and Publisher
‍

PHOTO TOURS AND WORKSHOPS WITH PETER EASTWAY & FRIENDS

ESPERANCE ALBANY - 29 MAY-4 JUNE 2022 WAIT LIST ONLY
SHARK BAY AERIALS - 7-11 JUNE 2022 - 1 SPOT LEFT
SVALBARD ARCTIC - 19-30 JUNE 2022
SVALBARD ARCTIC - 29 JUNE-10 JULY 2022
MIDDLEHURST - 25-31 JULY 2022 - WAIT LIST ONLY
MIDDLEHURST - 3-9 AUGUST 2022 - 1 SPOT LEFT
ICELAND - 12-20 SEPTEMBER 2022
BHUTAN - 29 SEPT-12 OCTOBER 2022
GEORGIA & ARMENIA - 24 OCT - 7 NOVEMBER 2022
ANTARCTICA 17-28 NOVEMBER 2022
ANTARTICA SOUTH GEORGIA - 27 NOV -17 DEC 2022 - WAIT LIST ONLY

Why did you receive this email? You are registered on the Better Photography website.
Unsubscribe: If you'd like to unsubscribe, click the link here to visit our unsubscribe page: Unsubscribe me, please!