A page from The New Tradition
How Do You Know If Your Work Is Any Good?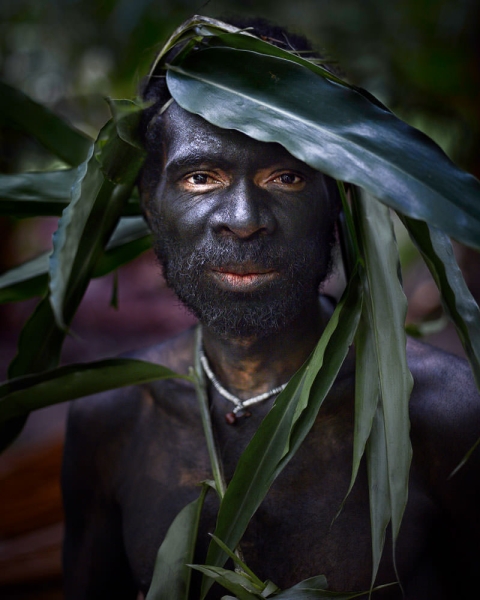 Tufi Warrior, Papua New Guinea, 2011
Phase One 645DF, Phase One P65+ back, Schneider Kreuznach LS 80mm f2.8 lens, 1/50 second @ 2.8, ISO 400, hand-held, no filter
In 2006, I was awarded the title Grand Master of Photography by the Australian Institute of Professional Photography. I must say I am not enamoured by the name, but the sentiment is greatly appreciated. Working as an artist or a photographer, the question we always ask ourselves is whether our work is valid. Simply speaking: "Are my photos any good"?
On a professional job, there is rarely a direct comparison to be made. You are the only photographer, so as long as you produce something, chances are the client will accept it, but is it any good? How would other photographers approach the same shoot? Are your clients the best judges? There are many different ways you can create photographs that have merit.
Entering the AIPP Australian Professional Photography Awards (APPA) every year since 1984 (but alas, 2019 was the last as the AIPP has now closed), I have four of my best photographs assessed by five professional photographers. In the beginning, these judges were my mentors; in later years they have been my peers. And while I might not always have agreed with the result, the judging process was fundamental in establishing the quality of my work in my own mind.
Successful prints earn Silver awards and one 'merit' point; occasionally, very successful prints earn Gold awards and two merit points. You collected merit points to advance within the AIPP: five merits for Associateship, a further 10 merits for Master of Photography. For every additional 10 merits, you received a Gold Bar.
And if you enter for long enough, eventually they run out of awards to give you and so you are presented with a Grand Master of Photography: 65 merit points. However, within those 65 points there must be at least five Gold awards (90% or higher) and ten Silvers with Distinction (85-89%). So, while the title is a little lofty, the acknowledgement behind it has given me some confidence in the work that I produce.
Perhaps the most important aspect of the AIPP awards process is knowing when to step aside and trust your own intuition. For photographers in the early stages of their career, APPA was a wonderful benchmark, but it is not the only benchmark in the world. As you gain experience, you learn what images to enter to APPA and what images to put aside. While styles and techniques change over the years, there was a 'flavour' to an APPA award. Once you master this, it's time to move in new directions – but with the confidence to do so.
This image was never entered into APPA as it is a portrait and I felt I had stronger chances in landscape! But I like it! Of course, it also brings back memories of he and his young son jumping out of the jungle and scaring the sH1t out of us! Perhaps that colours my thoughts as well.
Need a good read? Like to learn something more about photography? Interested in new ideas? Why not purchase a copy of my book, The New Tradition, which is full of great tales and ideas. It has 100 photographs and accompanying stories guaranteed to enthrall you - and you can save $30 on the purchase price right now - use coupon code TNT30. Check out more on the www.betterphotography.com website.
Head On Photo Awards closing soon - 5 June!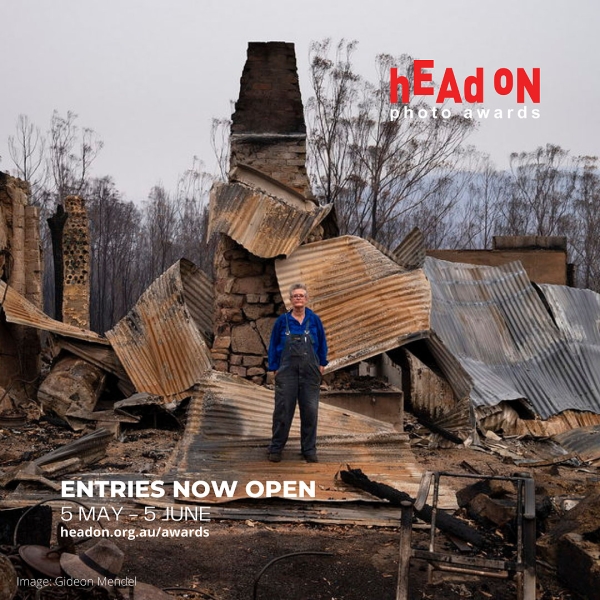 Join Australia's leading international photo event and enter your work for your chance to win a share of $30,000! Entries for the Head On Photo Awards are now open! Deadline to submit 5 June.
For more details visit: www.headon.org.au/awards
Image: Gideon Mendel, courtesy of Head On Foundation.
Peter Eastway FAIPP HonFAIPP HonFNZIPP APPL GMPhotogII MNZIPP
Editor and Publisher
‍

PHOTO TOURS AND WORKSHOPS WITH PETER EASTWAY & FRIENDS

ESPERANCE ALBANY - 29 MAY-4 JUNE 2022 WAIT LIST ONLY
SHARK BAY AERIALS - 7-11 JUNE 2022 - 1 SPOT LEFT
SVALBARD ARCTIC - 19-30 JUNE 2022
SVALBARD ARCTIC - 29 JUNE-10 JULY 2022
MIDDLEHURST - 25-31 JULY 2022 - WAIT LIST ONLY
MIDDLEHURST - 3-9 AUGUST 2022 - 1 SPOT LEFT
ICELAND - 12-20 SEPTEMBER 2022
BHUTAN - 29 SEPT-12 OCTOBER 2022
GEORGIA & ARMENIA - 24 OCT - 7 NOVEMBER 2022
ANTARCTICA 17-28 NOVEMBER 2022
ANTARTICA SOUTH GEORGIA - 27 NOV -17 DEC 2022 - WAIT LIST ONLY

Why did you receive this email? You are registered on the Better Photography website.
Unsubscribe: If you'd like to unsubscribe, click the link here to visit our unsubscribe page: Unsubscribe me, please!