A page from The New Tradition
The Process of Capturing Pixels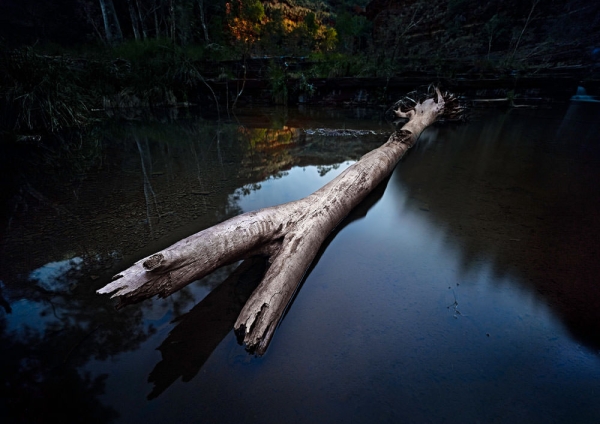 Fallen Tree, Dales Gorge, Karijini National Park, Western Australia, 2012
Alpa TC, Phase One IQ180 back, Rodenstock Digaron 23mm lens, 30 seconds @ f5.6, ISO 35, tripod-mounted, 10x ND filter.
The fallen tree was taken in the middle of Dales Gorge in the late afternoon. The pool of light in the middle is reflecting the sky above, while a 10x neutral density filter has been used to give the shallow water a super smooth sheen. 
The question with a subject like this is, where do you focus the lens? Do you focus on just one spot with a wide aperture and let the rest drift out-of-focus (due to shallow depth-of-field)? Or do you focus in the middle of the scene with a small aperture and hope that depth-of-field will ensure both the front and back are sufficiently sharp?
With the latest DSLR, mirrorless and medium format cameras sporting so many pixels, focus needs to be carefully considered and depth-of-field can't be relied upon to produce enough sharpness if you aim to make a large print. High resolution digital files can't hide loss of focus like film did and consequently, photographers shouldn't rely on depth-of-field like they used to.
For small reproductions like this one, depth-of-field will cover a multitude of sins. The front of the tree will look as sharply focused as the back of the tree trunk, but they are not equally sharp. I've chosen to focus on the tips of the trunk because they are nearest the camera and in a prominent part of the frame. When the image is viewed, I want this important area to be tack sharp so you can see the texture in the wood. In comparison, the roots at the other end of the trunk can fall out-of-focus and this doesn't worry me.
However, given I have my camera set up on a tripod, my usual practice is to take a series of exposures focused on different distances. This allows me to 'focus stack' the files during post-production, producing an image that is equally sharp from the foreground to the background. When I return from a shoot, I can then choose if I want to spend the time focus stacking, or if I'm happy to use a single capture with less sharpness throughout the image, but with that sharpness in all the right places. While many photographers already bracket their exposures, think about bracketing your focusing points as well. Sometimes letting the autofocus system do it for you isn't the best solution.
Need a good read? Like to learn something more about photography? Interested in new ideas? Why not purchase a copy of my book, The New Tradition, which is full of great tales and ideas. It has 100 photographs and accompanying stories guaranteed to enthrall you - and you can save $30 on the purchase price right now - use coupon code TNT30. Check out more on the www.betterphotography.com website.
Peter Eastway FAIPP HonFAIPP HonFNZIPP APPL GMPhotogII MNZIPP
Editor and Publisher
‍

PHOTO TOURS AND WORKSHOPS WITH PETER EASTWAY & FRIENDS

ESPERANCE ALBANY - 29 MAY-4 JUNE 2022 WAIT LIST ONLY
SHARK BAY AERIALS - 7-11 JUNE 2022 - 1 SPOT LEFT
SVALBARD ARCTIC - 19-30 JUNE 2022
SVALBARD ARCTIC - 29 JUNE-10 JULY 2022
MIDDLEHURST - 25-31 JULY 2022 - WAIT LIST ONLY
MIDDLEHURST - 3-9 AUGUST 2022 - 1 SPOT LEFT
ICELAND - 12-20 SEPTEMBER 2022
BHUTAN - 29 SEPT-12 OCTOBER 2022
GEORGIA & ARMENIA - 24 OCT - 7 NOVEMBER 2022
ANTARCTICA 17-28 NOVEMBER 2022
ANTARTICA SOUTH GEORGIA - 27 NOV -17 DEC 2022 - WAIT LIST ONLY

Why did you receive this email? You are registered on the Better Photography website.
Unsubscribe: If you'd like to unsubscribe, click the link here to visit our unsubscribe page: Unsubscribe me, please!