Article Ideas & Take-Aways

Why Should You Enter Our 2022 Photo Competition? – Part 1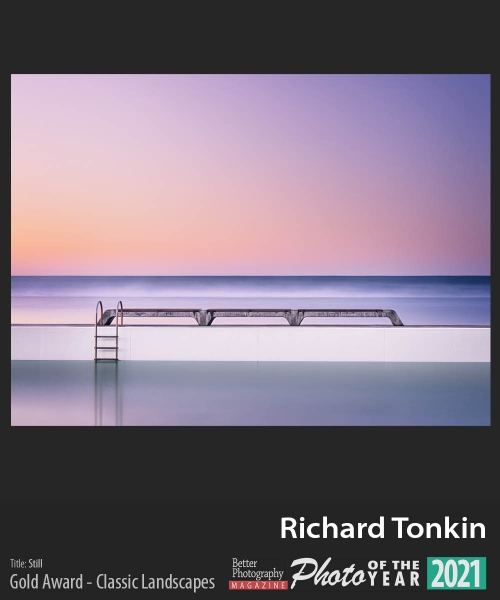 I realise as the magazine's editor I have a vested interest in encouraging readers to enter our annual photography competition, but I believe I practice what I preach.
My life, my career and my success as a photographer is directly attributable to photography competitions. Yes, I've been lucky to win a few competitions, but I've entered far more where my results have been less than stellar!
The reason for my success as a photographer isn't because I've won competitions, but because I have spent the time entering them. Now, don't get me wrong! I try to win every competition I enter, but win, lose or draw, I'm a winner because I've spent time making my entries better.
Simple, isn't it.
The mere process of putting your best foot forward, of refining your skills as a photographer to enter an image into a competition is how you improve. While the results are important, they're not. In many ways, what's important has already happened just before you enter the competition - although it is also exciting to see your results and read the judge's opinion.
Entries into the 2022 Better Photography Photo of the Year Awards close on 15 July 2022 and who knows, you could be part of the $5000 prize pool too! And every entry gets a judge's comment to assist them improve. For more details or to enter, visit www.betterphotographyphotocomp.com now!
Canson Baryta Prestige II
The team at Canson Infinity is delighted to announce the introduction of Baryta Prestige II, 340gsm into the range. The new paper offers the same fantastic black density, colour range and neutral white base as Baryta Prestige, but without the use of artificial brightening agents.

After testing the new paper, Canson Infinity Ambassador, and world-renowned underwater photographer, Cheryl Walsh said, "Baryta Prestige II has the same great look and feel of a darkroom paper, with the wide colour gamut, deep blacks, and sharpness the original is famous for with the added advantage of a surface that is a brighter, more neutral white and best of all…it has no optical brighteners! I've printed on the paper, and it is beautiful."

Canson Infinity Ambassdor and landscape photographer, Chris Ceaser, was also impressed with the new paper and expresses his views in this short video you can see it here: https://www.canson-infinity.com/en/e-academy/choosing-paper-cansonr-infinity-baryta-prestige-ii-chris-ceaser
A range of ICC profiles for the new Baryta Prestige II are available on www.canson-infinity.com.

And to have a chance to win a pack of the new paper, please follow our Instagram account where we will be launching the competition to the Canson Infinity community - https://www.instagram.com/cansoninfinity/
Peter Eastway FAIPP HonFAIPP HonFNZIPP APPL GMPhotogII MNZIPP
Editor and Publisher
‍

PHOTO TOURS AND WORKSHOPS WITH PETER EASTWAY & FRIENDS


SHARK BAY AERIALS - 7-11 JUNE 2022 - 1 SPOT LEFT
SVALBARD ARCTIC - 19-30 JUNE 2022
SVALBARD ARCTIC - 29 JUNE-10 JULY 2022
MIDDLEHURST - 25-31 JULY 2022 - WAIT LIST ONLY
MIDDLEHURST - 3-9 AUGUST 2022 - 1 SPOT LEFT
ICELAND - 12-20 SEPTEMBER 2022
BHUTAN - 29 SEPT-12 OCTOBER 2022
GEORGIA & ARMENIA - 24 OCT - 7 NOVEMBER 2022
ANTARCTICA 17-28 NOVEMBER 2022
ANTARTICA SOUTH GEORGIA - 27 NOV -17 DEC 2022 - WAIT LIST ONLY

Why did you receive this email? You are registered on the Better Photography website.
Unsubscribe: If you'd like to unsubscribe, click the link here to visit our unsubscribe page: Unsubscribe me, please!