A page from The New Tradition
One Judge Doesn't, But Another Judge Does!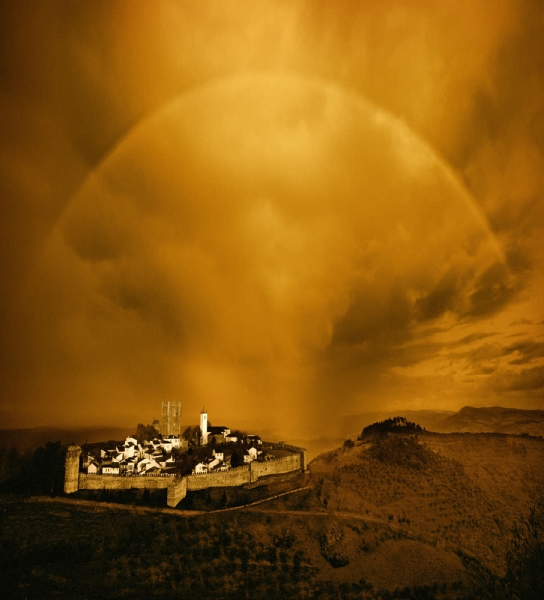 Bragança, Portugal, 2008
Phase One 645AF, Phase One P45+ back, Mamiya 28mm f4.5 lens, 1/100 second @ f5.6, ISO 50, tripod-mounted
I had spent an hour in the tiny citadel of Bragança, waiting for the light to change on the facade of the castle keep. It didn't happen and it
was looking increasingly unlikely that the light would happen any time soon, so we decided to book into our hotel which was across the valley on a hillside, with great views back to the citadel. As we checked into our room and looked out, a storm approached with a rainbow, but the angle wasn't going to be quite right.
Grabbing my camera bag, I jumped back into the rental car and drove madly up the road, looking for a gap between the trees with a view over the citadel. Large raindrops splattered onto the windscreen and the rainbow grew in intensity. Stopping the car, I worried there was no time for a tripod, so I simply pointed the wide-angle in the approximate direction and pressed the shutter a couple of times. The light was holding, so I pulled out the tripod and took another couple of frames. I checked the focus, the exposure and then the light was gone, replaced by the heavy rain squall you can see approaching.
The original exposure in colour is quite different to the final rendition. In colour, the photograph may have some value as a travel snap, but of more interest to me was the potential of the subject matter. I had in my mind a photograph that was more like an old etching, reproduced or seen under warm display lighting in a museum.
To distort the scene from reality, the image was 'squished' together, as can be seen from the resulting shape of the rainbow. This aspect of the composition seems to cause the most consternation with viewers, many of whom seem unwilling to accept the oval shape, but I am very comfortable with this aspect. For me, it is like the towering arches in a cathedral, encompassing the tiny citadel below.
The original raw file captured a wealth of detail within the clouds, but it required several curve adjustment layers with extreme contrast to bring out the shape and body of the storm cell. And down below the citadel were some modern structures which were removed with the clone and healing brush tools. Telltale signs of modernity were not required. Finally, the walls of the citadel were lightened up, much as I would have lightened them in the darkroom many years ago using Farmers Reducer and a fine, sable-hair brush. 
Many people cannot understand this photograph. However, as we have no control over how people react to our work, it really is up to us to make our own judgments. I think it's a really good test if you still like a photograph after it has been dismissed by a panel of judges. The first judging panel did not like this image at all, scoring it well below 'award standard', but I had already entered the same photo into a second print competition. Gratifyingly, the second judging panel loved the image, awarding it a gold award.
I agreed with the second judging panel!
Need a good read? Like to learn something more about photography? Interested in new ideas? Why not purchase a copy of my book, The New Tradition, which is full of great tales and ideas. It has 100 photographs and accompanying stories guaranteed to enthrall you - and you can save $30 on the purchase price right now - use coupon code TNT30. Check out more on the www.betterphotography.com website.
Get 'Em While They're Young!!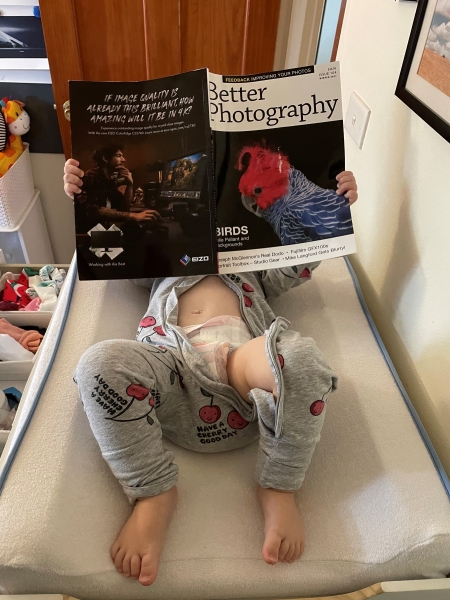 What can I say when one of our supportive readers provided us with this 'snapshot' into his life as a modern parent:
"Morning Peter,
Had to share this one with you. It's currently her favourite 'book'. Her little onsie is open because I was changing her nappy and she requires robust distraction during the whole process… Queue Peter Eastway."
I'm not sure whether to feel flattered - or not!
Peter Eastway FAIPP HonFAIPP HonFNZIPP APPL GMPhotogII MNZIPP
Editor and Publisher
‍

PHOTO TOURS AND WORKSHOPS WITH PETER EASTWAY & FRIENDS

SHARK BAY AERIALS - 7-11 JUNE 2022 - 1 SPOT LEFT
SVALBARD ARCTIC - 19-30 JUNE 2022
SVALBARD ARCTIC - 29 JUNE-10 JULY 2022
MIDDLEHURST - 25-31 JULY 2022 - WAIT LIST ONLY
MIDDLEHURST - 3-9 AUGUST 2022 - 1 SPOT LEFT
ICELAND - 12-20 SEPTEMBER 2022
BHUTAN - 29 SEPT-12 OCTOBER 2022
GEORGIA & ARMENIA - 24 OCT - 7 NOVEMBER 2022
ANTARCTICA 17-28 NOVEMBER 2022
ANTARTICA SOUTH GEORGIA - 27 NOV -17 DEC 2022 - WAIT LIST ONLY

Why did you receive this email? You are registered on the Better Photography website.
Unsubscribe: If you'd like to unsubscribe, click the link here to visit our unsubscribe page: Unsubscribe me, please!