The [Almost] Weekly Newsletter
The Imaginary Shadows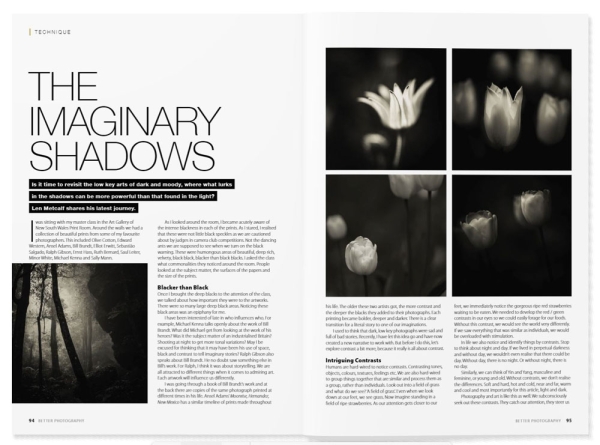 Len Metcalf was sitting with his master class in the Art Gallery of New South Wales Print Room.
"Around the walls we had a collection of beautiful prints from some of my favourite photographers. This included Olive Cotton, Edward
Western, Ansel Adams, Bill Brandt, Elliot Erwitt, Sebastião Salgado, Ralph Gibson, Ernst Hass, Ruth Bernard, Saul Leiter, Minor White, Michael Kenna and Sally Mann.
"As I looked around the room, I became acutely aware of the intense blackness in each of the prints. As I stared, I realised that these were not little black speckles as we are cautioned about by judges in camera club competitions. Not the dancing ants we are supposed to see when we turn on the black warning. These were humongous areas of beautiful, deep rich, velvety, black black, blacker than black blacks. I asked the class what commonalities they noticed around the room. People looked at the subject matter, the surfaces of the papers and the size of the prints.
"Once I brought the deep blacks to the attention of the class, we talked about how important they were to the artworks. There were so many large deep black areas. Noticing these black areas was an epiphany for me. I have been interested of late in who influences who. For example, Michael Kenna talks openly about the work of Bill Brandt. What did Michael get from looking at the work of his heroes? Was it the subject matter of an industrialised Britain? Shooting at night to get more tonal variations? May I be excused for thinking that it may have been his use of space, black and contrast to tell imaginary stories? Ralph Gibson also speaks about Bill Brandt. He no doubt saw something else in Bill's work. For Ralph, I think it was about storytelling. We are all attracted to different things ...
So, what are you attracted to and could it be found in those dark and mysterious shadows? Read Len's thoughts in the current issue of Better Photography magazine! Current subscribers just have to login to read online or download to their device. Not a subscriber? I'd love you to join and help support our small community. For just AUS $29.88 (it's 40% off, but you must use the coupon code BP40) you can subscribe for one year and have access to over 50 back issues as well. Subscribe now - visit our website here - https://www.betterphotographyeducation.com/better-photography-online/about-the-magazine
PHOTO TOURS AND WORKSHOPS
WITH PETER EASTWAY & FRIENDS
SPIRIT OF ANTARCTICA - 9-20 JANUARY 2024
ANTARCTICA, SOUTH GEORGIA, SANDWICH IS 19 JAN - 10 FEB 2024
BHUTAN & LADAKH 8 - 25 APRIL 2024
NAROOMA, NSW - 6-10 MAY 2024
SHARK BAY, WA - 28 MAY-1 JUNE 2024
BROOME AERIALS - 4-8 JUNE 2024
KENYA WILDLIFE TOUR - 18 JUNE - 1 JULY 2024
UGANDA PHOTO TOUR - 2-13 JULY 2024
MIDDLEHURST - 5-11 AUGUST 2024
MIDDLEHURST - PHASE ONE - 14-20 AUGUST 2024
ARKAROOLA - 13-21 SEPTEMBER 2024
ANTARCTICA, SOUTH GEORGIA - 16 MARCH - 4 APRIL 2025
Details at www.betterphotography.com/workshop-seminars
Peter Eastway FAIPP HonFAIPP HonFNZIPP APPL GMPhotogII MNZIPP
Editor and Publisher
Why did you receive this email? You are registered on the Better Photography website.
Unsubscribe: If you'd like to unsubscribe, click the link here to visit our unsubscribe page: Unsubscribe me, please!