The [Almost] Weekly Newsletter
The Benefits of Entering Our Photo Competition – Part 5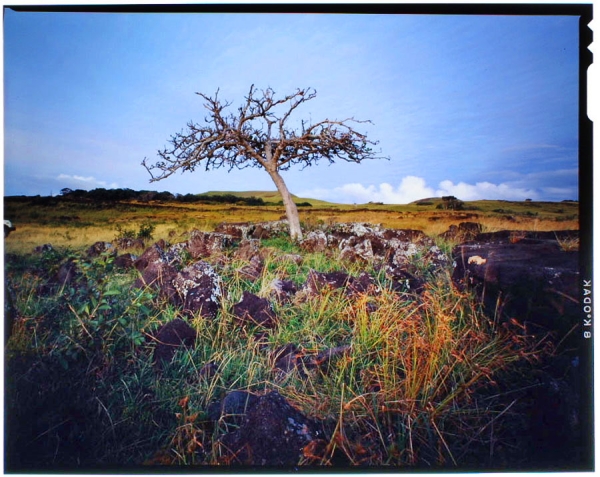 The 'infamous' tree photographed on Easter Island many years ago by Peter Eastway.
Some photographers enter competitions without much success and then give them away. They say the judges don't know what they're talking about or don't understand their work – and that could be true. However, I remember one of my early 'misses' which started on Easter Island.
One evening, during a two week adventure on Easter Island, the most remote island in the world, I found a wonderful gnarled tree sitting atop a low cairn of rounded rocks with a beautiful sky behind. When I returned back home, I had a custom print produced and I was in awe of what I had created with my 4x5 inch view camera.
I entered the photograph into the annual AIPP professional photography awards and sat in the judging room, waiting for it to be judged. When it did, the judges gave it a quick score of 74 (well below the Silver I had hoped for) and one of the judges said it was 'just a nice little travel snap'.
I couldn't believe what had happened. I was disappointed in capitals. Why couldn't the judges see what I saw?
Five years later, I'm cleaning out my studio. I find a bunch of old print entries and start throwing them on the rubbish pile – when I grab back my Easter Island print and look at it with fresh eyes. Over time and perhaps with a little more experience, my view had completely changed and I actually think the judges were overly generous.
I might not have earned a silver that year, but in the continuing process of entering competitions, it was a great lesson.
Maybe you weren't successful in previous competitions, but if you look back at your work, do you now agree with the judges? For some of our favourite photographs we may never agree, but one or more setbacks in our competition careers are to be expected – and they can actually help us improve in the long run.
Perhaps it's time to give competitions another go?
Entries into the 2023 Better Photography Photographer of the Year Awards are now open. There is a $5000 cash prize pool, entries can win Gold, Silver or Bronze awards and every entry receives a judge's comment to assist them improve. Early entries close 8 October and final entries on 15 October 2023. For more details and to enter, visit www.betterphotographyphotocomp.com now!
PHOTO TOURS AND WORKSHOPS
WITH PETER EASTWAY & FRIENDS
SPIRIT OF ANTARCTICA - 9-20 JANUARY 2024
ANTARCTICA, SOUTH GEORGIA, SANDWICH IS 19 JAN - 10 FEB 2024
BHUTAN & LADAKH 8 - 25 APRIL 2024
NAROOMA, NSW - 6-10 MAY 2024
SHARK BAY, WA - 28 MAY-1 JUNE 2024
BROOME AERIALS - 4-8 JUNE 2024
KENYA WILDLIFE TOUR - 18 JUNE - 1 JULY 2024
UGANDA PHOTO TOUR - 2-13 JULY 2024
MIDDLEHURST - 5-11 AUGUST 2024
MIDDLEHURST - PHASE ONE - 14-20 AUGUST 2024
ARKAROOLA - 13-21 SEPTEMBER 2024
ANTARCTICA, SOUTH GEORGIA - 16 MARCH - 4 APRIL 2025
Details at www.betterphotography.com/workshop-seminars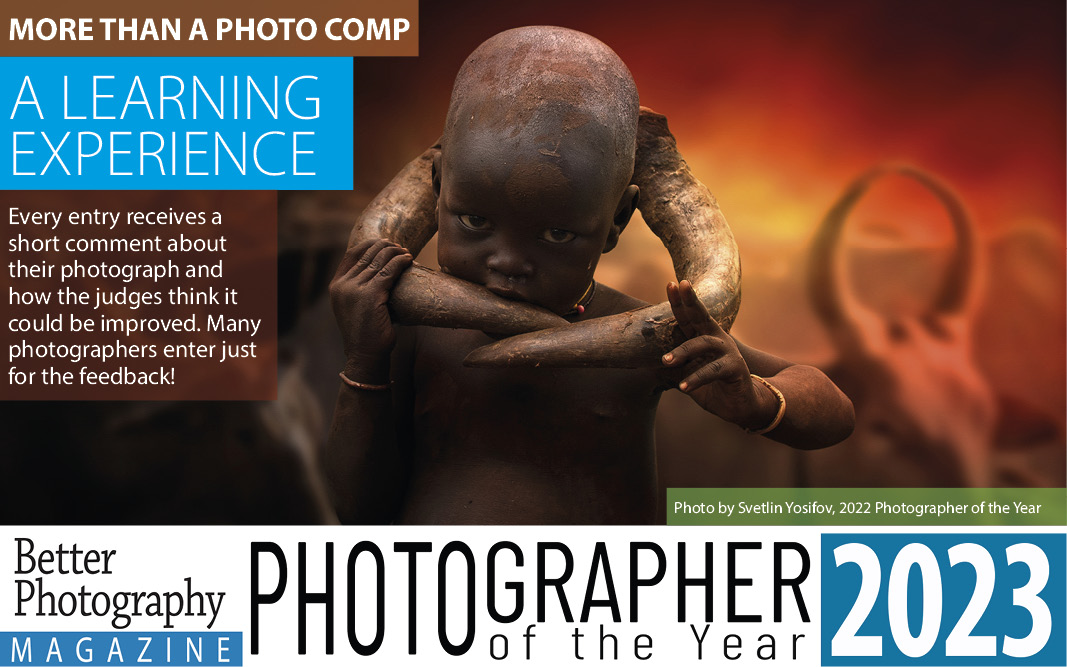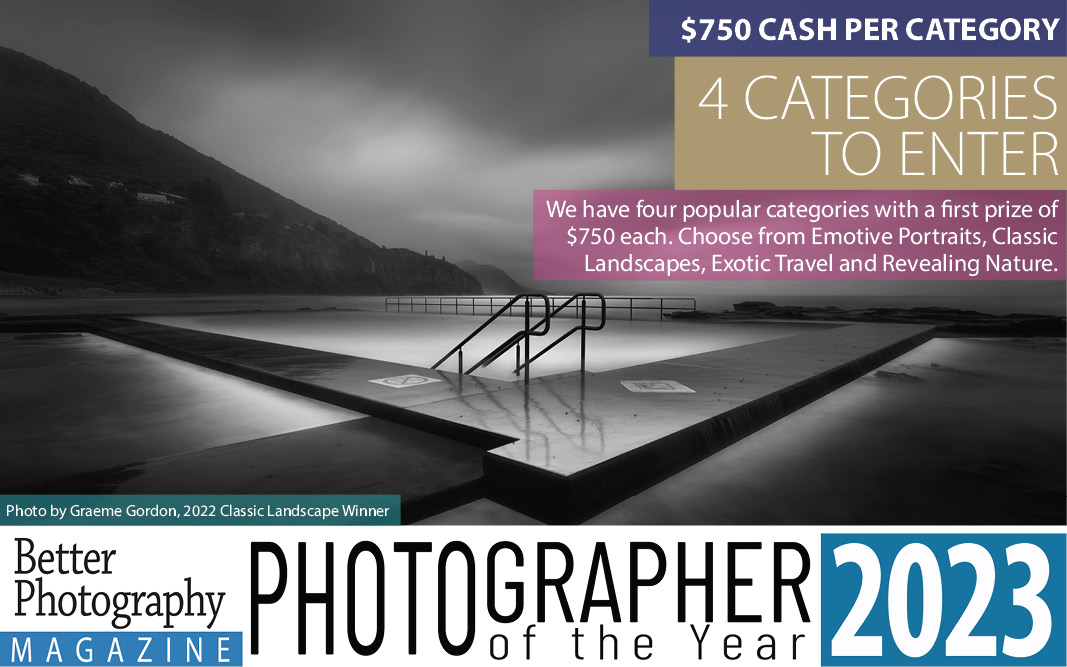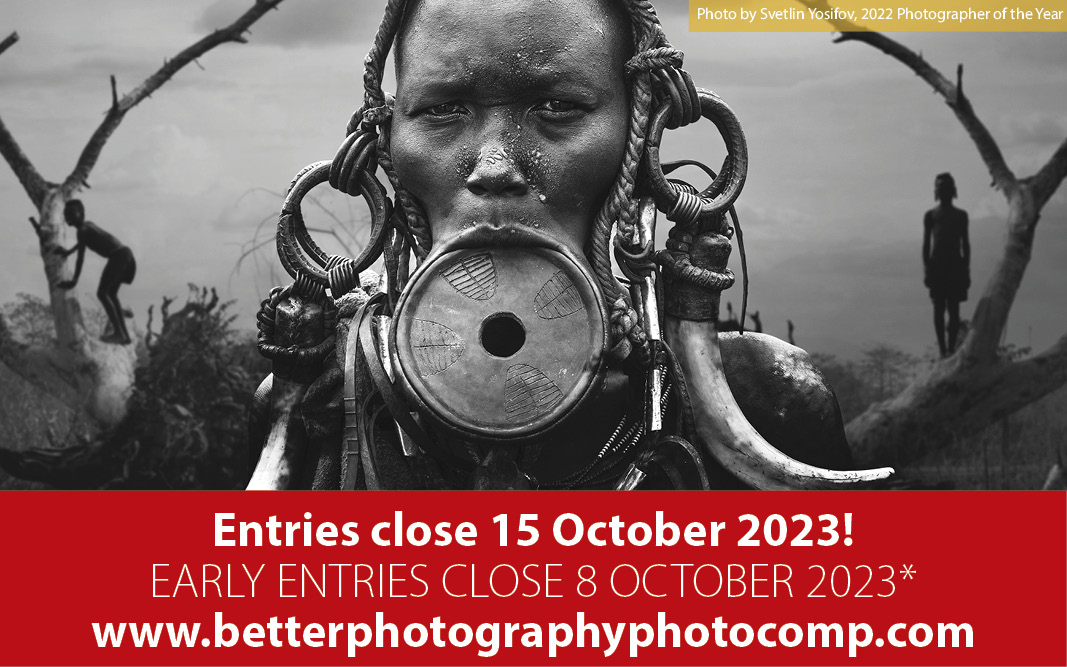 Peter Eastway FAIPP HonFAIPP HonFNZIPP APPL GMPhotogII MNZIPP
Editor and Publisher
Why did you receive this email? You are registered on the Better Photography website.
Unsubscribe: If you'd like to unsubscribe, click the link here to visit our unsubscribe page: Unsubscribe me, please!