The [Almost] Weekly Newsletter
Fix Everything With AI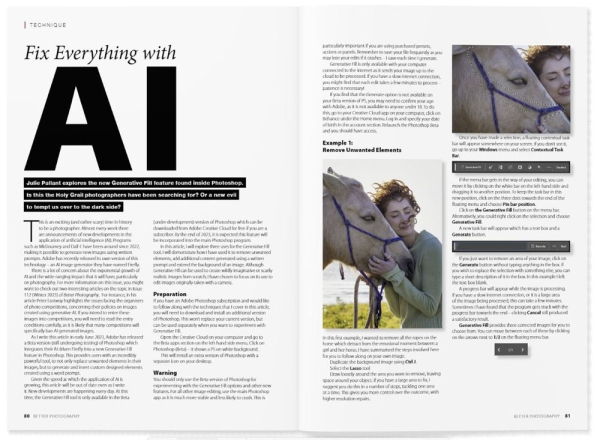 Writes Julie Pallant, this is an exciting (and rather scary) time in history to be a photographer. Almost every week there are announcements of new developments in the application of artificial intelligence (AI). Programs such as MidJourney and Dall-E have been around since 2022, making it possible to generate new images using written prompts. Adobe has recently released its own version of this technology – an AI image generator they have named Firefly.
As I write this article in early June 2023, Adobe has released a Beta version (still undergoing testing) of Photoshop which integrates their AI driven Firefly into a new Generative Fill feature in Photoshop. This provides users with an incredibly powerful tool, to not only replace unwanted elements in their images, but to generate and insert custom designed elements created using a word prompt.
Given the speed at which the application of AI is growing, this article will be out of date even as I write it. New developments are happening every day. At this time, the Generative Fill tool is only available in the Beta Fix Everything with (under development) version of Photoshop which can be downloaded from Adobe Creative Cloud for free if you are a subscriber. By the end of 2023, it is expected this feature will be incorporated into the main Photoshop program.
In this article, I will explore three uses for the Generative Fill tool. I will demonstrate how I have used it to remove unwanted elements, add additional content generated using a written prompt and extend the background of an image. Although Generative Fill can be used to create wildly imaginative or scarily realistic images from scratch, I have chosen to focus on its use to edit images originally taken with a camera.
Follow Julie's examples step-by-step in the current issue of Better Photography magazine! Current subscribers just have to login to read online or download to their device. Not a subscriber? I'd love you to join and help support our small community. For just AUS $29.88 (it's 40% off, but you must use the coupon code BP40) you can subscribe for one year and have access to over 50 back issues as well. Subscribe now - visit our website here - https://www.betterphotographyeducation.com/better-photography-online/about-the-magazine
PHOTO TOURS AND WORKSHOPS
WITH PETER EASTWAY & FRIENDS
SPIRIT OF ANTARCTICA - 9-20 JANUARY 2024
ANTARCTICA, SOUTH GEORGIA, SANDWICH IS 19 JAN - 10 FEB 2024
BHUTAN & LADAKH 8 - 25 APRIL 2024
NAROOMA, NSW - 6-10 MAY 2024
SHARK BAY, WA - 28 MAY-1 JUNE 2024
BROOME AERIALS - 4-8 JUNE 2024
KENYA WILDLIFE TOUR - 18 JUNE - 1 JULY 2024
UGANDA PHOTO TOUR - 2-13 JULY 2024
MIDDLEHURST - 5-11 AUGUST 2024
MIDDLEHURST - PHASE ONE - 14-20 AUGUST 2024
ARKAROOLA - 13-21 SEPTEMBER 2024
ANTARCTICA, SOUTH GEORGIA - 16 MARCH - 4 APRIL 2025
Details at www.betterphotography.com/workshop-seminars
Peter Eastway FAIPP HonFAIPP HonFNZIPP APPL GMPhotogII MNZIPP
Editor and Publisher
Why did you receive this email? You are registered on the Better Photography website.
Unsubscribe: If you'd like to unsubscribe, click the link here to visit our unsubscribe page: Unsubscribe me, please!