Special Better Photography/Fujifilm Promotion
Russell Ord Pushing the Absolute Limits
It takes a special sort of photographer to put himself physically on the line to get great photographs, but if you want to be a surf photographer, that's something that comes with the territory. And when you see the video of Russell Ord miles out to sea on a jet ski, huge breaking waves all around him, you can't help but notice him holding the new Fujifilm GFX100 up high. What was he thinking?
[See the YouTube video at: https://youtu.be/YTv3CbX_pZo]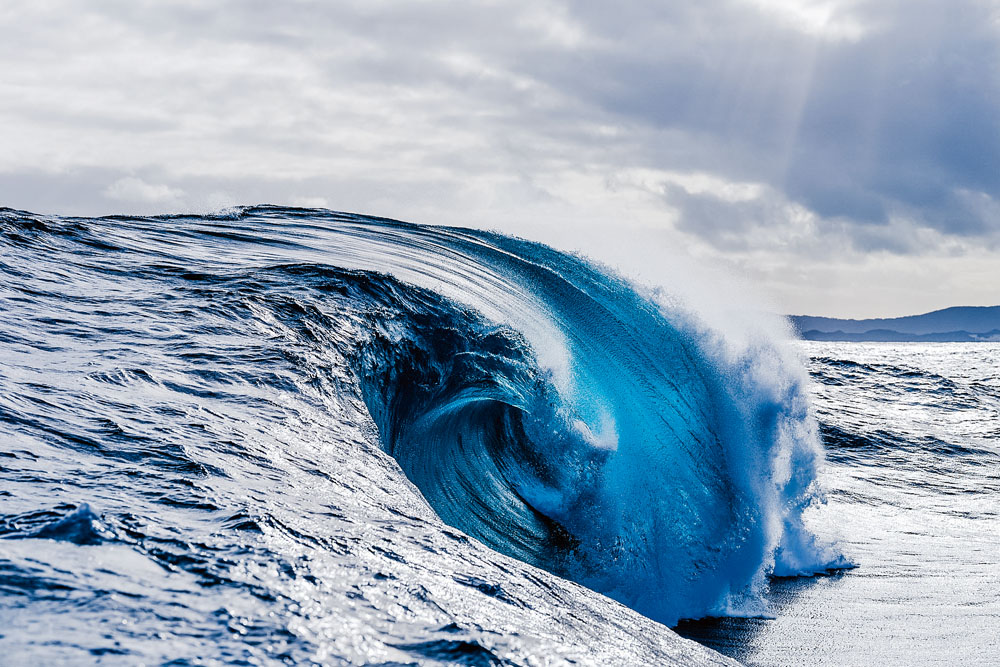 All photos by Russell Ord
Fujifilm GFX 100 with GF250mm f4
Shot at f4.5 @ 1/4000 second, ISO 100

Russell smiled. "To do the promotional video for the Fujifilm GFX 100, the conditions were rougher than I wanted. Yes, the camera did get a little wet, but happily it was one of Fujifilm's pre-production models we were testing before the camera's release!
"On some days, the ocean can be really clean and there's no wind. You can safely use a camera without a housing in conditions like these, but naturally I prefer to have a housing because conditions can change or someone else can go past on another jet ski and you'll cop it! And I always keep a waterproof Pelican case with me as well."
Russell's Fujifilm X-T3 is regularly used in an Aquatech water housing with ultra wideangle lenses and Russell himself is swimming incredibly close to the action – the wave and the surfers.
Fujifilm GFX 100 with GF250mm f4
Shot at f4.5 @ 1/800 second, ISO 250
100MP Quality
However, with his Fujifilm GFX 50S large format camera and now the GFX 100, Russell shoots with longer lenses, leaving a little more distance (and safety) between the waves and him. This is when he can shoot without a housing, creating different angles and perspectives of one of the world's most amazing phenomenon.
So, why large format? Who needs large photo files these days?
"I still have a number of clients who are into print, especially tourism. If they need an image for a billboard, the large format files give them that option, or they can crop out a small section of an image and use that. And if I'm ordering big prints for sale, wow! I mean, the prints from the Fujifilm GFX 50S were amazing, but with the GFX 100, it's another ball game. You zoom into 100 percent on the screen and the detail is simply pin-sharp. You have to see it to believe it!"
Russell knows that not all his clients will appreciate the extra quality provided by the GFX 100, but he does and he always smiles to himself when clients appreciate his quality without really understanding why.
"I did a job for a brand new hospital. They wanted portraits of their doctors and I shot it on large format. I wasn't hired because I was shooting large format, that's just what I chose to shoot it on, but when we blew up the images for prints, they couldn't believe the quality they were seeing!
"Tourism clients, on the other hand, they know what quality means because they're still printing billboards and there's a massive difference. It's beautiful!"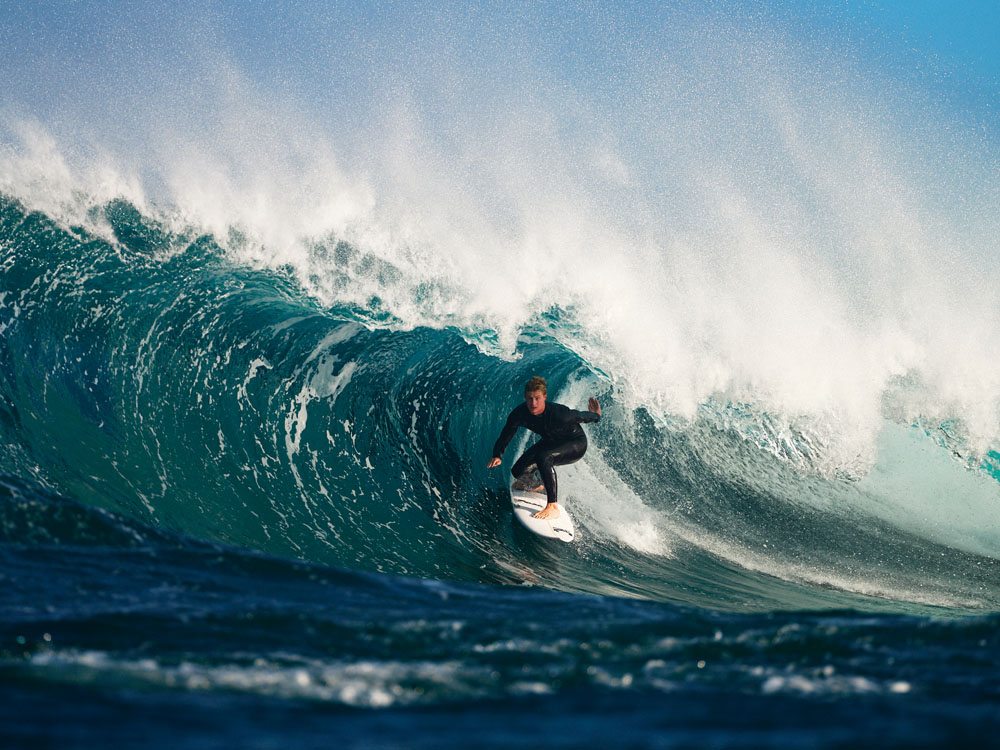 Fujifilm GFX 100 with GF250mm + 1.4 Converter
Shot at f5.6 @ 1/2000 second, ISO 250
Dynamic Range
Out in the surf, harsh light can be incredibly demanding on a camera sensor in terms of dynamic range – and this is probably what Russell likes best about Fujifilm's large format cameras.
"The dynamic range is incredible. You're shooting really deep, dark blues and greens of the water, contrasted against the completely bright whites of the breaking wave, so to be able to keep the detail in both areas in the one exposure is amazing."
Most photographers ensure the highlights are not overexposed and hope for the best with the shadows. In surfing photography this is definitely the case.
"I tried underexposing a few test images, to see how far I could push things, but there was so much detail from the highlights all the way into the shadows. It was kind of like you didn't even need to shoot it well, you didn't need to know about exposure because you could fix it in post-production.
"You see a lot of surfing photos, especially on social media, where the photographers are desperately trying to get detail back into their whites, but their results look terrible – almost like HDR. In comparison, this is never a problem with large format – it's a massive advantage."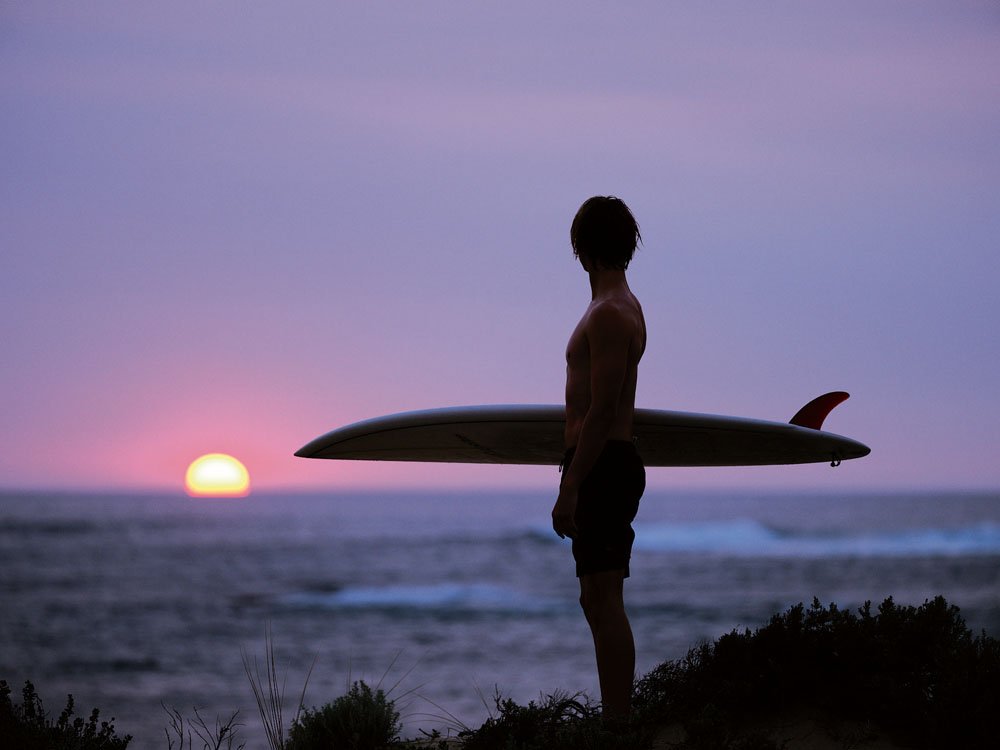 Fujifilm GFX 100 with GF250mm f4
Shot at f4 @ 1/640 second, ISO 160
Designed For Action
Quality benefits are all well and good, but how can you use a large format camera shooting action out in the surf? Is this really possible? This is what distinguishes the Fujifilm GFX 100 as a large format camera: its modest size and weight mean it operates just as quickly and effectively as a smaller DSLR or mirrorless camera.
Added Russell, "The focusing on the GFX 100 is incredible, especially the eye focus feature which latches onto an eye in an instant. It's as quick as the Fujifilm X-T3 – but this is large format we're talking about! It's mind boggling how good it is."
In terms of size and weight, Russell compares the new Fujifilm GFX 100 with a full frame professional DSLR. "I've come from that world previously, so I find the size and shape of the new GFX 100 really familiar. My hands fit it really well and the double battery in the GFX 100 just makes the camera feel better balanced with the lenses I use."
In terms of workflow, Russell says he's really enjoying using Capture One (which comes with the camera) and the Fujifilm Film Simulation modes that come with all the GFX and X-series cameras.
"With these profiles, you can change your raw files to whatever you like. For surfing, I like using the Velvia simulation because its saturated colours and high contrast are ideal for the ocean, whereas for portraiture I'd prefer something like Fujifilm's Astia!
"And it's easy. If that's the look you like, just set the film simulation mode and there's hardly any editing required. So many of my images are just straight out of the camera!"
For more information, visit your local Fujifilm retailer or check out the Fujifilm website: www.fujifilm.com.au