With the release of the X-Pro2 and its larger 24-megapixel sensor, you didn't have to be a seer to work out the X-T1 had to be similarly upgraded in the near future. Well, that near future is here now with the Fujifilm X-T2.
Naturally the X-T2 picks up from the X-T1 in several key areas: a large, high-definition electronic viewfinder (not the hybrid style on the X-Pro2), a new high-speed autofocus system and, of course, the 24-megapixel sensor.
The X-Trans CMOS III 24.3MP APS-C sensor uses a different pattern of red, green and blue filters than standard sensors, meaning there is no need for an anti-aliasing (optical low-pass) filter. The latter blurs the image slightly, so without it, Fujifilm's lenses can be seen for what they are and the result is excellent clarity!
Specifications indicate some significant improvements in operation speed with the X-Processor Pro. Processing is claimed to be up to four times faster with continuous shooting at up to 14 frames per second, a shutter release lag of just 0.045 second, a start-up time of 0.3 second and a minimum AF response as brief as 0.06 second.
Autofocus has been beefed up considerably and Fujifilm has the capabilities of pro DSLRs firmly in its sights. There are now 91 selectable focusing points and the tracking algorithm has been dramatically improved to entice sport and wildlife photographers to the X-Series ranks. Using the camera's AF-C Custom Settings function, you can choose a preset that matches your subject's movement pattern for the best results.
Continuous shooting performance of 14 fps is achieved with an electronic shutter, but it's still impressive at 11 fps when using the mechanical shutter and 5 fps in Live View mode. The blackout time has been more than halved from that of the previous model, so you can keep following a subject in the viewfinder for an extended period during continuous shooting, allowing for easier tracking of fast-moving subjects. Fujifilm is very proud of the advances it has made in these areas for a mirrorless camera.
It's great to have a fast autofocus system, but just as important is the speed with which you can select the focus point. A focus lever on the back of the camera lets you rapidly change the focus point in eight directions, but there's also an Eye Detection AF mode. With the Face Detection feature activated, Eye Detection AF automatically detects and focuses on human eyes, very helpful when you're shooting at wide apertures with shallow depth-of-field. You can also define the area of priority focus, for example right or left eye, or the eye closer to the camera.
In Manual Focus mode, there are a number of functions to assist pinpoint focusing, including Focus Peaking, in which colour is used to show the parts of the image that are in focus, and Digital Split Image, where focus is achieved by lining up the split image strips in the centre. These features are particularly useful in macro photography and portraiture where shallow depth-of-field requires precise focusing. And now that's even more important with 24-megapixel resolution.
The X-T2 has a rigid magnesium alloy body with dust, moisture and low temperature seals so it will happily work in the great outdoors. There are dual SD card slots, so you can either back up your work as you go (great for wedding photographers) or extend your capacity (two 256GB cards should cover most eventualities)!
On the back, the LCD screen tilts up and down for different camera positions, while the electronic viewfinder boasts 2.36 million dot resolution and a 250 per cent improvement for brightness over the previous model. The brilliance of the display is excellent, but it's also the 100 fps refresh rate (in boost mode) that makes viewing moving subjects almost indiscernible from an optical viewfinder.
What many photographers love about the retro design are the knobs and dials. It seems that on-screen menus are great for expanding the functionality of the camera, but for the important controls like apertures, shutter speeds and ISO, knobs are quicker and easier to use. The knobs have comfortable lock and release features and the +/-3 EV exposure compensation range can be expanded up to +/-5 EV using a new 'C' position and the command dial.
Top shutter speed is 1/8000 second, but an electronic shutter will support a 1/32,000 second, so you can shoot at wide-open apertures even in bright sunlight. Video producers will applaud the 4K capture with simultaneous output to an external LCD monitor. And given Fujifilm's lineage, there is a range of useful film simulation modes that can be applied to both still and video recording.
There's not much you won't find on the X-T2 and, with a 24-megapixel sensor and excellent lenses, there's nothing to complain about in terms of image quality either! This is a first-rate addition to the Fujifilm X-Series of cameras.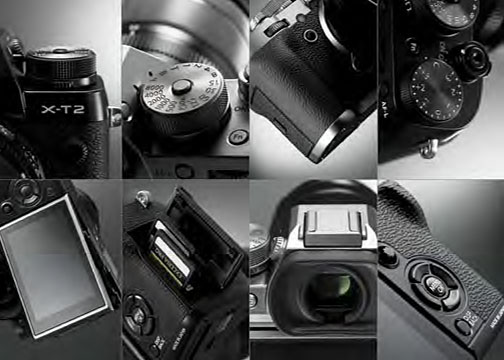 For more information, visit www.fujifilm.com.au