Whether travelling abroad or on the couch at home, the new MobileStudio Pro lets you work wherever you want, whenever you want. By Peter Eastway.
At the end of a shoot, there's nothing better than sitting down with a Wacom MobileStudio Pro to review and edit your work. Best of all, it doesn't matter where you're shooting because the battery powered MobileStudio Pro operates anywhere.
I take it to Antarctica with me on one month voyages, to New Zealand for my art photography workshops with Tony Hewitt, and I'm just back from photo tours to Bhutan, Iceland and Bolivia, all accompanied by my trusty MobileStudio Pro.
Before listing the important improvements on the latest MobileStudio Pro, it's worth explaining why I find it an essential tool for the way I work. At the heart of what we do as photographers, when editing our work, is make decisions about our images based on how they look on-screen.
Whether you're using your files to make prints or simply to show them on social media, it's important to start the process with a file that has correct colour and tone.
However, if you're using a screen that is highly saturated or oozing with contrast, it's very difficult to start from a neutral point and who knows what your photos are going to look like on other screens or as prints.
And that's why I love the MobileStudio Pro because the screen is first class. In fact, it's the best I've seen on a portable computer.
In my opinion, there aren't that many portable computers (laptops and tablets) that have suitable screens for photography. They might look great for playing a movie or showing a business graph, but they struggle to accurately render my photographs.
Many laptop screens have good brightness, contrast and colour, but the resulting combination bears little resemblance to the photo files I am editing.
When working on my files, I need to see an accurate representation of colour and tone and this is where Wacom's MobileStudio Pro excels.
On paper, the MobileStudio Pro 4k (3840 x 2160), 15.6-inch display offers 85% of the AdobeRGB colour space, but equally important is the silky-smooth tonal gradient (from white to black) and a low-sheen, etched-glass surface that produces a viewing screen that is ideal for photographers.
The result is exactly what I need when working out on location.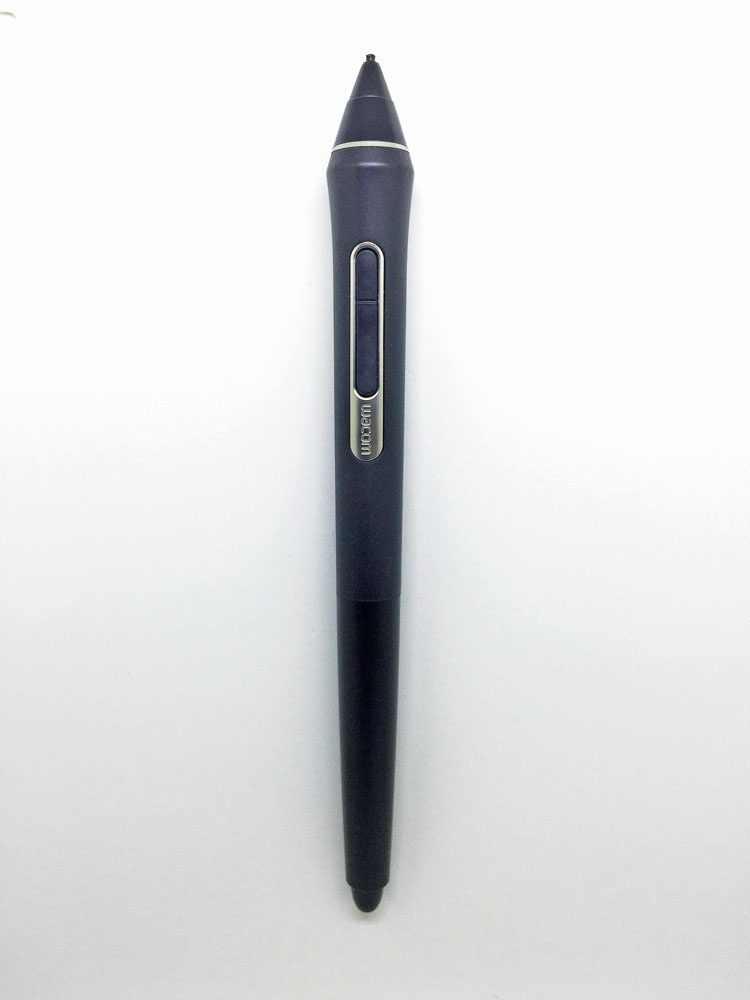 Looking at a great screen is one half of the enjoyment, the other is being able to edit your photos with layers and adjustments using the Wacom Pro Pen 2.
(I could use my finger on the touchscreen, but in comparison to the Pro Pen 2, it is a rather blunt instrument!)
These days, there are a number of tablets and laptops offering pens, but none offer the precision and control of the Pro Pen 2.
It offers virtually lag-free pen performance with tilt response and 8,192 pen pressure levels for precision and control. And thanks to Wacom's battery free, electro-magnetic resonance (EMR) technology, the well-balanced and ergonomically designed pens never need recharging, no matter how long a project takes.
But that's the specifications talking. The real experience happens where the pen tip meets the screen. Optical bonding reduces parallax error (so you're pointing precisely at the area you want to), while the etched glass surface creates the natural feel of pen on paper – and although that is probably designed more for artists, it is equally welcomed by photographers. It just feels and works great.
But wait, there's more! Now add in the eight customisable, application specific ExpressKeys™, together with the Radial Menus, Multi-touch control and the included Wacom Stand. I can also use the MobileStudio Pro anywhere without a keyboard or a mouse. And I can use it on long haul flights, in hotels while on location, or curled up at home on the couch watching the cricket.
The MobileStudio Pro continues to offer its hybrid capability as well, allowing both Windows® and Mac® users to connect the device to their PC or Mac desktop workstation and use it as a Cintiq display (a Wacom Link™ Plus adaptor is required – sold separately).
However, the MobileStudio Pro isn't just a pen and screen system, it's a fully functional Windows 10 computer. When travelling, I'm working with Capture One, Adobe Creative Cloud and Davinci Resolve, exactly the same applications I use on my desktop at home and in the studio.
And then if I'm adding in some captions or some EXIF data to my files, and I want to check on the spelling of a location I've photographed, I simply switch over to my web browser and Google what I want to know.
The MobileStudio Pro has everything I need for travelling on the road and with the new model, it has some extra grunt as well.
When I started using the MobileStudio Pro many years ago, I was shooting 80-megapixel files and doing very little video. Today, my still files are up to 150-megapixels and I'm shooting quite a bit of 4K video as well. I noticed that my MobileStudio Pro didn't seem to be as fast as it used to be – obviously!
The new Wacom MobileStudio Pro 16 solves all this by offering a range of improvements that are all designed to handle larger volumes of data more quickly.
It is now powered by an Intel Core i7 Quad-core processor, 16 GB memory, a 512 GB SSD and a NVIDIA Quadro P1000 graphics for highest performance.
Even better, a new back-door feature allows easy replacement and upgrade of the SSD and DDR memory, making the Wacom MobileStudio Pro future-proof for even the most challenging projects.
And it's easy to do! I have just added in a 2TB SSD and ramped up the RAM to 32 GB, so now the MobileStudio Pro is flying faster still and, when travelling, I can fit in all my raw and video files without needing an external drive (but I still need an external drive for backups, of course).
For more information, visit www. wacom.com/en-au. And to purchase any of Wacom's products, visit the Wacom eStore at buywacom.com.au/, or selected retailers.
10% OFF For Better Photography Readers
Use this coupon code in the Wacom eStore