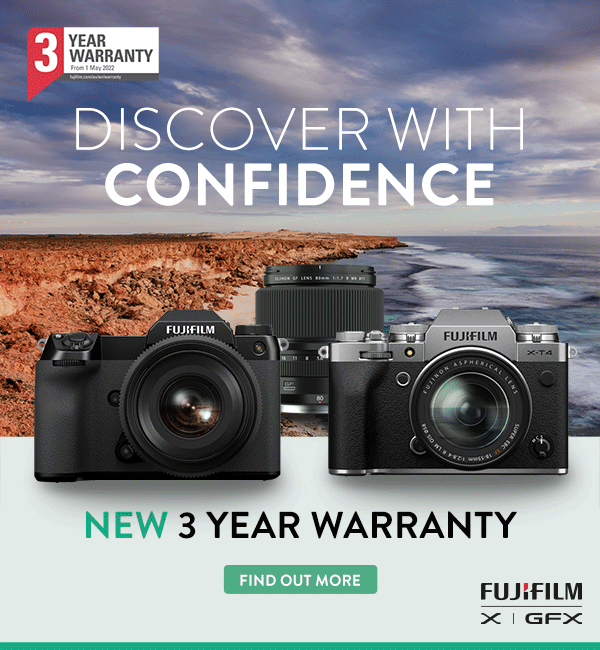 FUJIFILM Australia customers can now discover with confidence with the launch of a new 3 Year Warranty. Consumers who purchase any new Fujifilm GFX System, X Series cameras, GF, XF or XC model lenses from FUJIFILM Australia or authorised FUJIFILM Australia retailers from 1st May 2022 will be able to enjoy a 3 Year Warranty.
Cameras and lenses purchased from today from FUJIFILM Australia or its authorised retail network in Australia will be entitled to a 3 Year Warranty, including free-of-charge repair or replacement services, which has been increased from the previous one year warranty. The warranty also covers any accessory included in the box of a new camera or lens.
Commenting on the new warranty, Shaun Mah, General Manager of the Electronic Imaging & Optical Devices Division of FUJIFILM Australia, said: "At FUJIFILM, we believe the key to excellence is a combination of world-class products and services. This is not just a big 'thank you' to our customers, but also a welcome note to the many photography enthusiasts out there looking for the absolute best in their equipment and experience."
"We know that photography and travel come hand in hand. With this new warranty, we hope to inspire our customers to explore and unleash creativity with greater confidence and peace of mind." Mah added.
To be eligible for the 3 Year Warranty, products must be purchased on or after 1st May 2022 from FUJIFILM Australia or an authorised FUJIFILM Australia retailer. In the event a customer needs to make a warranty claim, valid proof of purchase is to be presented together with the product. 
The 3 Year Warranty does not cover products purchased before May 1st, 2022, or from a retailer outside Australia. To check out the full warranty terms, please visit https://www.fujifilmreviews.com/fujifilm-3-year-warranty.html.